While the Top 10 list of Youtube gamers is dominated by male content creators there are some huge female creators in the gaming space. In this article we are going to take a look at the Top 10 Women in gaming or "Gamer Girls".
Let's jump in and take a look.
Featured Creators
Top 10 Female Gaming Creators
LDShadowLady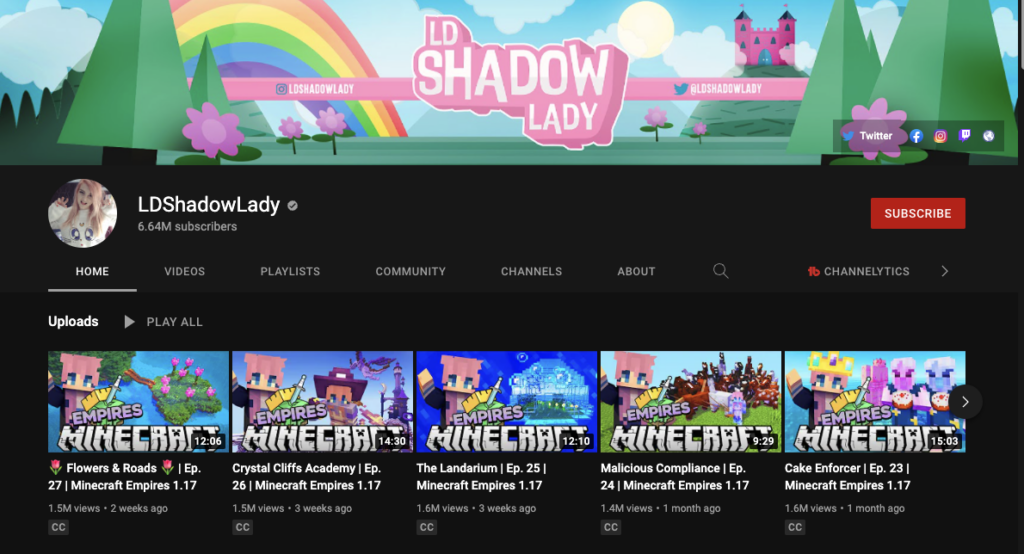 LDShadowLady has over 6.6 Million subscribers on Youtube. While she goes by the name LDShadowLady her name is Lizzy and she is from the UK. She joined Youtube on Jan 9th, 2010 so she's a true OG in the Youtube gaming community. Her channel has over 3 Billion views which is just insane.
She started her channel posting Call of Duty clips and since then has done everything from COD to Portal to Minecraft. Currently in 2022 she is crushing it with her Minecraft series pulling over 1.5 Million per episode.
Lizzy really started to blow up when she hired her own team to create custom games for here in Minecraft. This helped to grow a captive audience and build her brand.
iHascupquake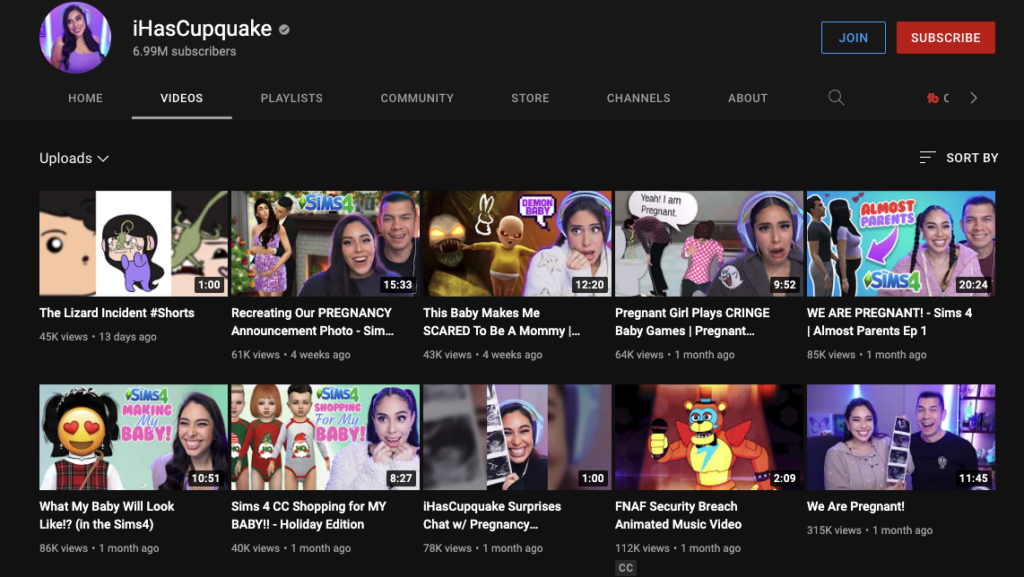 iHasCupQuake has almost 7 Million subscribers on her Youtube Channel. She also started her channel back in 2010, a true OG in the Youtube Gaming space. Her channel is currently closing in on 3 billion views.
CupQuake started her channel with Minecraft and World Of Warcraft videos all the back in 2010. Minecraft was the game that really allowed her to blow up on Youtube.Starting to notice a pattern here? Nowadays her content mainly consists of gaming videos with her husband.
Lately here channel unfortunately isn't doing as well as it used to with videos only pulling 40k to 100k views. While that might be a lot for some people thats low compared to her older content. At one stage in her career she was pulling in over 2M views per video.
iJustine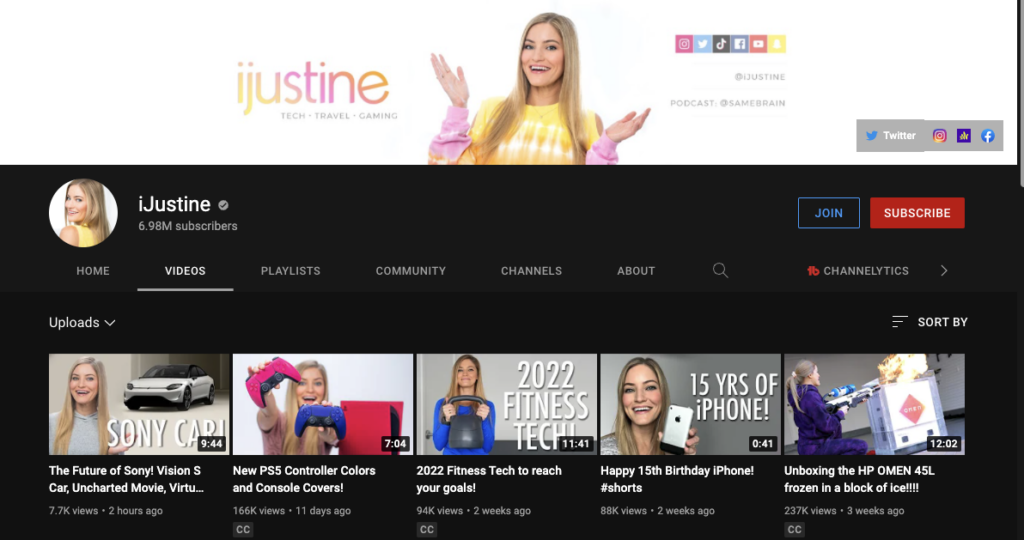 Ijustine is a Youtube superstar. She created her Youtube channel all the way back in 2006. Yep, 2006 she was one of the first creators on the platform. While she started her channel with short funny videos she has now moved to tech reviews
At one point in time she had a gaming channel however she has now deleted all the videos on that channel. She started her gaming channel in 2011 and primarily played Call of Duty.
Her main channel has almost 7 Million Subscribers and over 1 billion views. She's one of the true OG youtubers that most old school Youtube fans will recognize.
AzzyLand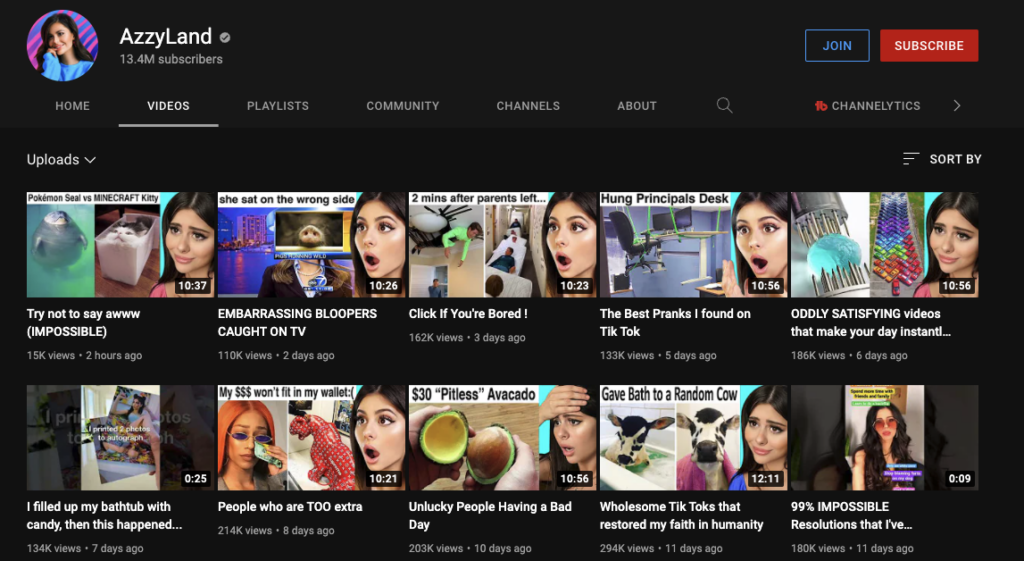 Azzyland has an absolutely massive channel with over 13.4 Million subscribers. She started out with a wide range of content from Comicon Vlogs to Pokemon videos. These days she is mainly doing reaction content.
In total, her channel has pulled in a massive 5.8 Billion views. Yes, that a B for Billion. Currently she isn't producing much gaming content unfortunately.
SSSniperWolf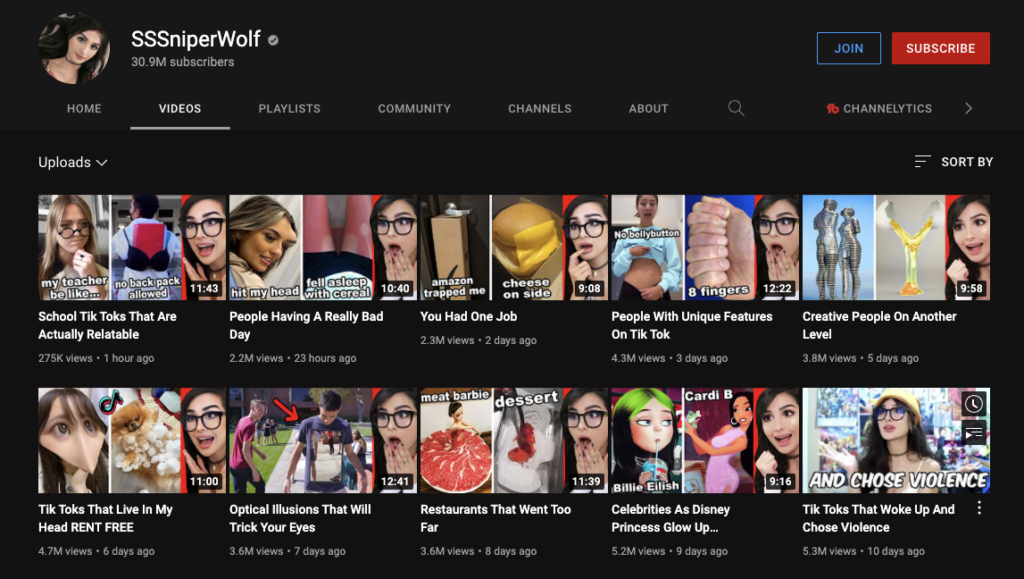 SSSniperwolf has one of the most insane female channels on the platform. She currently has over 30 Million subscribers on her channel. Right now she is mainly producing reaction content and is pulling 3-5 Million views per video. The craziest part is she uploads daily on her channel and still manages these crazy views.
Sniperwolf started her channel back in 2013. She got her start with Call Of Duty gameplay videos and she was pretty damn good at the game. Her channel really started to explode in 2016 and hasn't stopped growing since.
Valkyrae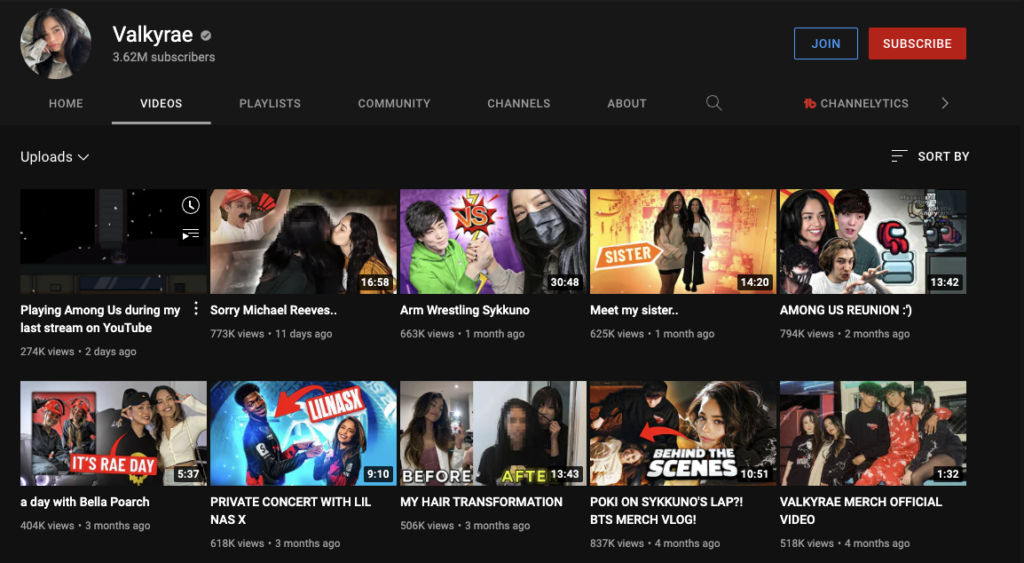 Valkyrae is one of Twitch's biggest female streamers but she also has a massive following on Youtube. Her channel has over 3.6 Million subscribers, with over 200 Million views. While her Youtube channel was created back in 2014 she only really started uploading in 2018 to her channel.
She really started to blow up her streaming and Youtube career through Fortnite. Since then she has became one of the biggest female streamers on Twitch and through that has grown rapidly on Youtube.
Pokimane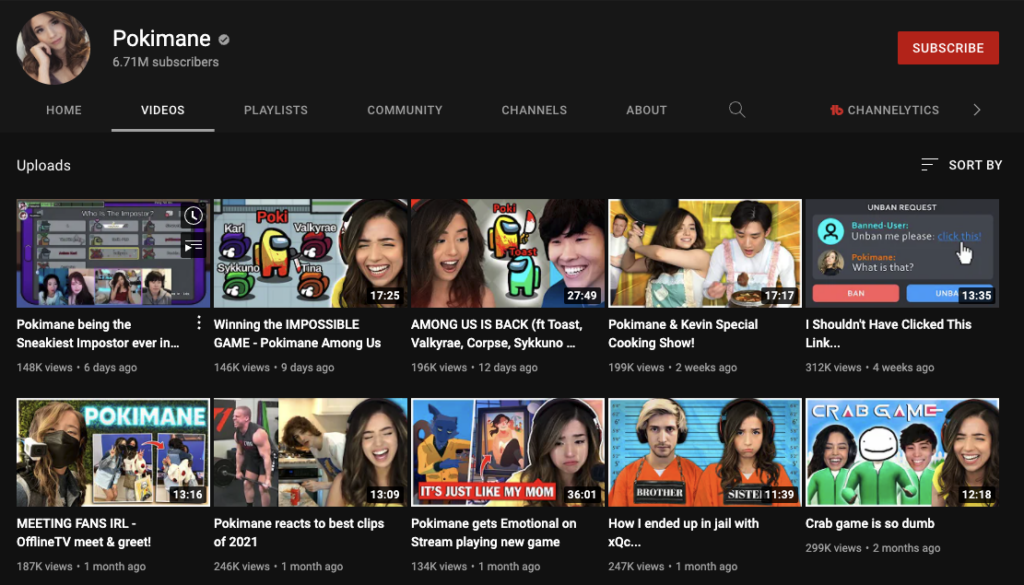 Pokimane has over 6.7 Million Subscribers on Youtube. She started uploading videos to her channel all the way back in 2014. Her first videos were based on League of Legends and were mainly just clips from her Twitch stream.
Poki is a Twitch streamer first and a Youtuber second. Even with her main focus being on Twitch she has still managed to pull in over 602 Million Views on Youtube.
In 2020 her videos consistently pulled in 1-2 Millions views per video however in 2022 her videos aren't performing as well. Her latest videos are pulling in 150k to 400k views.
Gloom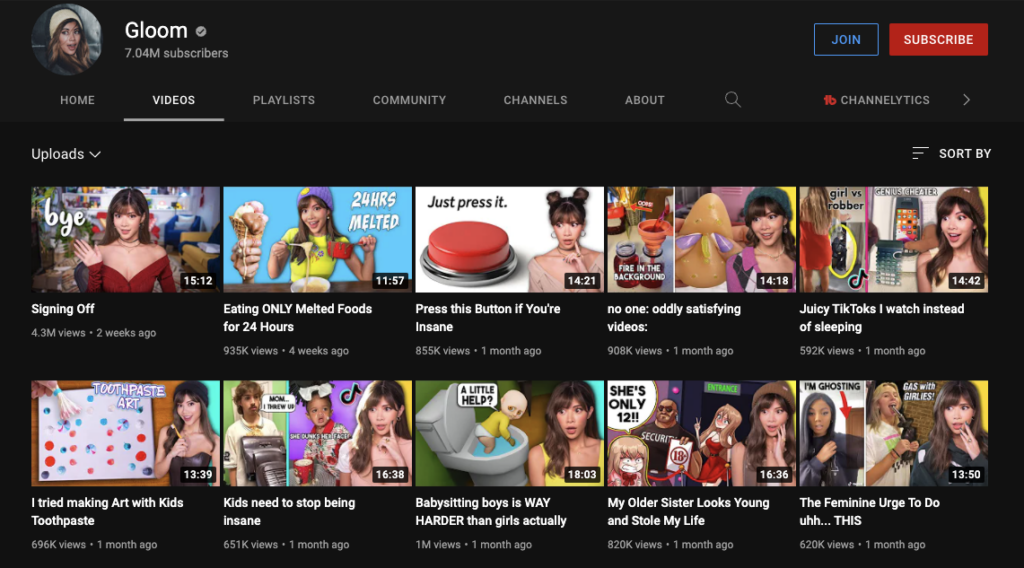 Gloom has over 7 Million subscribers on her youtube channel. She has pulled in over 2.6 Billion views on her Youtube channel in total. Unlike a lot of the other channels in this list she started her channel only 6 years ago whereas a lot of them were started over 10 years ago.
She initially got her start playing horror games on her channel. After she had finished with the horror genre she moved into reaction content and still make it on her channel to this day. She is still pulling in over half a million views per video on her channel.
Yammy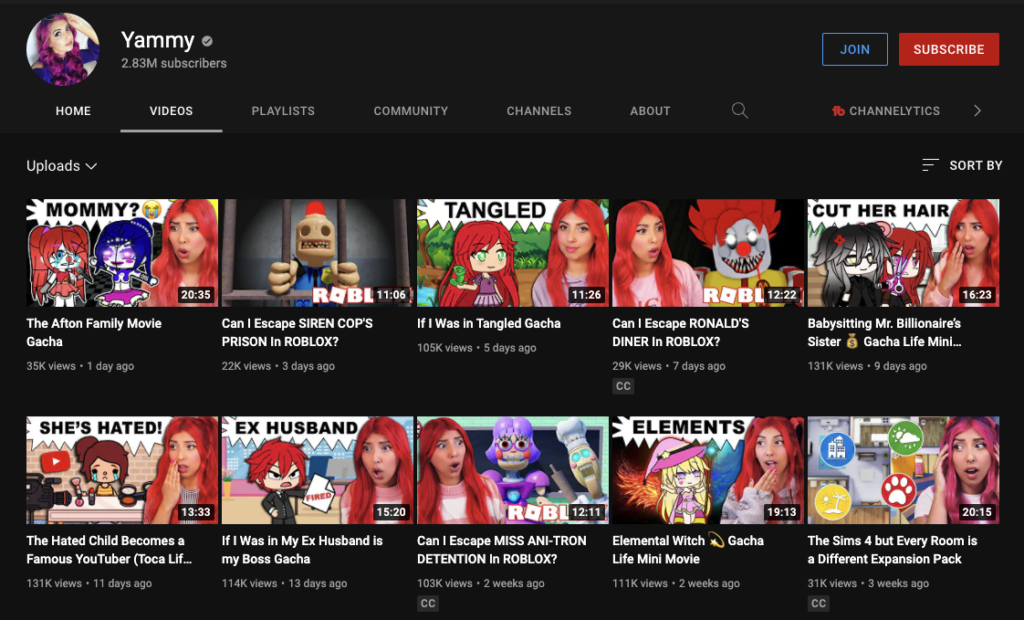 Yammy is a British youtuber with over 2.8 Million subscribers. Her channel has over 800 Millions views. She got her start on Youtube with minecraft videos all the way back in 2013.
Currently she is making Roblox videos on her channel and pulls in anywhere from 30k to 150k views per video.
LaurenzSide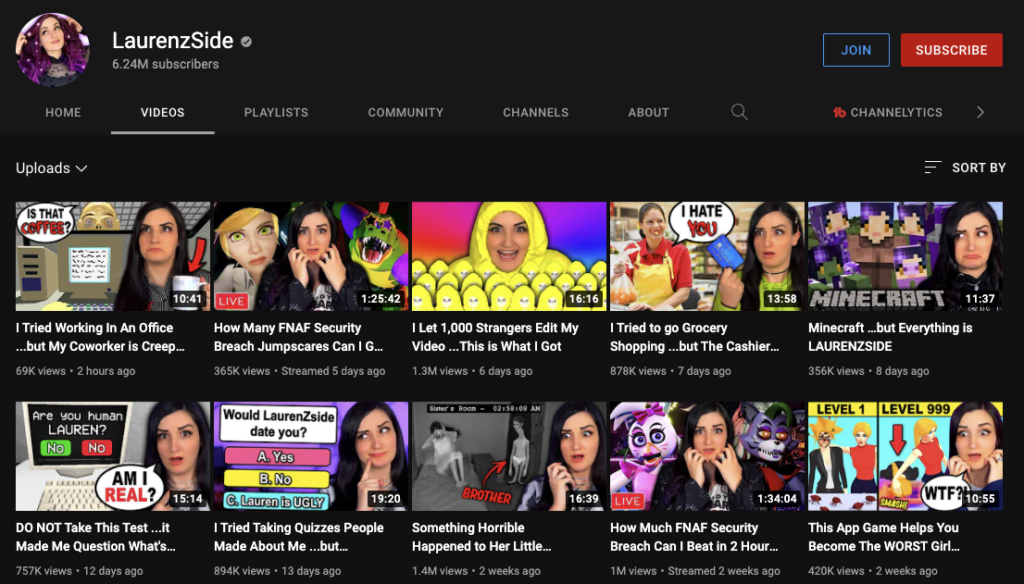 Laurenzside has a massive Youtube channel with over 6 Million subscribers. Her channel has pulled in a massive 2.4 Billion views in its lifetime. She started her channel back in 2007. She's a true Youtube OG.
Her channel started with Pokemon but really blew up with the Sims 4 and Minecraft.
Wrapping Up
These are our Top 10 Female Gaming Youtubers. Let us know who your favourites are down below in the comments.