There are numerous reasons you may want to transfer games to a new account on Steam. Maybe you have two accounts and want to transfer everything to a single account or you potentially have been playing on your siblings account and they have now left the house. Whatever the reason, you need access to your games from one account on another.
Let's jump in and see how you can go about doing it.
Can You Transfer Games To A New Account On Steam?
No, you are unable to transfer games from one account to another. The account the game was purchased on, is the sole owner of that game and it cannot be transferred. Also if you have activated a game key on your account, the game solely belongs to the account.
While you cannot transfer games between accounts, you do have the ability to share games between your accounts. This means that if you have access to both accounts, you can share games between the accounts and then use one as a primary account.
As long as no one else is playing on the other account you will never have any issues playing games from Account 1 on Account 2. Let's jump in and show you how how to link the accounts using family sharing.
How To Share Games Between Accounts Using Family Share
Step 1 – Set Up Steam Guard
Before setting up game sharing you need to enable Steam Guard on your Steam Account. This is a security measure that essentially enables 2 Factor Authentication on your account.
Open the Steam application on your computer
Click on the Steam button in the top left hand corner –> Settings
In Settings Navigate to Account –> Manage Steam Guard Account Security
You can then select which section option you want. You can choose to get a code to your phone or email when you log in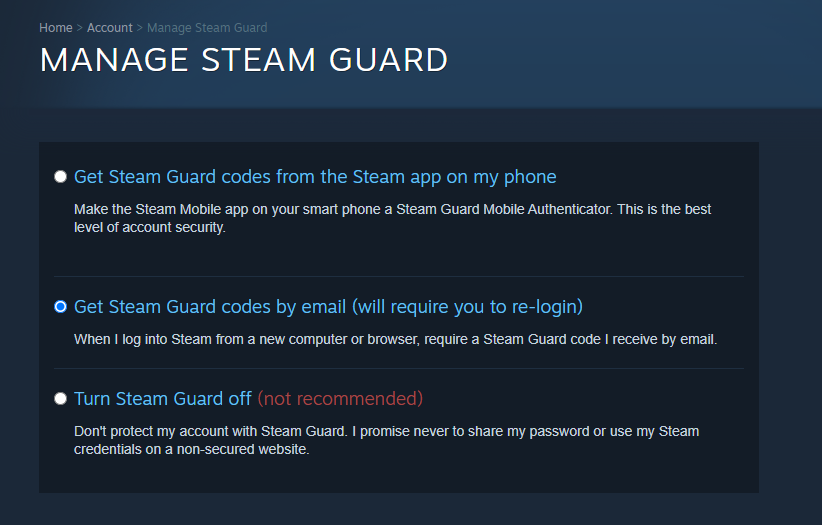 Save your settings and you now have Steam Guard enabled on your account.
Enable Family Sharing On Your Steam Account
We can now enable Family sharing on our account. Follow the steps below:
Click on Steam in the top left corner and select Settings
Click on family in the left hand menu
Select "Authorize Library Sharing on this computer"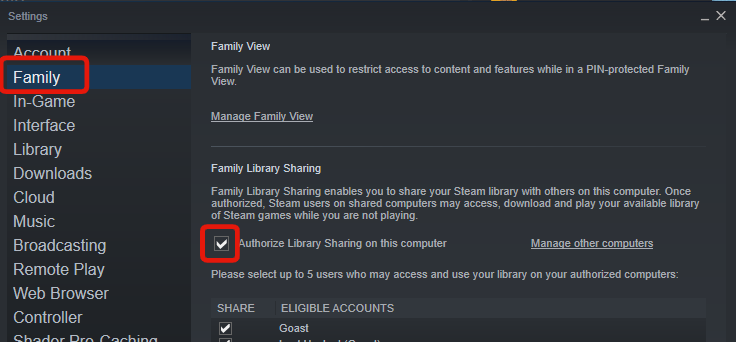 You will now have the ability to authorize other accounts that have logged in on your computer i.e. your original account you want to share games from. If you have never logged in on your computer, you should log out of your account and log in to your original account. Then log out of the original and back into your new account. You should now see them in the Eligible Accounts section under Family Library sharing.
Select the box on the users name that you want to share accounts with
Click OK to save these settings
The second account will now be able to play all of your original games from Account 1. If someone else uses account 1 as well you will only be able to play games while they are not currently online playing a game.
Wrapping Up
You now know how to transfer steam games to a new account using the family sharing feature. You can learn more about the family sharing feature here.
Read More From Remeshed: