Steam is not only a store to purchase games. Steam manages all of your achievements, has communities, and also acts as a gaming social network. You may have seen videos on some of your friend's profiles and wondered how they were able to upload their sick clips.
Unfortunately, you are unable to upload clips directly to the Steam platform. To showcase your videos on Steam you will first need to upload them to your Youtube channel and link your account to Steam. Let's take a look at how you can do it.
How To Upload Videos To Steam
To upload videos on Steam you first need to have a Youtube account and then link that account to your Steam profile. Follow the steps below to get set up.
How To Upload Videos To Youtube
Follow the steps below to upload a video on youtube:
Sign into your Google account on Youtube.com
In the top-right hand corner click on the camera icon –> Upload video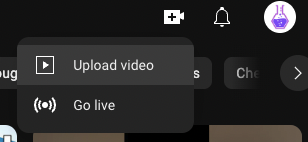 Drag or select your video file
Fill in the information for your video, such as Title, Description and Thumbnail and click on next.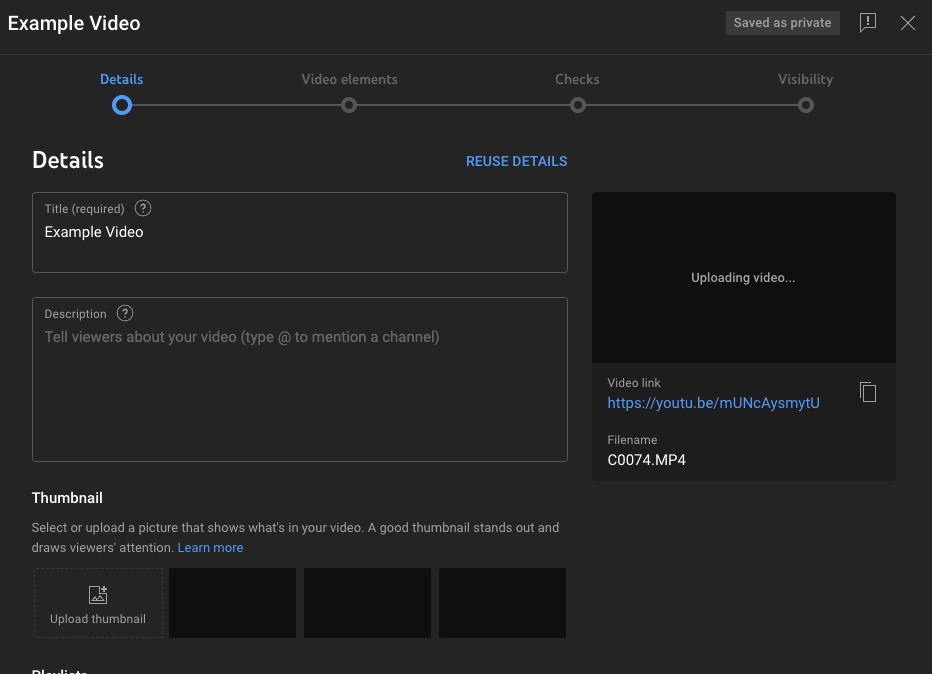 Go through all the next steps required to complete your upload.
In the visibility section select whether you want your video to be Unlisted or Public. Public can be seen on Youtube. Unlisted can only be seen with people you share the link with. You can still share an unlisted video on Steam.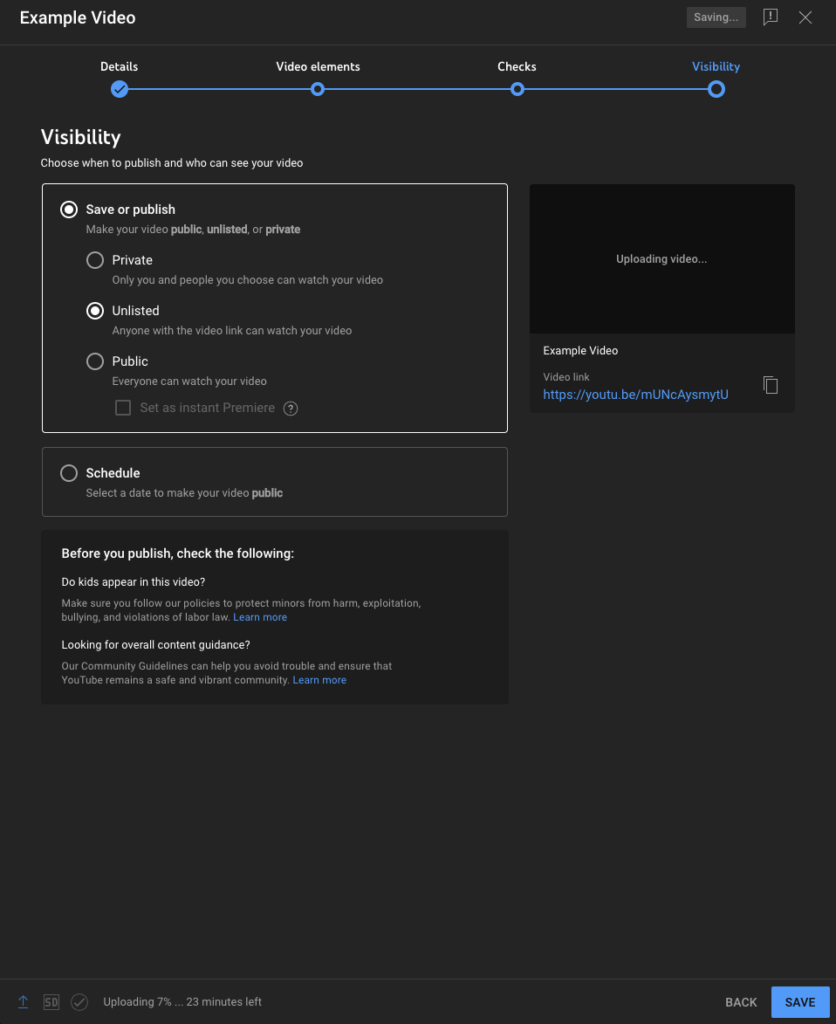 Now your video is successfully on Youtube we can start sharing it on our Steam Profile.
How To Link Youtube To Steam
Now you have uploaded your video to Youtube, you need to link your Youtube account to your Steam account so you can display Youtube videos on your profile.
Go to Steam and click on your Username –> Profile in the top bar
On your profile, you will see videos on the right-hand side
Click on videos
In the videos tab you will see "Link Youtube Account", click on it.

Select "Access your Youtube Videos".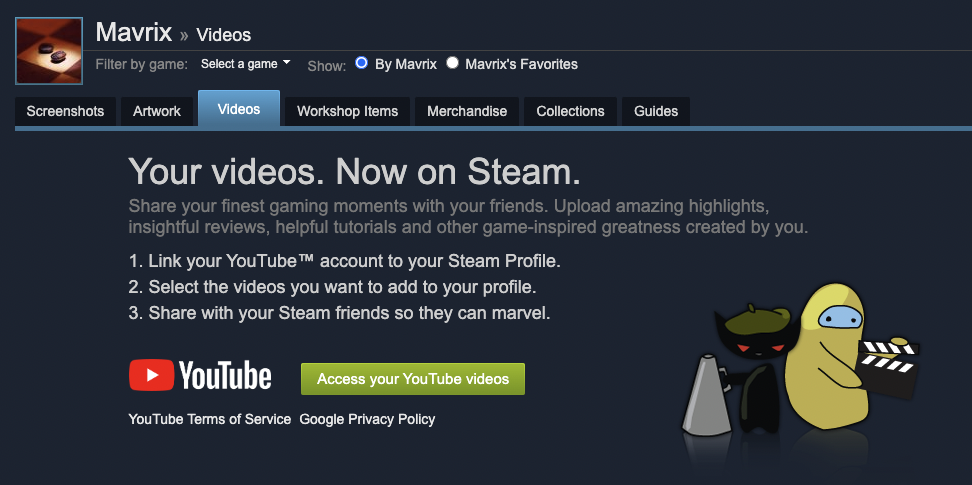 A pop up will appear asking you to link your Google account. Go ahead and select the account with your Youtube channel and grant Steam the permissions it requires.
Once connected, you will be able to see all of the videos uploaded to your channel and select which ones you want to appear on your Steam profile.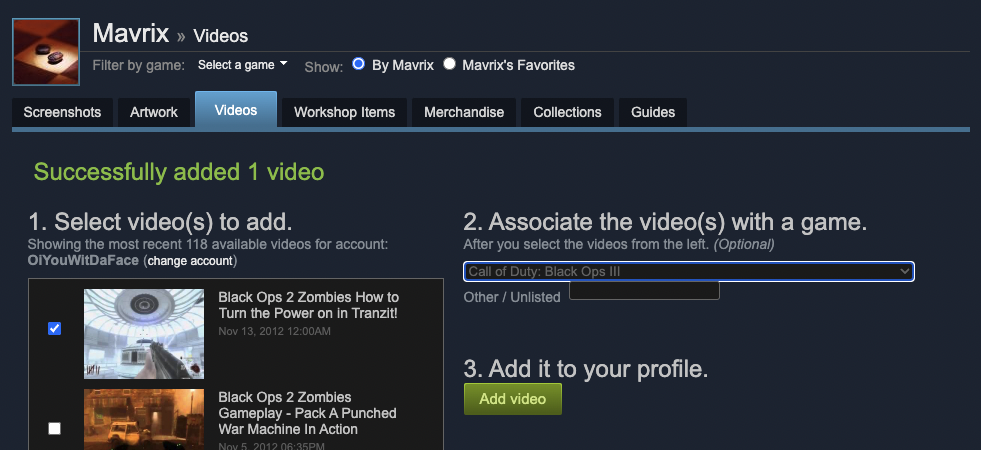 Select the video you want to upload, choose which game it is and click on 'Add Video'.
This video will now appear on your Steam Profile under the videos section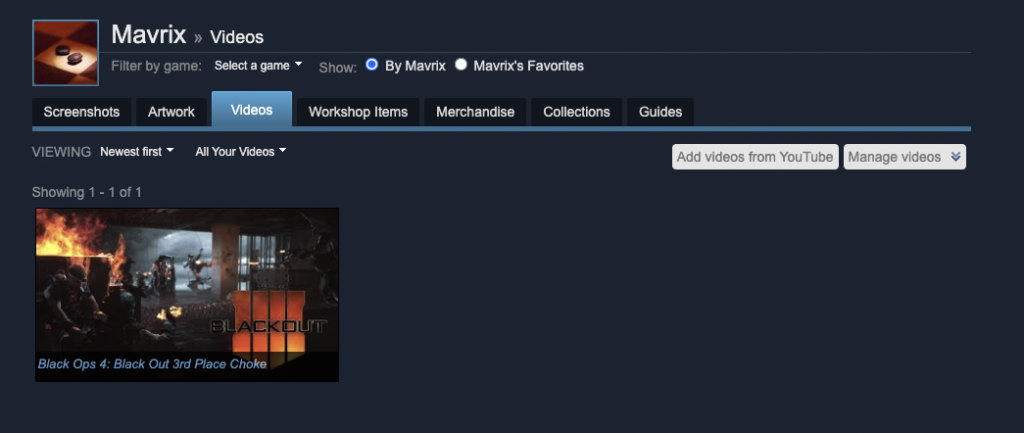 You have now successfully added your Youtube videos to your Steam profile so your Steam friends can easily see your content.
Wrapping Up
Now you have your Youtube account linked to your Steam account, it will be easy to share any new videos you upload to your Youtube channel. Sharing the video on your profile may help you to gain some more Youtube viewers.
Read More From Remeshed: