Steam is the biggest gaming platform out there on PC. It hosts thousands of games for you to purchase and play. Like any good gaming platform they have a level system built in so you can compare your gaming progress to your friends and competitors.
While it doesn't really benefit you all that much to have a high level on Steam, it does give you bragging rights. In this article we are going to go through the best way to level up on Steam fast.
Let's jump in and find out.
What Are Levels On Steam?
Steam has a level system built into their platform. As you earn XP, you will level up. XP can be earned by the following activities on Steam:
Purchasing Games
Earning Badges
Crafting Badges
Upgrading Badges
As you can see the system is based on purchasing games and then earning and crafting badges for those games. Your level is then displayed on your Steam profile as you can see below.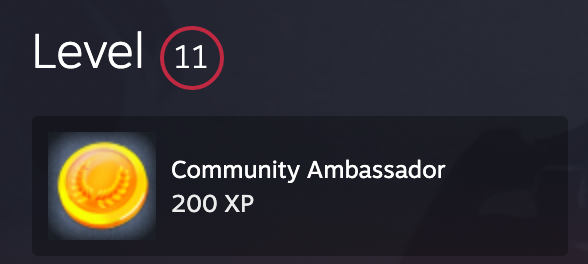 What Do Steam Levels Give You?
Believe it or not there is actually some benefits to leveling up other than bragging rights. There are three benefits to increasing your level.
For normal Steam accounts the maximum amount of friends you can add is 250. For every level gained on Steam, you will be able to add five more friends. This then maxes out at 2000 friends. If you're extremely popular it may be worthwhile working on increasing your level.
You will also gain Showcase spots as you level up. A showcase spot allows you to display a unique showcase on your Profile. This includes achievements, videos and screenshots. Every 10 levels you will unlock a new showcase spot. If you have high priced or rare items you can show them off in your showcase. This caps out at 14 Showcase spots.
The higher the level you are on Steam the higher the chance of getting booster pack drops from games. Booster packs give you multiple trading cards allowing you to level up faster.
How Can I Start Leveling Up
Anyone can start leveling up their account as long as it is not a limited account. Limited users are unable to access Steam levels and will remain at 0. To unlock your Steam account, you will need to spend at least $5 on the Steam store. Once you have completed this levels will be available on your account.
How To Level Up On Steam Fast
There are multiple ways you can get XP to level up on Steam. Some are better than others. Below is a guide to the best ways to gain XP fast.
How To Level Up By Crafting Badges
One of the main ways to level up is by crafting badges on Steam. You may have noticed in your steam inventory, you have cards available from some of the games you have played on Steam. They look like this: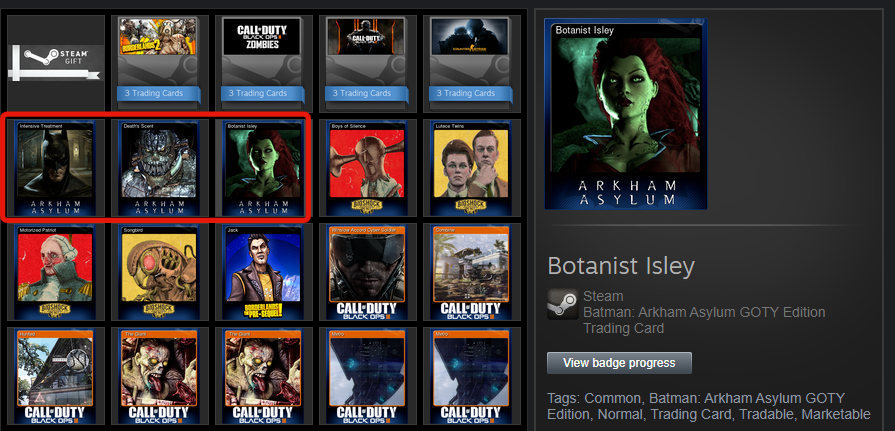 You can see I have 3 cards from Batman Arkham: Asylum. Each game has a specific number of cards available. Once you have all of the cards, you can craft a badge. Crafting a badge gives you XP. For each badge you will Earn 100 XP.
You can check how close you are to getting a badge by clicking on view badge progress in your inventory.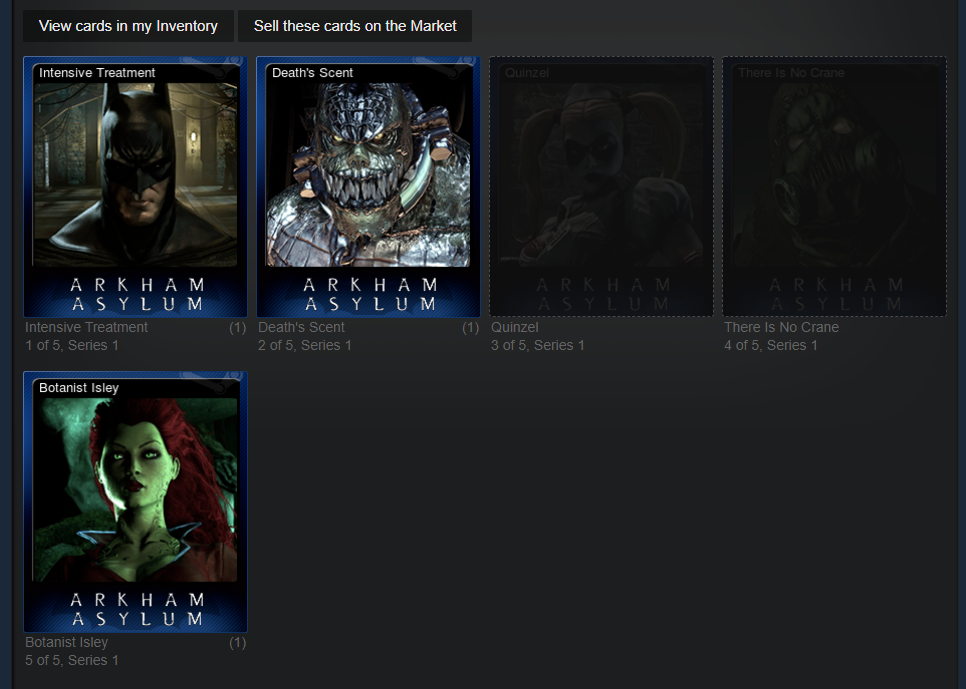 As you can see above, I have 3/5 badges for the Arkham Asylum game. If we want to level up as fast as possible we need to complete as many badges as we can.
There are multiple ways to complete badges:
Buying Cards On The Steam Market
To complete badges you can simply purchase the cards you are missing on the Steam Marketplace. These are generally pretty cheap. You can instantly purchase the cards you are missing by clicking the "Buy Remaining Cards On The Market" button.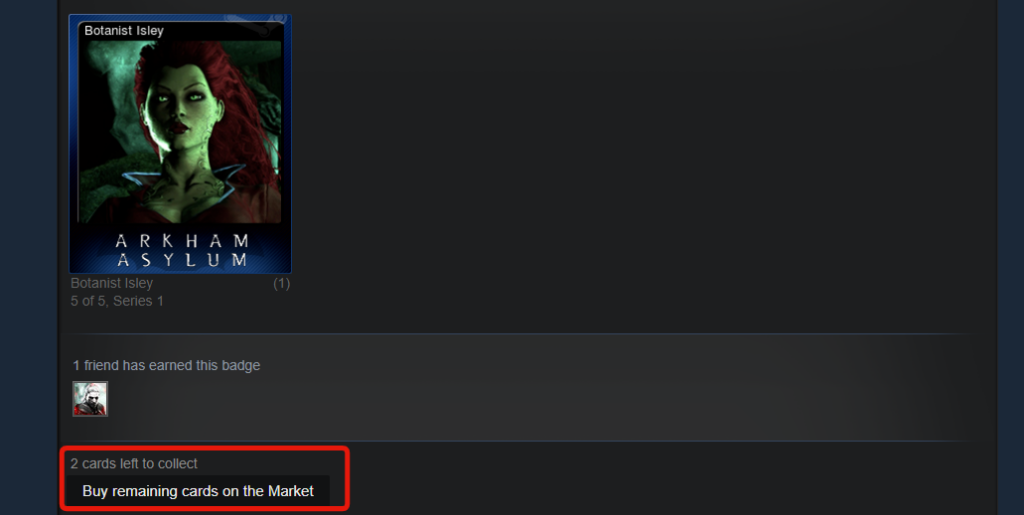 You can find this button in Inventory –> Click a card from collection you want to complete –> Scroll Down below the cards.
You can then see the price of the cards that are remaining. Purchase the cards and craft your badge to gain XP.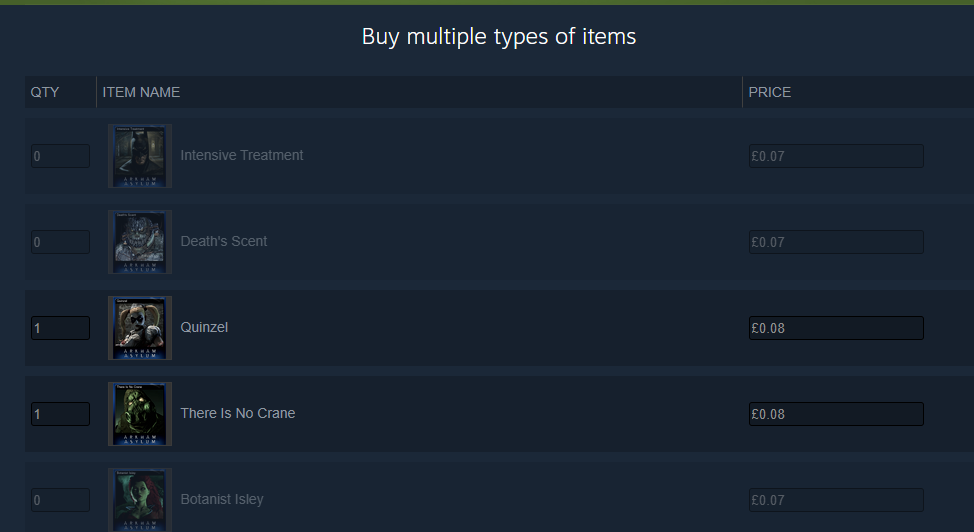 If you want to level up fast you should go through all the sets that you currently have and complete them. It's generally going to be very cheap to do and you will get 100 XP for each badge crafted.
You can craft badges up to 5 times for the same game, meaning you can get 500 XP per game.
Trading With Friends
You can complete sets by trading or getting cards from your friend. You can see which friends have the cards you need by going into your Inventory –> Click on a card from the collection you want to complete and then scroll down.

You can see here that two friends have one of the cards I need. No one has the second card. If a friend has the card you can submit a trade request with that person. You offer them a card they need for the card you need. This is done through the Steam trade system. Once you make them an offer they will have 1 day to respond.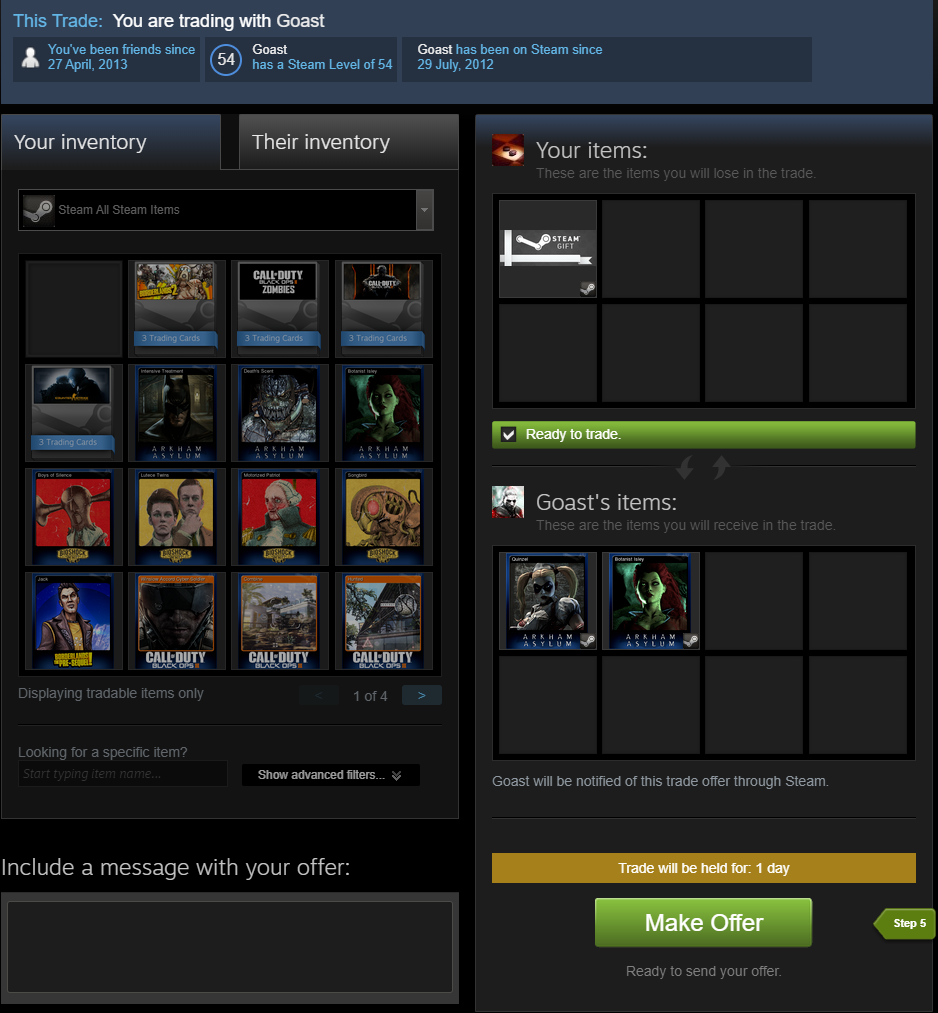 You can use this tactic to get as many of the cards you need as possible. Obviously the more friends you have on Steam the easier this process will be.
If your friends don't have the cards you need you can also trade on the Steam forums. You can do this by clicking on the "Visit Trade Forum" button and posting there to see if anyone wants to trade.
Buying Full Sets On The Steam Market
Once you have completed the sets for the games you own, you may want to start completing other sets. Luckily you do not need to own a game to complete a set.
You will probably want to complete sets for the cheapest possible price. By using a website called Steam.tools that will show you the cheapest sets on the market. Currently the cheapest set is "Castle". You can buy this for $0.25. You could complete this set 5x times for $1.25 and get 500 XP.

In the links section on Steam.tools click on the [B] button to go to the collection page on Steam.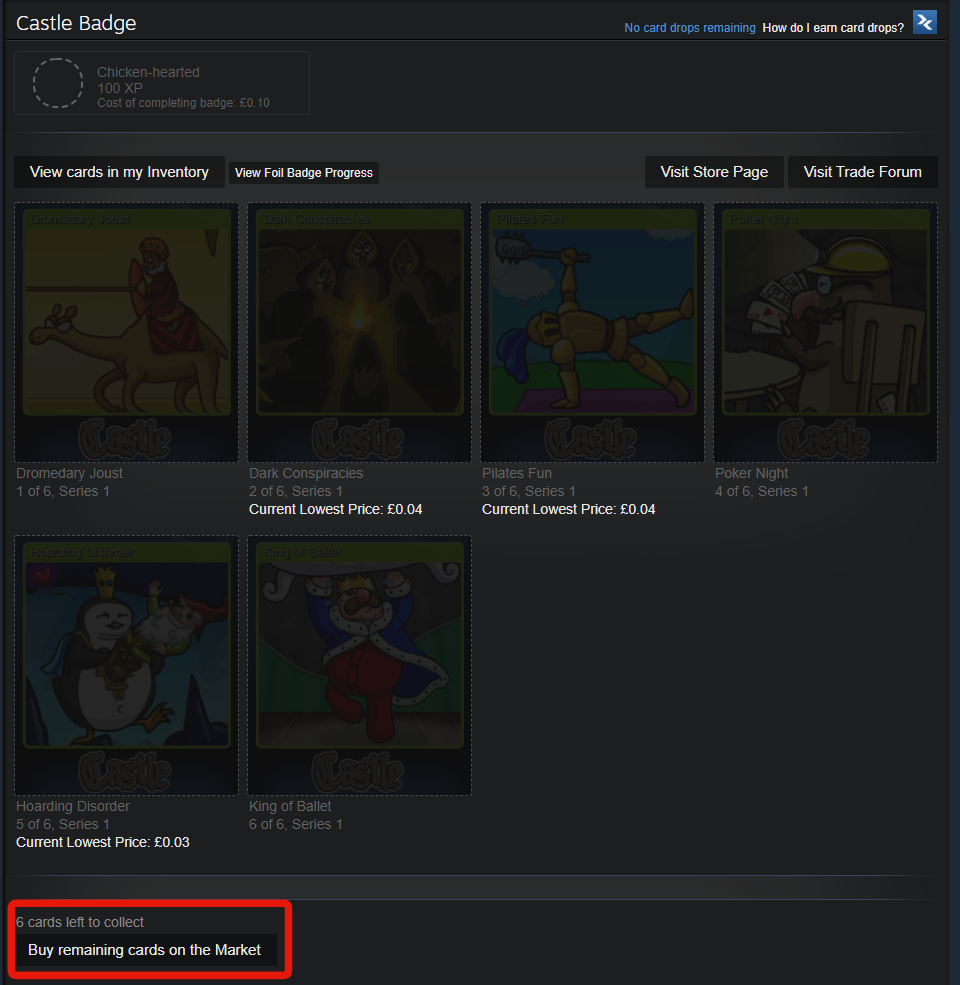 Here you can click on "Buy remaining cards on the market". This will pop up the page to buy all of the cards. Once you have purchased you can then craft the badge and earn the XP. You can continue to purchase this set 5x to gain 500 XP. Bare in mind that when you purchase the cards the prices may rise if there isn't a large amount of cards on the market. After you purchase a set once, it may become cheaper to purchase a set from another game.
How To Level Up By Participating In Steam Sales
Throughout the year, Steam run big sale events. During these events you can level up much faster than normal.
Rather than crafting your full sets during the year you can save them until these sale events. The main two events are the Steam Summer sale and the Winter Sale. Any badges crafted during these periods will give you "Steam Bonus Event Cards". These can be crafted into sale badges allowing you to gain more XP. These can be levelled up endlessly during the period of the sale.
Steam Booster Packs
Once you have got all of your card drops for a game, you have a chance of getting a booster pack drop.
Booster packs contain 3 cards each for the game. If you receive a booster pack you can then complete your badge for the game much faster.
The higher the level you are on Steam the more chance you have of getting a booster pack. The odds of receiving a booster pack increase 20% for every 10 levels you rank up on Steam.
How To Earn Badges Without Crafting
There are actually a couple of ways to gain XP without crafting badges. These are worthwhile doing if you haven't yet.
Pillar Of Community Badge
The pillar of Community badge is a badge you can get by completing certain tasks on the Steam platform. These are simple beginner tasks on Steam such as adding a friend, playing a game or posting a video. If you complete this badge you will get 200 XP. You can see all the tasks in the image below: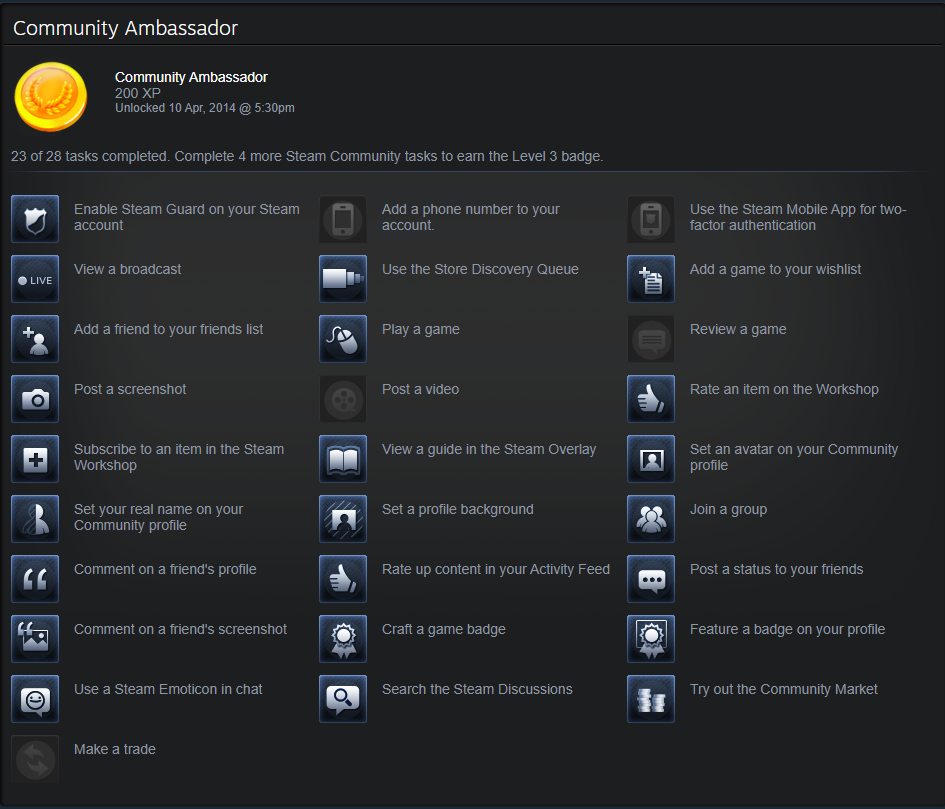 Game Collector Badges
Game collector badges are awarded as you buy games on Steam. You can continually earn XP from this until you have hypothetically bought every game on Steam. Every time you earn this XP the reward decreases.
How Much XP Does It Take To Level Up
Levels 1 through 10 only take 1 Badge or 100xp to level up. This means you can go from 1 to 10 by crafting only 10 badges. This will cost you around $2.50 if you are buying sets. From here on every 10 levels requires 100 more XP. So levels 10-20 will take 200 XP per level. Levels 21-30 will take 300 XP each etc.
What Is The Max Level On Steam?
There is no limit on Steam levels. Currently the highest account on Steam is level 5000 (St4ck). Ultimately, the more money you are willing to pump into your account the higher the level you will be able to achieve.
Wrapping Up
Now you know how to level up your Steam profile as fast as possible with this easy guide. You can enjoy flexing on your friends with the highest Steam level in the group.
Read More From Remeshed.com: