Hogwarts Legacy has a plethora of different Brooms that can be upgraded to increase their acceleration and speed, making moving across places in the vast magical world really convenient. However, many players have reported that they've been unable to upgrade their Broom past the first level, even after completing the requirements for it. If you're one of them, dive in as we explain the reason behind it. 
Why Can't I Upgrade My Broom In Hogwarts Legacy
If you've been unable to upgrade your Broom in Hogwarts Legacy, it's usually because of a Soft Lock. What this means is that you'll need to complete certain missions and quests to unlock upgrades for Brooms in the game.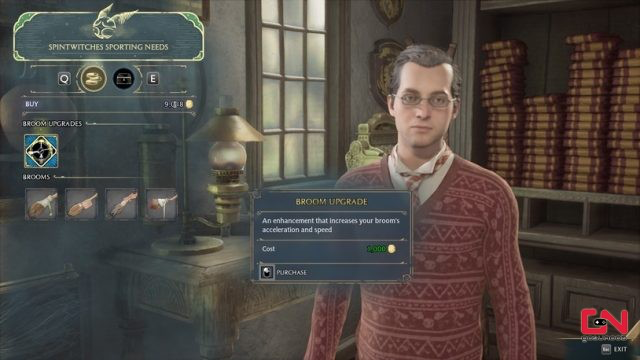 Users on Reddit have reported that they could upgrade their Broom once they finished the "In The Shadow Of The Mine" quest.
After you've purchased your Broom, Here are some methods you could try if you've been unable to upgrade your Broom in the game:
Complete Certain Quests
You will unlock your first Broom upgrade after you've beaten Iselda Reyes time trial challenge in the quest "Flight Test". If you haven't received the letter for the broom upgrade even after completing the Flight Test quest, then you have to check out whether you have completed the following quests.
Sebastian's questline
It's All Gobbledegook
In the Shadow of the Mine
All of Professor Weasley's Assignments and Quests
Usually, after completing the above quests, you will receive a letter to upgrade your broom.
Level Up Your Character
If you still haven't received the letter, try leveling up your character. Some players have found that after reaching level 25 or higher, the upgrade becomes available. It's also possible that you will receive the letter after a change in seasons.
Speak With Albie Weekes
If none of these solutions work, try speaking with Albie Weekes, the owner of Sprintwitches Sporting Needs (From where you purchase Brooms), or Imelda Reyes. It's possible that there is a quest or side mission you need to complete in order to upgrade your broom.
Hopefully, after trying these methods, you'll get the option to upgrade your Broom to the first level. Each Broom can be upgraded thrice, so to unlock each upgrade, you'll need to do the Flight Test quest repeatedly, where you do better than the time set by Imelda Reyes.
Wrapping Up
All in all, if you're unable to upgrade your Broom even after beating the fastest time in the Flight Test quest, we suggest you complete some further quests in the game and then come back to see if the upgrades have become available.
Read More From Remeshed: