When it comes to Harry Potter-inspired games, none comes close to Hogwarts Legacy, where players are handed their very own admission letter to Hogwarts. Players are fulfilling their fantasy of searching every nook and cranny of Hogwarts and beyond; others have already let loose with spellcasting, while some are even leaning towards the fashion side, flexing their Merlin's Cloak.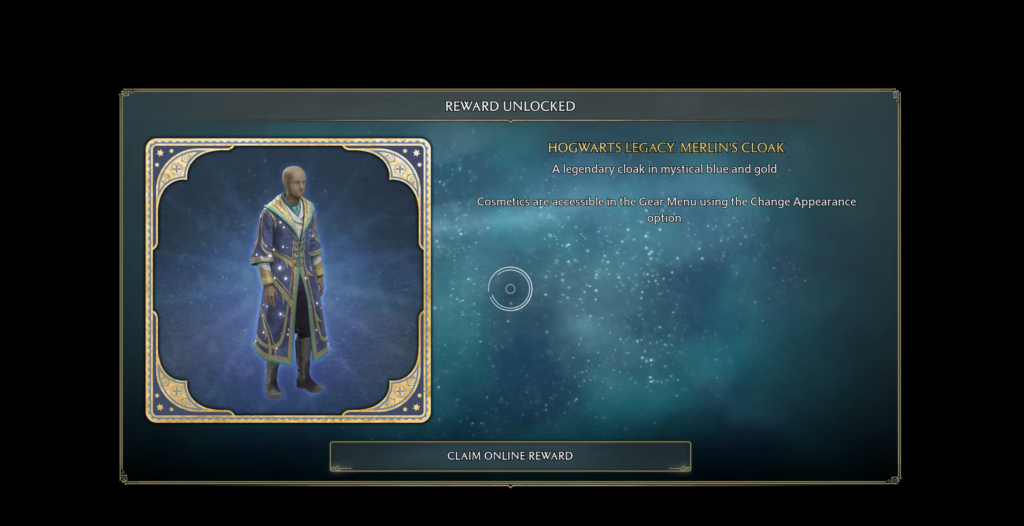 If cosmetics matter to you in Hogwarts Legacy, Merlin's Cloak is a must-have. The steps to obtain it are a bit tedious and will make you sweat, but the thing is that the claiming period has already lapsed. However, if there's another opportunity to don this graceful Cloak in Hogwarts Legacy, here's a guide that'll prepare you ahead of time.
What Is Merlin's Cloak In Hogwarts Legacy
Merlin's Cloak is strictly cosmetic and imparts no buff or effects to players in the game. You've likely seen the Cloak in gameplay videos and missed it since you weren't following Hogwarts Legacy's Twitter account.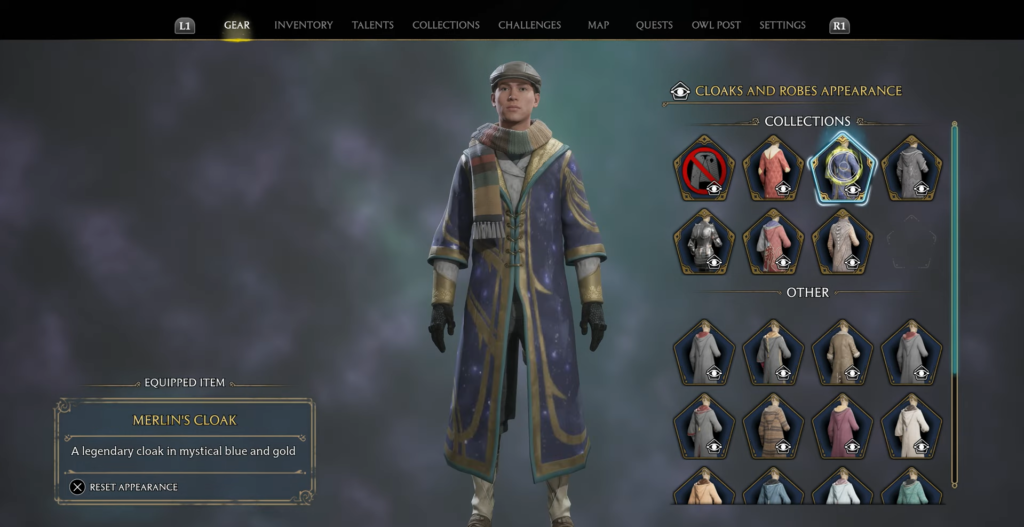 Wrapping yourself in the Cloak gives one the snazzy vibes of a wizard as it is the stereotypical garment of a wizard. You've got your usual blue Robe with tints of gold and emerald. Stars are also etched onto the attire that randomly glows neon white. Aside from that, it has no special features other than changing your current Robe's appearance.
How To Get Merlin's Cloak In Hogwarts Legacy
Merlin's Cloak was available on two different occasions: the early access stream on 7th February at 8 AM PT and the launch stream on 10th February at 8 AM PT. The process of acquiring the Robe was the same on both dates, and it required a Twitch Account and a linked WB account. In case the same method is used in the future, here's how to do it:
Watch Avalanche Software's Twitch Stream
Ensure you have a Twitch account linked to your WB Account. Another thing to ensure is that the WB account you're using is the same one used in Hogwarts Legacy. After that, if Hogwarts Legacy announces another date for a live Twitch Stream, you'll simply have to tune in from Hogwarts Legacy's official Twitch Drop on that day and watch a stream for at least 20 minutes.
You can leave your screen on and do some other stuff while the watch time completes. Once done, you'll be notified to claim the Twitch Drop, the Cloak.
Claim Merlin's Cloak
Another step remains after claiming the Cloak from Twitch, which is claiming it from Hogwarts Legacy's official Twitch Drop. It is mandatory; otherwise, you won't receive the Cloak in your game. After claiming it from over here as well, you can launch your game, and you'll be able to transmogrify your current Robe into Merlin's Cloak.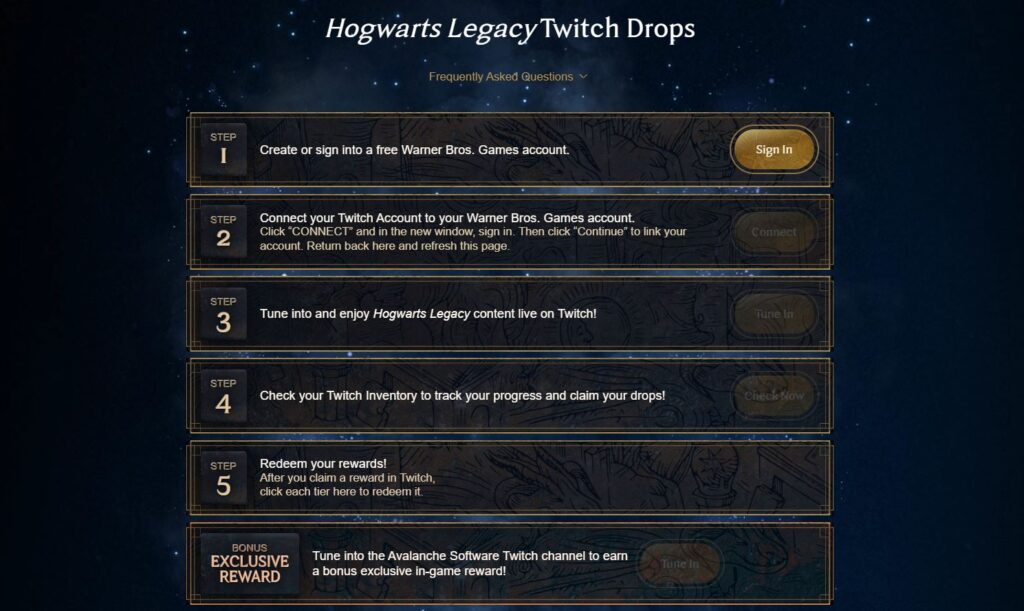 Will There Be Another Opportunity To Get Merlin's Cloak
With players' demand for Merlin's Cloak increasing, developers have answered this query, saying they are planning a couple more chances for players to don this magnificent attire. But it has been for naught so far, and we've yet to hear something from them. But make sure to regularly check on their official Twitter account.
Other Twitch Drop Rewards In Hogwarts Legacy
While Merlin's Clock is a time-limited Transmog, players can claim other Transmogs whenever they wish through Twitch Drops. You'll have to follow the procedure similar to claiming Merlin's Cloak. That said, here are the other Transmogs and the watch time required to claim them:
Silver Dragon-Eyed Spectacles, 30 Minutes.
Urchin Hat, 30 Minutes.
Carmine Lightning Scarf, 30 Minutes.
Lilac Ensemble, 30 Minutes.
You can't claim all four Transmogs at once within 30 minutes. Instead, it'll take you 120 minutes to claim them all.
Final Thoughts
While some players adore a game's combat aspect, others are inclined towards aesthetically pleasing outfits. As such, Merlin's Clock was on every wizard and witch's radar in Hogwarts Legacy, but unfortunately, they'll have to wait patiently to get a hold of one if they've missed it.