While you can create your own unique character in Hogwarts Legacy, sometimes players might end up with a name they don't like by accident or would perhaps lose interest in it. You might be in the same situation and are probably looking for a way to change your character's name. If that's the case, we'll show you how right away!
Can You Change Your Character Name In Hogwarts Legacy?
Unfortunately, you can't change your character's name in Hogwarts Legacy. Most of the identification of your character made during the creation process becomes permanent, which includes their name. So be really careful if you have yet to set your character's name, as once it is set, that is it.
Moreover, if you haven't been to that point and want to learn how to set your name for the first time, let's go ahead and crack a book on that!
Setting Your Character's Name
Like in any other game, before you start roaming in the Wizarding World of Hogwarts Legacy, you've got to customize your in-game character. Once you start the game, you'll be taken straight to the character creation screen, where you'll build and name the protagonist of your Hogwarts Legacy story.
Choosing a name for your character in Hogwarts Legacy can be done by simply progressing through the character creation menu. Once you're done creating your character's facial features, you'll automatically be taken to the Finalize Your Character tab, where you'll set your character's First and Last name, along with other aspects (Voice/Tone/Pitch/Difficulty/Dormitory).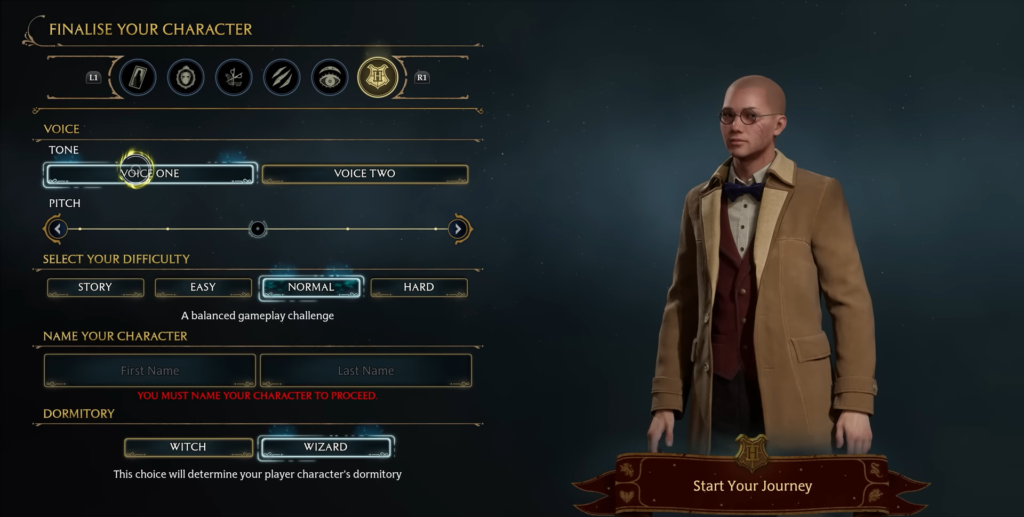 Wrapping Up
While selecting your character's name is not a crucial part of the game, make sure to set the one you like, as you won't be able to change it later on. That said, let us know below, what name you choose for your exciting journey in the world of Hogwarts!
Read More From Remeshed: