In the strategic world of BattleBit Remastered, you're often only as good as your equipment, and binoculars are an essential part of that equation. This game, known for its realistic combat and tactical gameplay, offers an expansive environment that necessitates a discerning eye for detail and a comprehensive understanding of your surroundings. That's where binoculars come in.
These optical tools grant players the ability to survey the battlefield from a safe distance, spotting and marking enemies without jeopardizing their own safety. With binoculars, you can not only elevate your strategic thinking but also enhance your squad's situational awareness. This proves vital for coordinated attacks and effective team play.
But, not all binoculars in BattleBit Remastered are created equal. In fact, the game presents three distinct types of binoculars, each with its unique features and uses. Let's delve into each one and understand their characteristics.
BattleBit Remastered's Binocular Line-up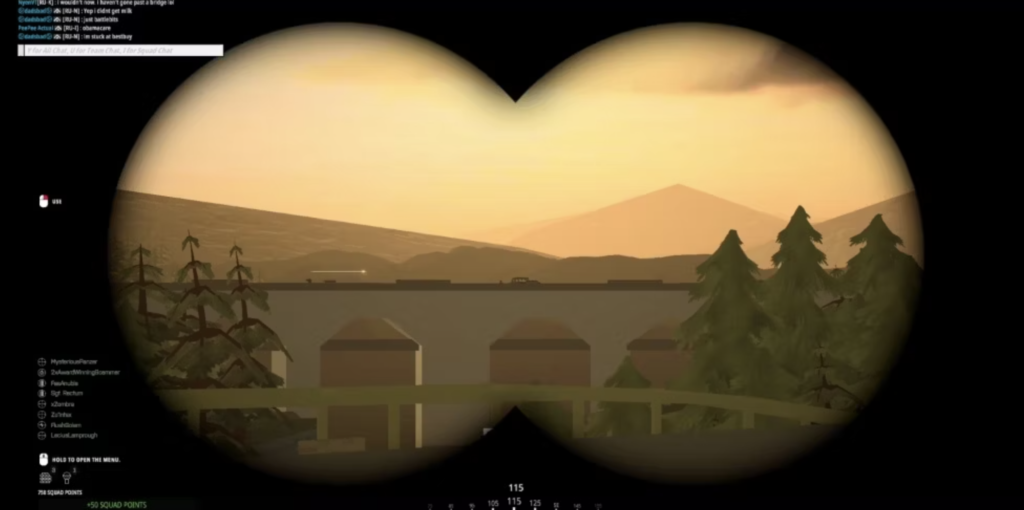 Standard Binoculars
The Standard Binoculars are your entry-level optical equipment in BattleBit Remastered. These binoculars, while basic, offer a decent level of zoom magnification. Players can simply hold the right-click to zoom in, allowing for preliminary enemy spotting and terrain surveying. These binoculars, however, lack any specialized features, making them more suitable for beginners or less strategy-intensive scenarios.
Advanced Binoculars
The Advanced Binoculars in BattleBit Remastered serve as an upgrade to the standard model, offering players enhanced zoom capabilities. Like the standard binoculars, you can use the right-click to zoom in, but with a notably higher level of magnification. This additional zoom level allows for a more detailed landscape analysis, making it easier to spot potential enemy movements and better plan your squad's actions.
Bino SOFLAM
The Bino SOFLAM stands as the epitome of optical equipment in BattleBit Remastered. While it maintains the improved zoom capabilities of the Advanced Binoculars, it introduces a game-changing feature: a range finder. This additional ability significantly aids in trajectory predictions for recon snipers and enhances the Squad Leader's capacity to guide their team's movements and actions. However, it's worth noting that the Bino SOFLAM is exclusive to the Squad Leader class.
The Clear Choice: Bino SOFLAM
Among the three types of binoculars, the Bino SOFLAM stands out due to its unique range finder feature. This functionality not only aids in precise trajectory prediction for recon snipers but also enhances a squad leader's capacity to direct their team more efficiently. It's an exceptional tool, elevating both individual performance and team efficiency.
Wrapping Up
Remember, understanding how to use these optical tools effectively, particularly the Bino SOFLAM, can significantly improve your gameplay in BattleBit Remastered.
Whether you're a novice or an experienced player, gaining insights into the capabilities and advantages of these binocular types is vital to maintain an edge in the game's intense combat scenarios. Choose wisely, lead strategically, and let your squad claim the victory!
Read More From Remeshed: