In "The Legend of Zelda: Tears of the Kingdom" (TOTK), players get the chance to explore the vast expanse of Hyrule, engage in combat, solve intriguing puzzles, and embark on a multitude of quests. One such engaging task is to resolve the Hudson Construction sign puzzles.
As you journey across Hyrule, you may come across Addison, the diligent Hudson Construction employee, who is often found attempting to keep his wooden signs upright. He presents you with a challenge to solve these puzzles scattered across Hyrule. But the question arises – Is there a reward for completing all these Hudson Signs? Let's dive in and find out.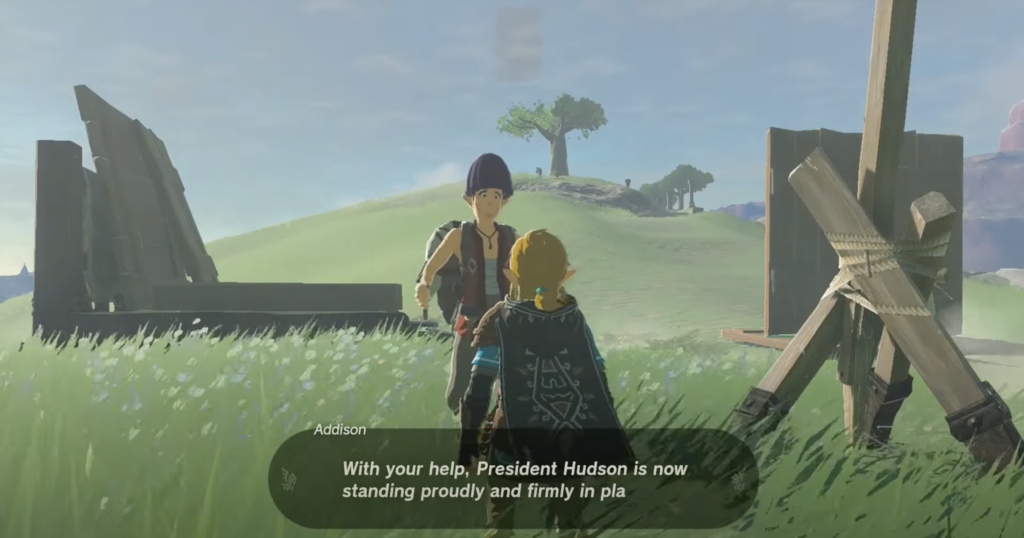 Understanding Hudson Sign Puzzles
When you encounter Addison and his signs, the main goal is to use Link's Ultrahand ability to build a structure that can support the sign until Addison can secure it. These puzzles not only provide an opportunity for some quick rupees but also serve as a small distraction from the main game and a fun way to test your problem-solving skills.
However, these Hudson signs are not just confined to the common areas of Hyrule. You will find these signs in peculiar and remote places, which adds to the intrigue and challenge of these puzzles. Addison, despite being stuck in the sign-posting department, is always busy setting up new signs.
Hudson Signs Video Guide
Hudson Sign Rewards: Immediate and Long-Term
Every time you help Addison with a sign, you get a handful of rupees and some handy sundries. As the game progresses, these rewards pile up, making it worthwhile to spend some time helping Addison. Moreover, the construction materials Addison provides are especially useful, as TOTK is heavily focused on building and crafting.
But is there an ultimate reward for solving all these puzzles? Yes, there is.
The Ultimate Reward: Addison's Fabric
After helping Addison erect all of the Hudson signs scattered throughout Hyrule, you will be rewarded with a unique item, the Addison's Fabric. This is a customization item for Link's paraglider, designed with a vibrant image of Hudson himself. This quirky design, with hues of deep purple, neon orange, and toothpaste green, certainly adds some style to your paraglider. You can have this fabric applied at the dye shop in Hateno Village.
Although the reward may not seem very substantial considering the time and effort invested, it gives a personal touch to Link's equipment and gives the player a sense of accomplishment.
More importantly, the smaller rewards you receive along the way, such as rupees, meals, and crafting materials, are very useful in the early and mid-game stages.
How Many Hudson Sign Puzzles Are There?
There are 81 Hudson sign puzzles scattered across Hyrule in TOTK. While this may not seem like a substantial number compared to the number of Korok Seeds and shrines, the challenge comes from the fact that there are no map markers for these puzzles. Players have to navigate and find these signs independently, which can be a delightful challenge for some.
Solving the Hudson Sign Puzzles
When you approach a Hudson Sign, you need to survey the sign and the immediate surroundings carefully. Pay attention to how the sign is supported, where it might be weak, and the weight distribution. If the terrain is uneven, you might need to adjust your building strategy accordingly.
Wrapping Up
In conclusion, while the ultimate reward for completing all Hudson sign puzzles in Zelda TOTK may not seem extraordinary, the journey towards it offers a good amount of rupees, valuable resources, and a fun side quest to keep you engaged.
Read More From Remeshed: