In the engaging world of Roblox, Tank Simulator X stands as a prominent title capturing the interest of many gamers around the globe. Developed by Habit Games x SL Studios, this exciting game is all about maneuvering tanks, fighting against waves of enemies, defeating bosses, and even hatching pets. The game offers players an array of benefits and boosts that can enhance the gameplay experience and progress. One such advantage is the implementation of exclusive codes that provide players with a wealth of in-game freebies. This article serves as a comprehensive guide to the most recent Tank Simulator X codes as of July 2023.
What Are Codes in Tank Simulator X
Codes in Tank Simulator X are a unique feature that significantly heightens the gameplay experience. When redeemed, these codes offer players a variety of free in-game items, coins, and several boosts. However, these exclusive rewards can only be redeemed once and are time-limited, underlining the importance of claiming them promptly. The codes are case-sensitive, requiring players to copy and paste them exactly as provided to ensure successful redemption.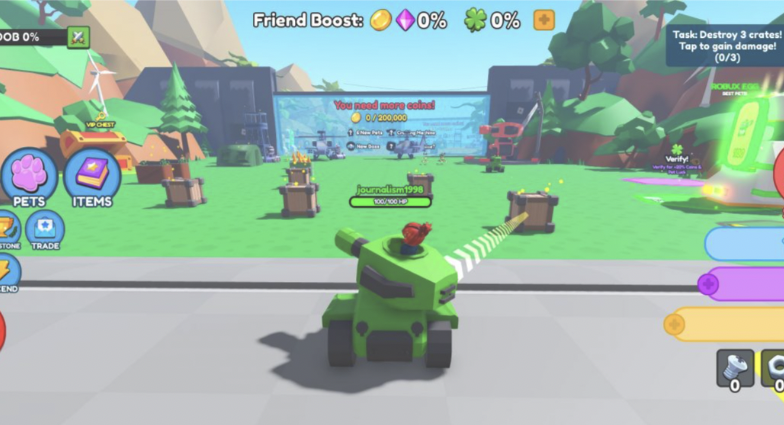 Active Codes for July 2023
Currently, as of July 2023, there is an active code for Tank Simulator X:
1KLIKES – Use this code to receive free rewards.
This code offers valuable items such as gems, clovers, and various in-game assets, helping players advance quickly. It's critical to note that the codes need to be entered precisely as they are provided, as even a small change in casing can render the code invalid.
The Redemption Process
Redeeming the codes in Tank Simulator X is a relatively straightforward process. Here's a step-by-step guide on how to do it:
Launch Tank Simulator X from your Roblox account.
Click on the Settings button, typically located on the side or bottom-right corner of the screen.
Select the 'Codes' button.
Paste the code from our list into the provided textbox.
Click on the 'Claim' or 'Enter' button to redeem your reward.
If a brand-new code doesn't work, try relaunching the game. Entering a new server with an updated game build could potentially allow the code to work.
Staying Updated with New Codes
Finding new codes isn't a daunting task, and there are multiple ways to stay up-to-date. The official Discord server of the game is a rich source of information, offering updates and a community of players to interact with. Social media platforms such as Twitter and Facebook are other potential sources of code updates. Regularly checking the game's pages or bookmarking them is also a viable method of ensuring that you never miss out on a code.
Wrapping Up
The role of codes in Tank Simulator X is unquestionable. They provide players with free items and boosts, leading to an elevated sense of excitement and anticipation. As such, players should always stay on top of the latest codes, regularly checking for updates, and using the provided codes promptly to enjoy the game to the fullest. The journey through Tank Simulator X is filled with riveting experiences, and the incorporation of codes further enhances this thrilling adventure.
Read More From Remeshed: