Dave The Diver has quickly gained popularity as an indie title that perfectly blends various gaming elements. From rogue-like diving adventures to managing a sushi restaurant, there are a plethora of activities that keep players engaged. One of the game's unique features is the use of specific items, like the Bug Net.
In this guide, we will delve into how to unlock and use the bug net effectively in your Dave The Diver adventures.
Unlocking The Bug Net
Step One: Awaiting Maki's Arrival
The Bug Net isn't just handed to you; you'll need to unlock it through a questline involving the character Maki. Begin by waiting for Maki to visit your sushi bar. This should occur as you progress through the main story.
Step Two: The Reticent Girl Quest
Maki will introduce a quest titled "Reticent Girl," which is your key to obtaining the bug net. You need to unlock this quest to progress further. This quest becomes available towards the end of Chapter 2, "Into the Deep," after you complete the chain of "Duff's Pink Delivery" quests and defeat the Giant Squid boss.
Preparing The Dish
To complete the "Reticent Girl" quest, you have to cook a specific dish – Trevally Kombu Ochazuke. You need the following ingredients:
White Trevally Fish x3
Kelp x1
Soy Sauce x1
White Trevally Fish and Kelp can be found in the Blue Hole Shallows between 50-130m. As for Soy Sauce, you can find it in Cooking Pots throughout the Blue Hole or acquire it via employee Dispatch.
After gathering all the necessary ingredients, head back to your sushi bar. Add the Trevally Kombu Ochazuke dish to your restaurant's menu for the evening and serve it to Maki.
Receiving The Bug Net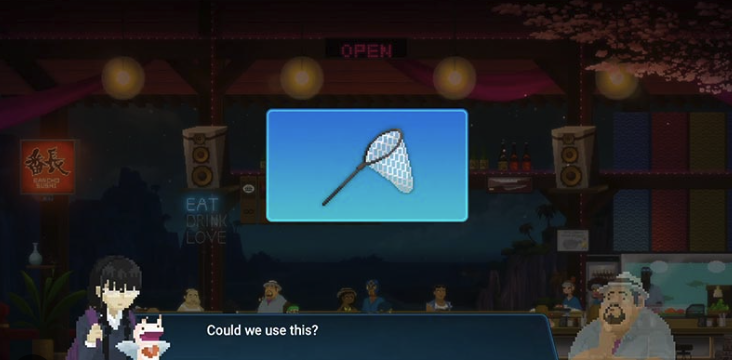 Upon successful completion of the quest and serving Maki the dish, you will be rewarded with the Bug Net.
Using The Bug Net
Now that you have your new tool, you might be wondering how to use the bug net in Dave the Diver. Here are some simple steps to get you catching those small critters in no time.
Step One: Spotting Your Target
You can use the bug net to catch smaller sea creatures like seahorses, shrimps, Cliones, and more. They are often found swimming in the Blue Hole, so keep your eyes peeled.
Step Two: Approach and Capture
Once you've located a small sea creature, swim up close to it. As you approach, a "Space Bar" prompt will appear above Dave. Press the spacebar when this prompt appears, and Dave will swing the Bug Net to catch the critter.
Step Three: Inventory and Use
Captured creatures will go directly into your inventory. They don't take up much space, so you can catch a handful during your dives. Once you have these critters, you can use them to unlock several new recipes in your sushi bar, expanding your culinary offerings and earning more revenue.
In Dave the Diver, the Bug Net is an essential item that enhances your gameplay by providing access to new ingredients for your sushi bar. By following these steps, you can unlock and use the Bug Net effectively, adding a whole new level of excitement to your diving adventures. Happy diving, and enjoy your sushi-making endeavors!
Read More From Remeshed: