Hogwarts Legacy has Harry Potter fans enthralled all around the world as they get the chance to immerse themselves in a magical world like never before. Particularly, those who fancy aerial flight rather than spells and curses will be excited about the availability of flying broom in the game. If you're one such enthusiast, then you are in for a treat, as we will be talking all about brooms in this guide!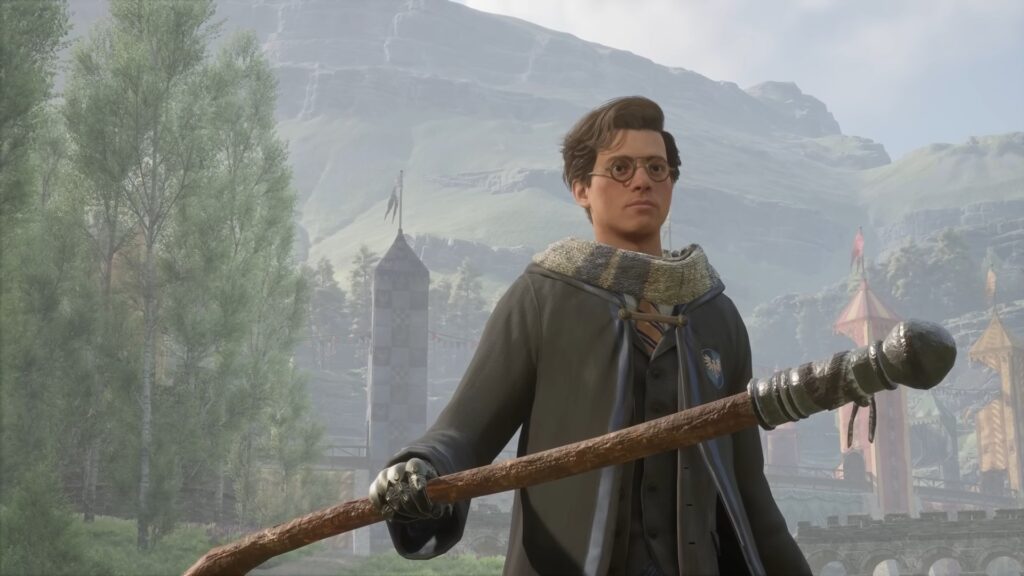 To that end, if you want to learn more about how to get all of Hogwarts Legacy's collectible brooms, then you have come to the right place. Keep reading as we delve into the exact locations of all of them.
When Do You Get A Broom In Hogwarts Legacy
As it stands, you cannot directly or indirectly acquire a broom right away in Hogwarts Legacy. First, you must learn how to fly one by completing a mainline quest, aptly titled 'Flying Class'. Afterward, you will be able to earn and, in some cases, buy a broom while you progress through the story.
Where To Find Brooms In Hogwarts Legacy
There are a total of thirteen brooms in Hogwarts Legacy. While there certainly is a variety in the choice of broom you can pick, do note that all of them are similar in terms of speed, handling, or any other in-game statistic. The only difference between a cheaper broom and its more expensive counterpart is purely cosmetic vis-a-vis you might look cooler on the latter.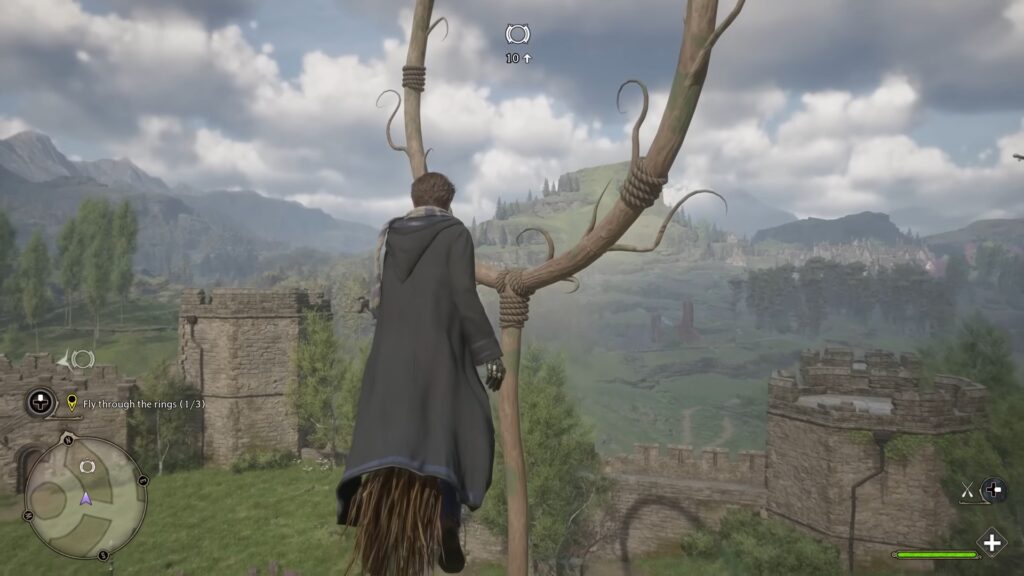 Out of the total thirteen, nine brooms are those you can buy directly from a shop or vendor with enough money. Their prices range from 600 on the cheapest end to 5000 gold galleons on the higher end. Moreover, the remaining four brooms must be unlocked by popping balloons in specific locations. Read below to find out exactly what you need for each broom.
Purchasable Brooms
These nine brooms are the ones you have to purchase from wizarding shops near Hogwarts:
Aeromancer
You can buy the Aeromancer from Rohan Prakash, a shop in Piodsear Coast, just southwest of Maunweem Bridge.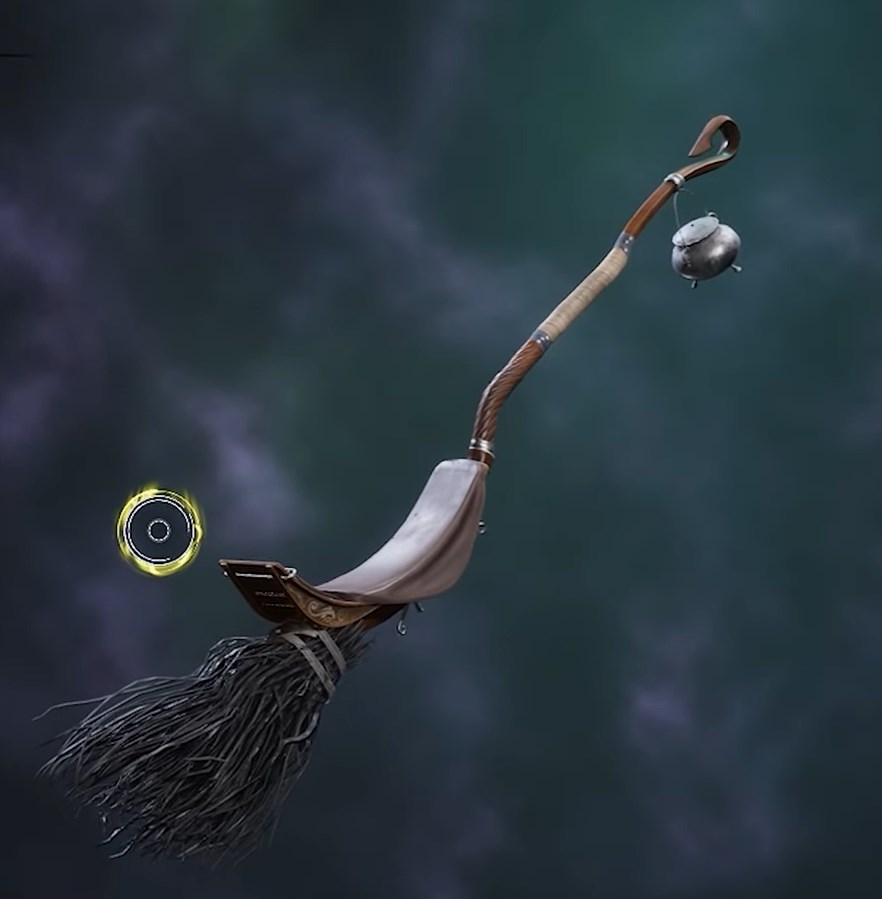 Ember Dash
Go to the Spintwiches Sporting Needs shop in good old Hogsmeade to buy Ember Dash for 600 gold galleons.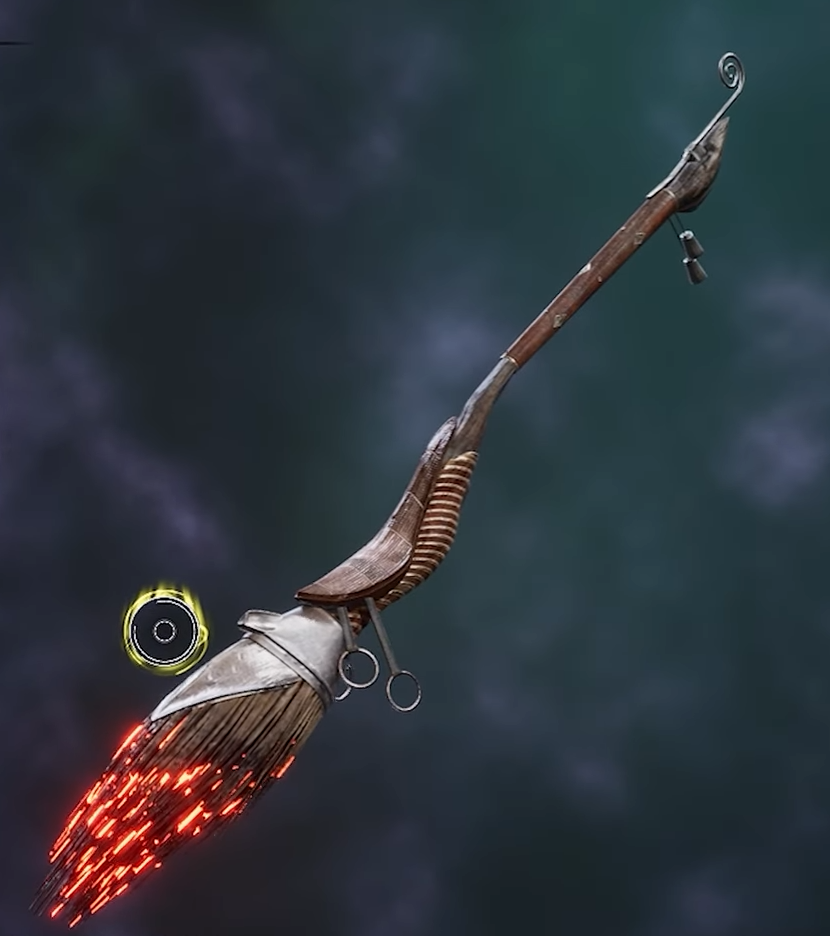 Family Antique
You can buy the Family Antique from Priya Treadwell, who has set up shop in Feldcroft Region, southwest of the battle arena. However, she also has a shop in the South Sea Bog region, from where this broom is also purchasable. Do note that it will set you back 2500 gold galleons.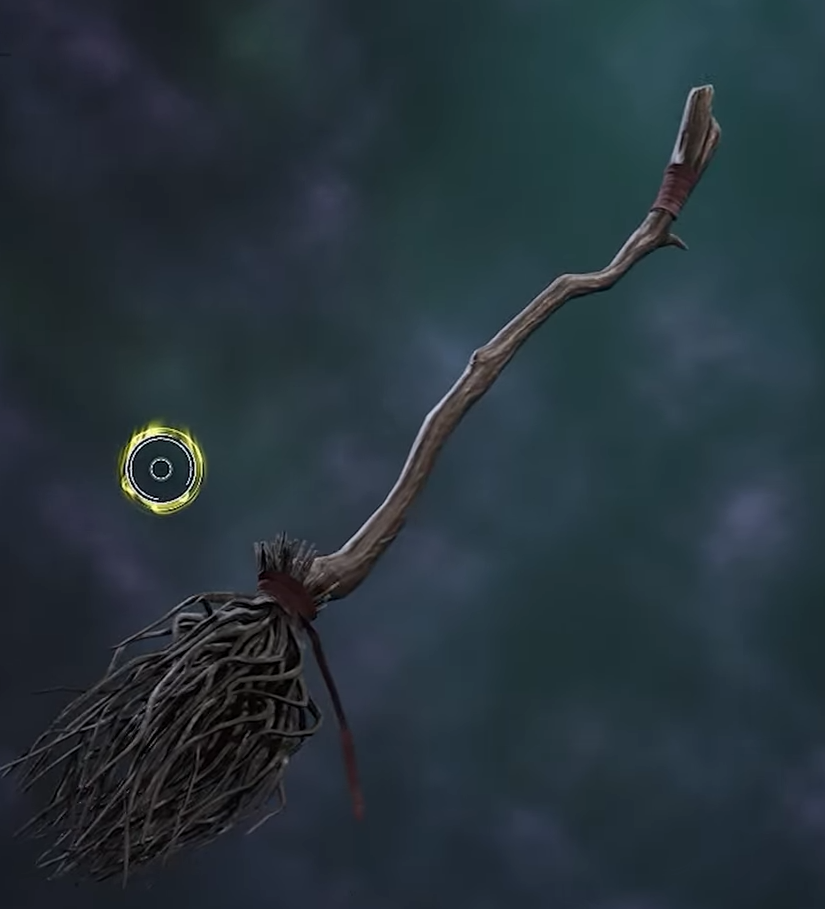 Hogwarts House
Similar to the Ember Dash, the Hogwarts House broom can also be purchased from the Spintwiches Sporting Needs shop for 600 gold galleons.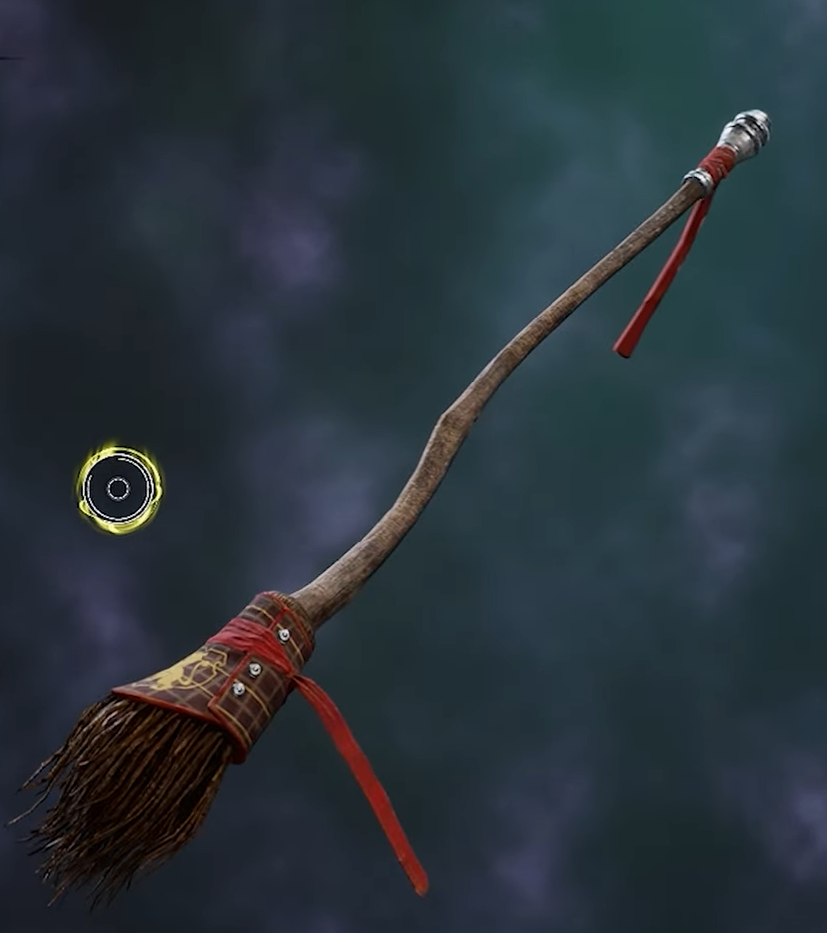 Moon Trimmer
Akin to the Hogwarts House broom, the Moon Trimmer is up for sale at the Spintwiches Sporting Needs shop for 600 gold galleons.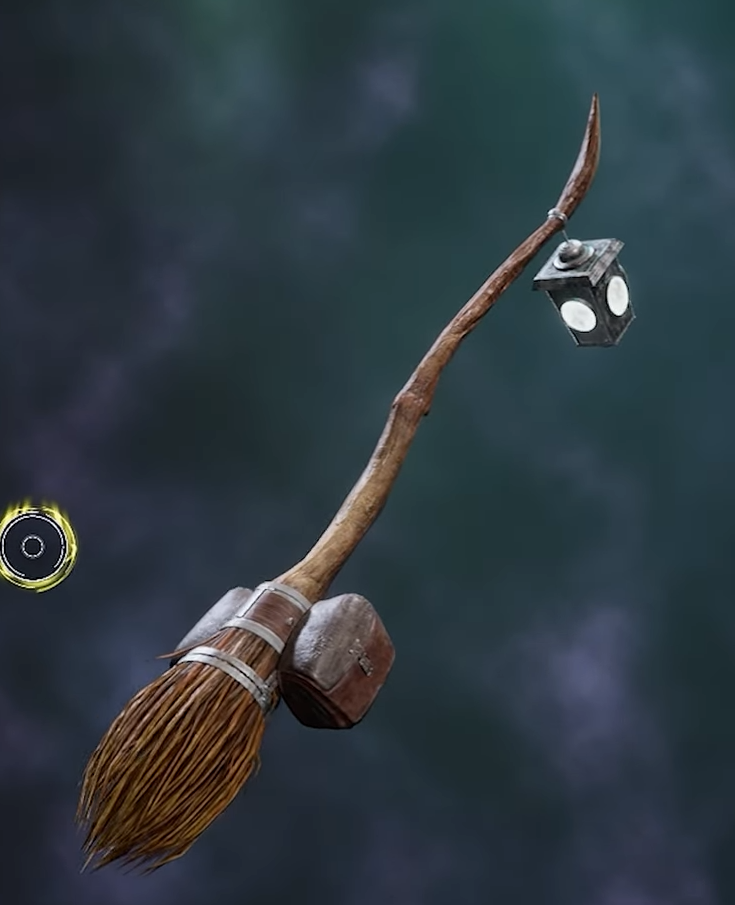 Silver Arrow
The Silver Arrow becomes purchasable after completing the side quest Crated Away, following which the vendor will appear in Hogsmeade valley. This broom will cost you a pretty penny, 5000 gold galleons, to be precise.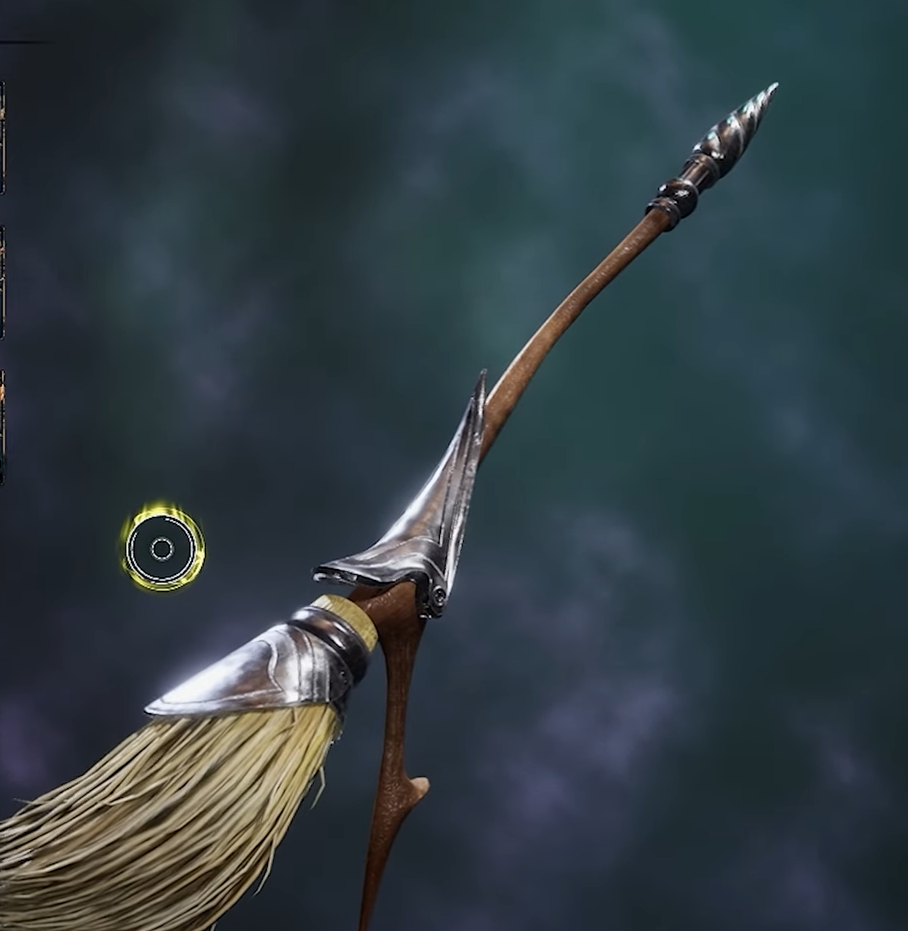 Sky Scythe
The Skye Scythe is purchasable from Leopold Babcoke in Hogsmeade Valley for 5000 of your hard-earned gold galleons.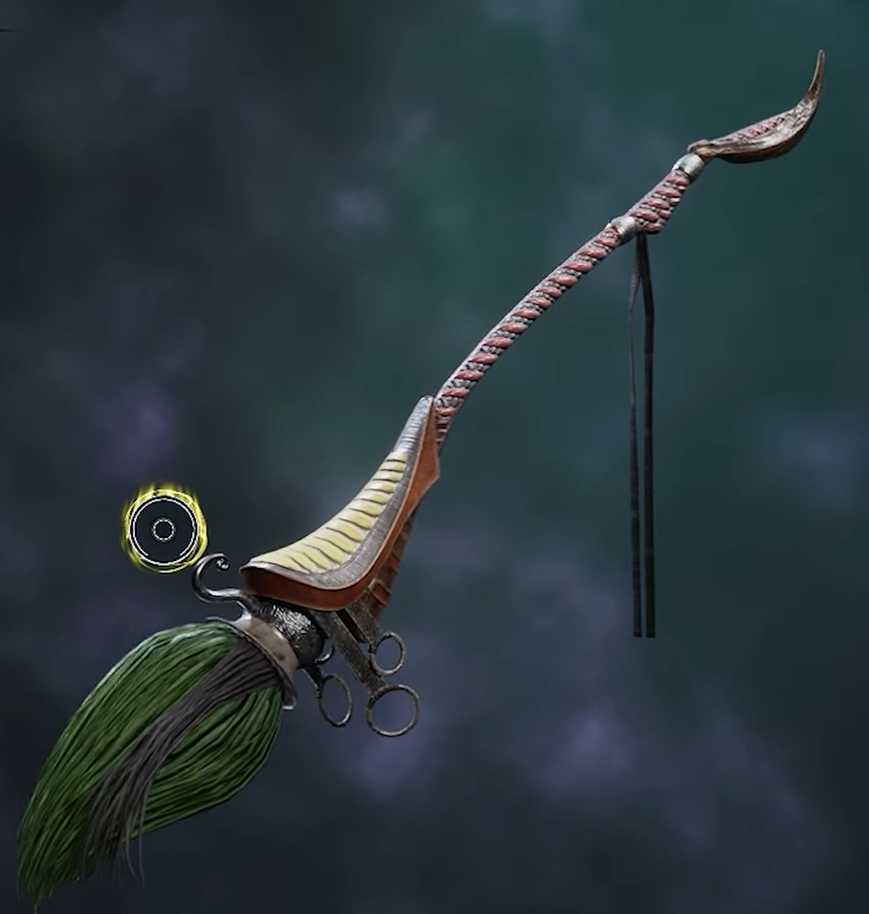 Wind Wisp
The Wind Wisp, value-wise, in on-par with the Moon Trimmer and can be similarly purchased from the Spintwiches Sporting Needs shop for 600 gold galleons.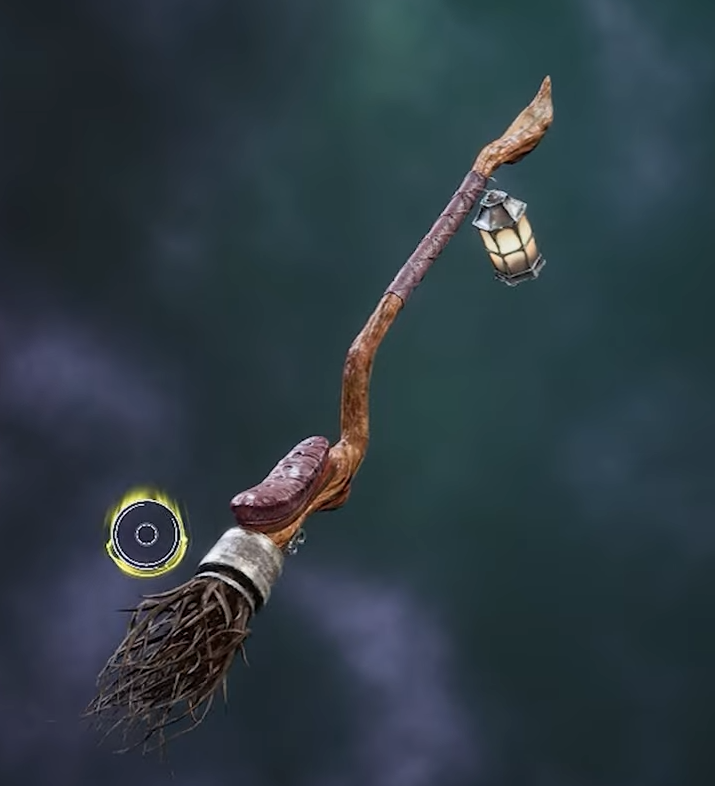 Balloon Locations For Brooms
Apart from the nine purchasable brooms, the rest of the four will have to be unlocked by completing mini-quests or, more precisely, by popping balloons in different locations. There are 32 balloons scattered across the game, and we'll help you get to each one:
Quidditch Arena
Head over to the Northern Edge of the Quidditch Arena, and you should see a balloon floating high, near the top edge of the audience stands.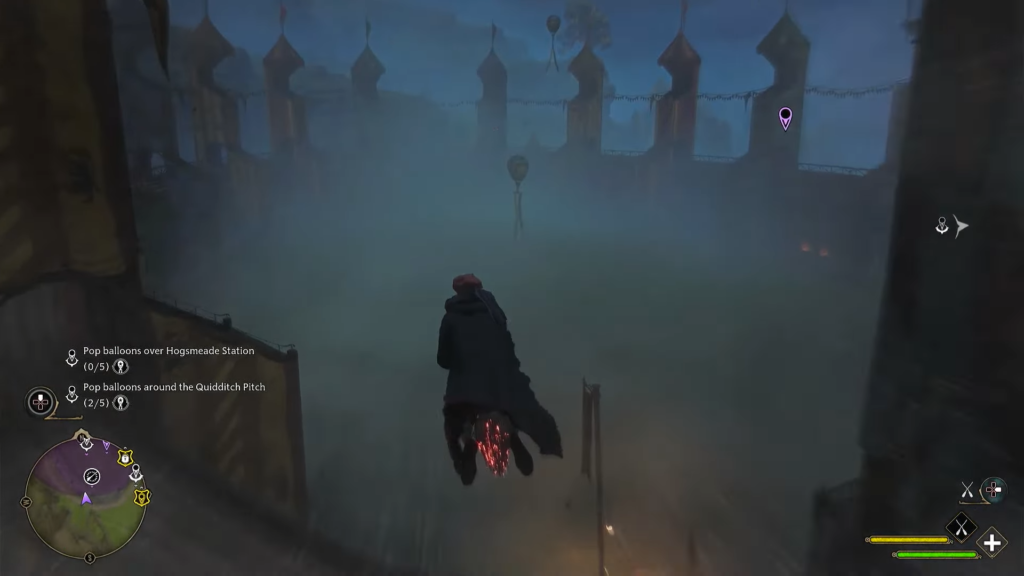 South Hogwarts
After exiting Hogwarts, pass through Hogwarts Grounds and head south towards Lower Hogsield. You should come across an aerial balloon halfway through your trip.
Head over to the railroad bridge that arches over the lake surrounding Hogwarts. You should see a balloon under the bridge located beside Aranshire.
Follow along the railway till you get near Hogsmeade Station. There you will come across another railroad bridge, but the balloon will be floating above the bridge this time.
For the last balloon, go to Aranshire. Afterward, head over to the wooded forest, and you should see a balloon floating above the treeline. This should be easy to spot, given there isn't anything above the treeline (buildings or otherwise).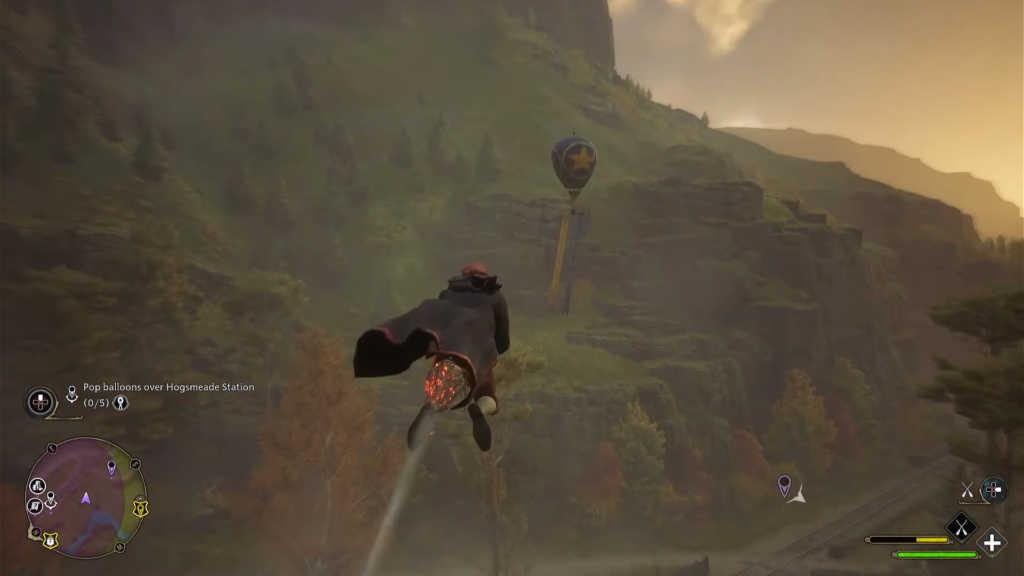 North Hogwarts
After exiting Hogwarts, head over to the northern region. Keep trekking until you come across the Mooncalf Den; afterward, head north for a few more steps, and you should come across an open field. Right smack in the center should be the sole balloon in the northern Hogwarts region.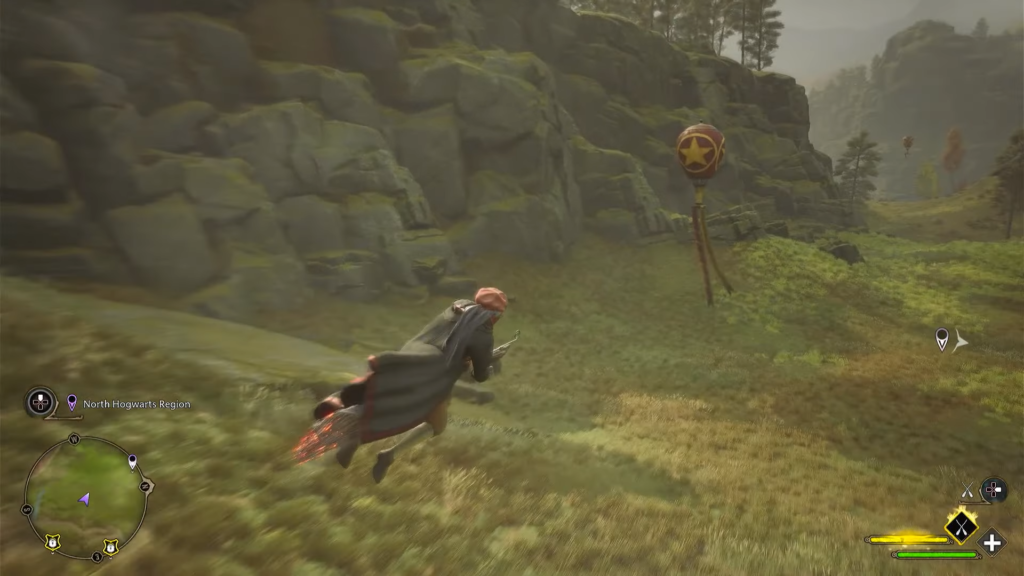 Hogsmeade Valley
After entering Hogsmeade valley, head over to the Upper Hogsfield Floo Flame. Look towards the north, and you should see a balloon afloat in the distance.
After getting the previous balloon, make a beeline for the Floo Flame near the East North Ford Bog. There you should come upon yet another balloon.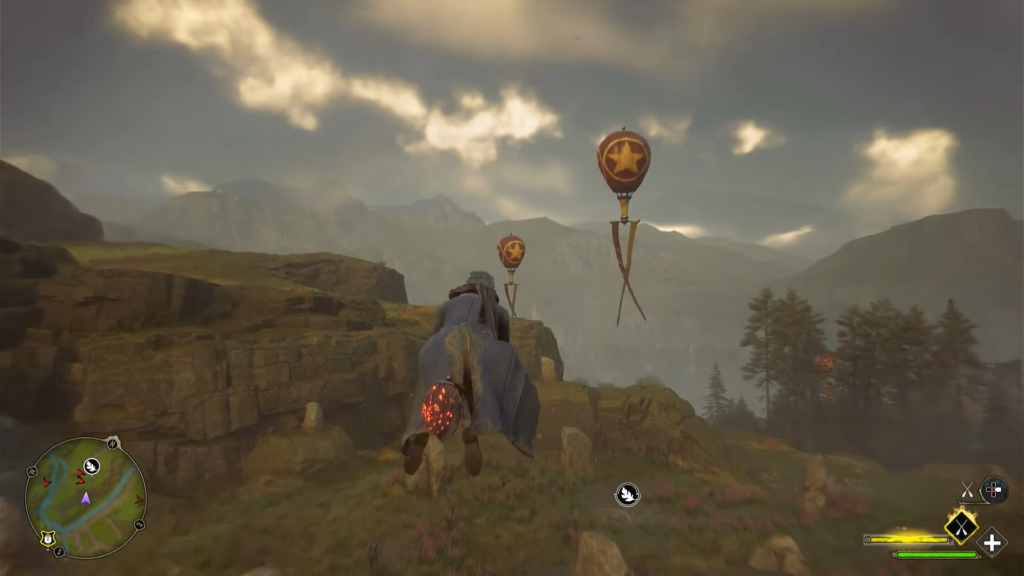 North Ford Fog
A balloon can be found near the Pitt-Upon-Ford Floo Flame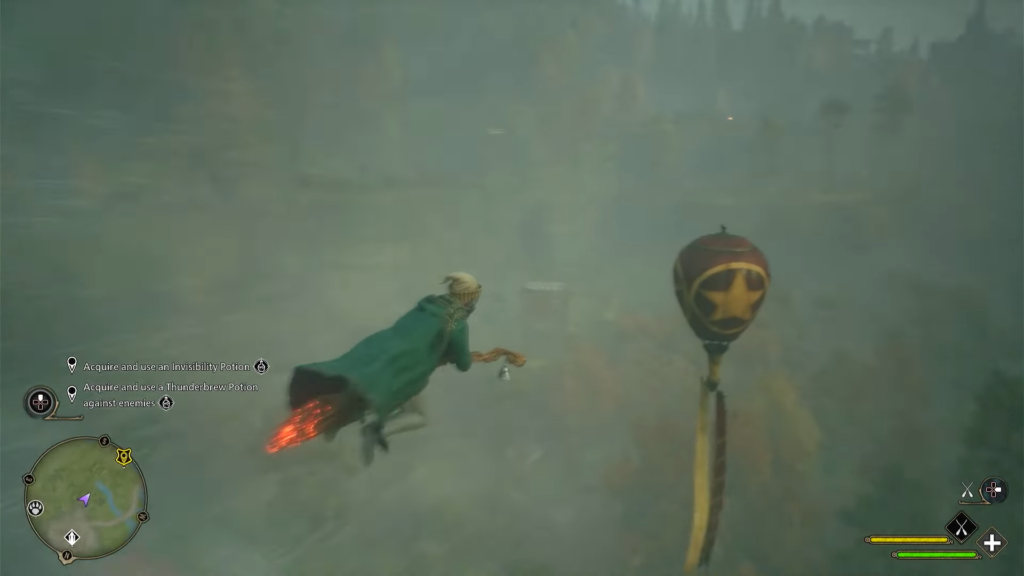 Hogwarts Valley
First trek to the West Hogwarts Valley's Floo Flame. Then face northwest and start going in this general direction. You should come across a mountain range; the ballon should be located just a little ways off the base of the mountain.
Make your way to Keenbridge. Now head on over to the east, and after a while, you should come across an abandoned tower. Look to the skies (or look about if you are already in the sky, on a broom), and you should see another balloon.
Starting from Brocburrow, make your way to the eastern end. You should come across a patch of wood on your left. As soon as it happens, stop and look around for the ballon – it should be near almost ground level. 
Again start from Brocburrow and head over to the southwest till you come across the rail tracks. There you can find a balloon.
Keep heading west along the rail tracks, and you should come across Mine's Eye and consequently the next balloon.
Head west from Keenbridge towards the mountains. You should spot a balloon as soon as the trees give way to upshooting mountains.
Southwest from the central Hogwarts Valley Flo Flame, you'll find a balloon waiting to be popped.
Poidsear Coast
Go to the Tomb of Treachery Floo Flame, then head south till you come across a waterfall; you should spot balloons near it.
While heading towards Marunweem lake, you should see a lake winding down the same path. Above the lake will be some more balloons.
Near the South Poidsear Coast Floo Flame, there is a bridge. Your next balloon will be hovering right beside it.
Starting from the Poidsear caste, head south till you reach a river; the next balloon should be found by this river.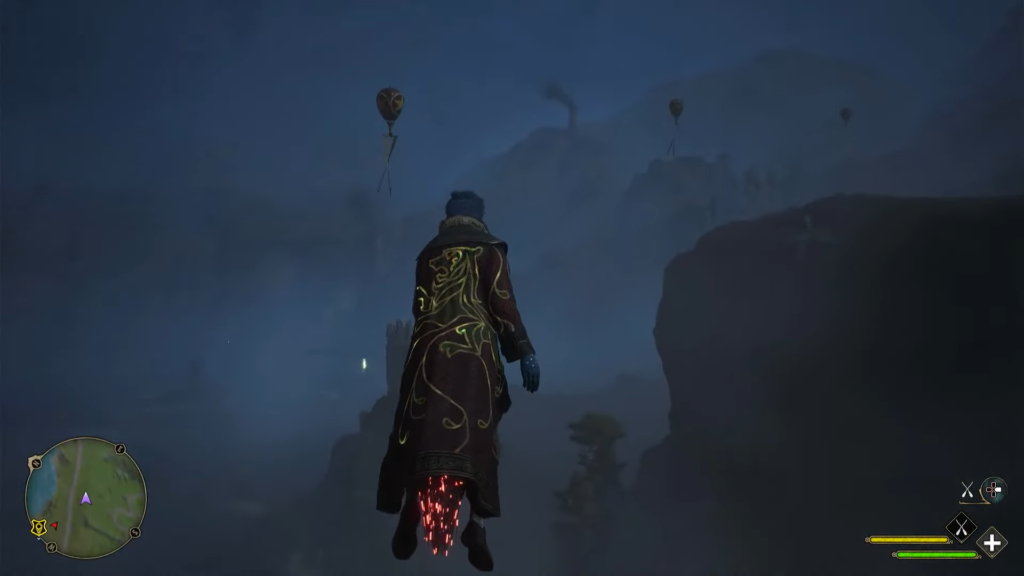 Feldcroft
There is a deep gorge running through a part of Irondale. Start from one end and follow until you reach a balloon floating above it.
Keep heading south of Feldcroft Catacombs until you reach the map's edge, ending on some cliffs. This is where you will find the next balloon.
In continuation, head north along the cliff after finding the above balloon, and you should come across the shore near the South Feldcorft Floo Flame. Unsurprisingly another balloon awaits you here.
Now head straight north from this location until you reach west of North Feldcroft Road. Here another balloon lies between the cliffs and a small island.
You'll be able to spot a balloon west of North Feldcroft Floo Flame.
A balloon will be floating near the edge of the map, south of Feldcorft.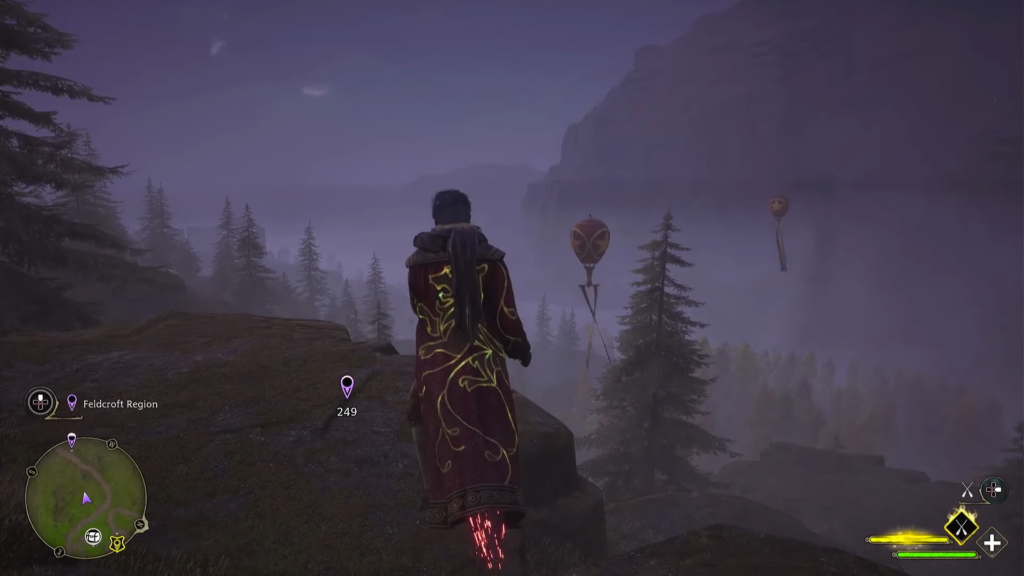 Marunweem Lake
A balloon resides to the east of the Marunweem Lake Floo Flame.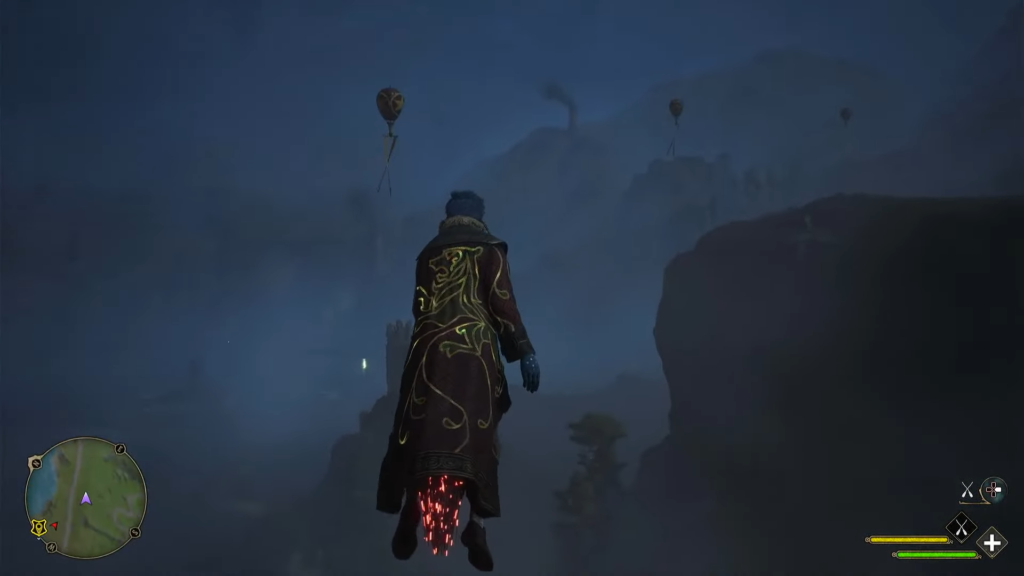 Manor Cape
A balloon will be floating right above the Manor Lake Floo Flame.
You'll find a balloon by the South of West Manor Cape near a Hippogriff den.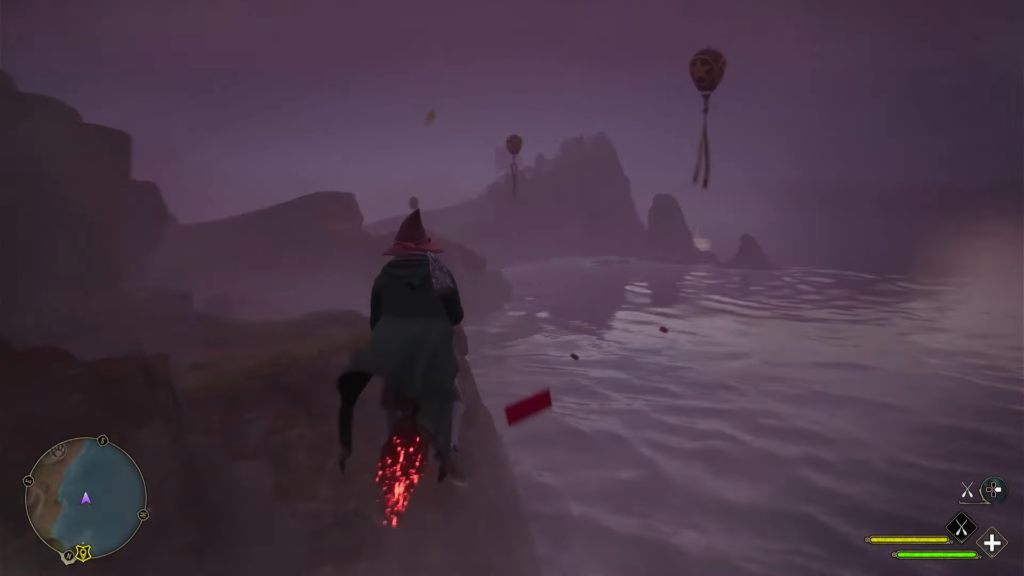 Cragcroftshire
A balloon can be spotted by the gorge connecting Cragcroftshire and Clagmar Coast.
You'll find a balloon above Cragfort itself.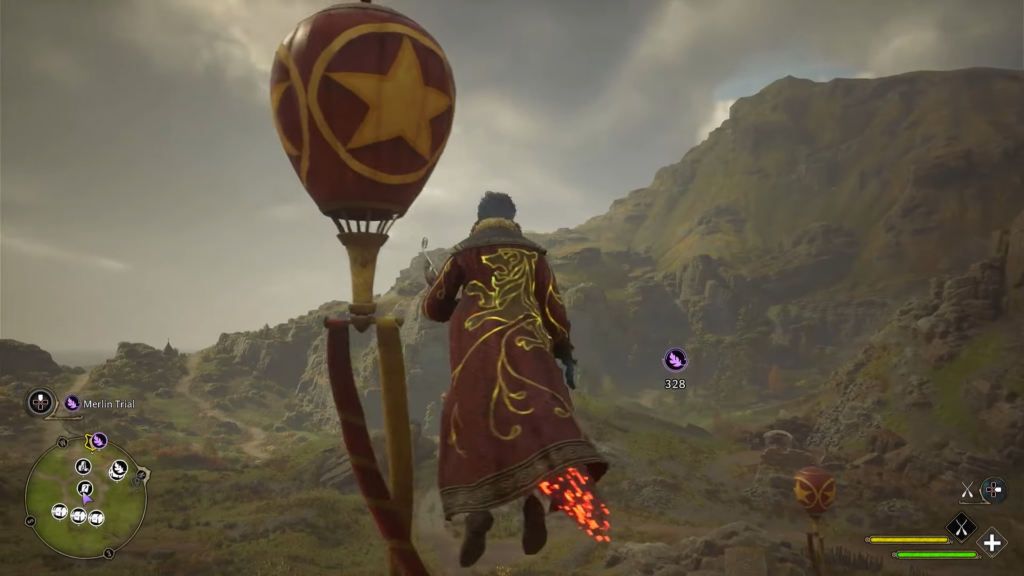 Clagmar Coast
Found towards the south of South Clagmar Coast Floo Flame.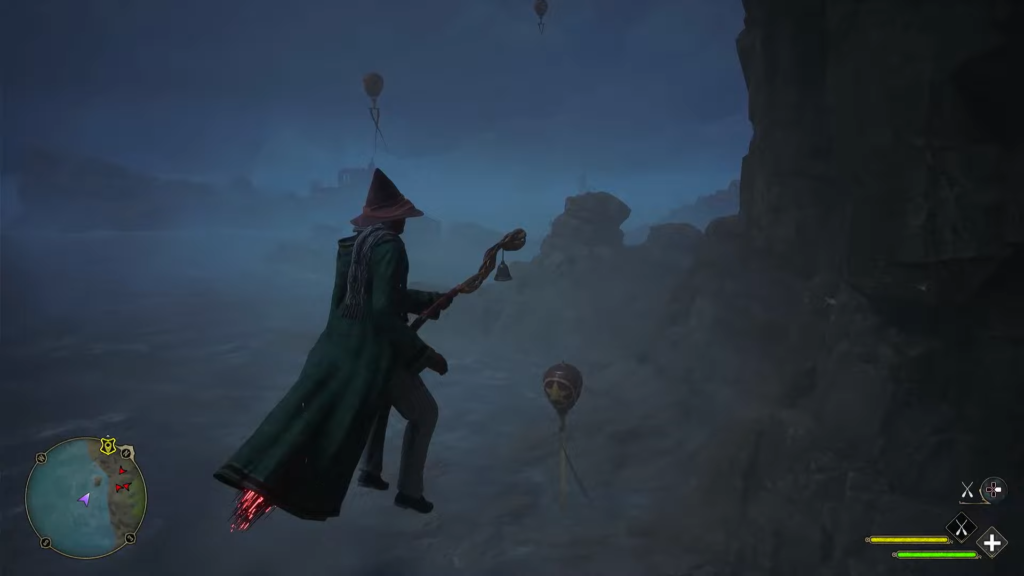 Final Thoughts
All in all, we advise that you steer clear of going out of your way to pop each and every single balloon. Instead, progress through the story as you would normally do, and you should be able to collect them all if you keep a keen eye. For more Hogwarts Legacy guides and content, check out the rest of our site.