Navigating through the perilous realms of Diablo 4 can be daunting, especially when you're caught in the throes of the relentless sandstorm in the Flesh from Bone quest. Part of Act 3, this quest takes players to the heart of the Scouring Sands, a harsh terrain teeming with danger at every turn.
In this guide, we'll be sharing essential survival strategies that can help you brave the storm and complete this grueling quest.
Preparation: The Key to Success
The first step to surviving the sandstorm is thorough preparation. The Flesh from Bone mission is a true survival test that requires more groundwork than the average Diablo 4 quest. Before setting out on this adventure, it is essential to visit a healer in town. Stock up on health and potions as these resources will prove invaluable once the sandstorm hits.
Equip yourself with boots that grant a +2 Evade charge. These boots are particularly useful as they can help you dodge the swirling sands and the monstrous scorpions that lurk within the storm. Trade with other players if necessary to get these boots, as they are not only useful in surviving the storm but also come in handy in future situations.
Understanding the Sandstorm and Navigating the Storm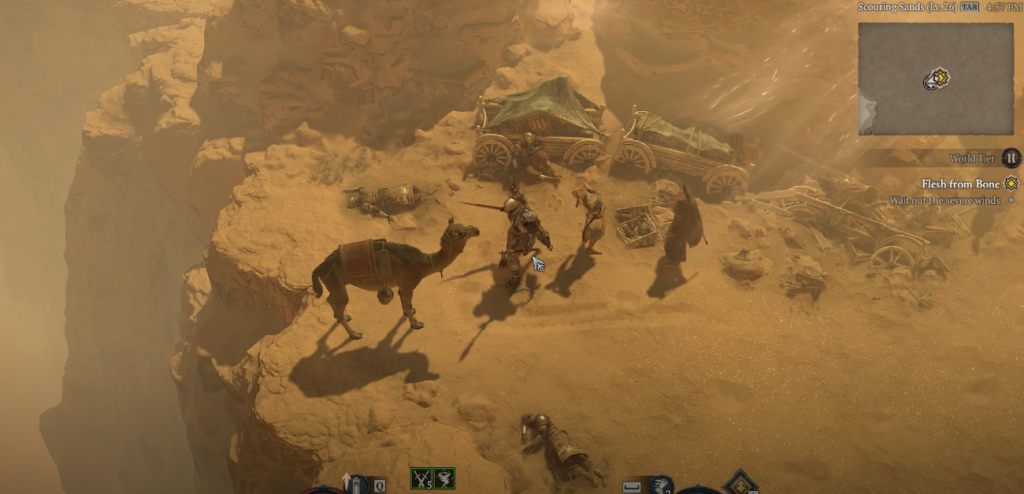 The sandstorm in Diablo 4 is a formidable adversary. It persistently nibbles away at your health with each tick of the timer, and it's home to giant, ferocious scorpions. Navigating through the storm can be a daunting task, but with the right understanding and strategy, these challenges can be overcome.
Your guide, Meshif, and his trusty camel, Isabella, will take a diagonal route to various points of shelter. This path helps minimize the time you spend exposed to the harsh elements. Avoiding combat is paramount, as you should prioritize escaping the sandstorm over killing enemies.
Harness Your Class-Specific Abilities
Each class in Diablo 4 is equipped with movement-related abilities, which can prove invaluable during the sandstorm. Rogues, for example, can utilize the Dash ability to swiftly dodge obstacles and enemies. Barbarians can rely on their Leap ability, Sorceresses can Teleport, and Druids can use Feral Charge. These abilities will help you to quickly evade enemies and stay out of the most damaging parts of the sandstorm.
Health Management
One of the most critical aspects of surviving the sandstorm is health management. Due to the storm's unyielding nature, it's necessary to drink potions more often to stay alive. Meshif's camel, Isabella, can supply Healing Potions to restore your health, so make sure to utilize this aid whenever possible.
There will be specific points in the game where you can wait out the storm and recover. Before stepping into these tumultuous sands, level up your potions from 4 to 5. This upgrade will offer a better healing effect, enabling you to withstand the draining effect of the storm for longer.
Wrapping Up
In conclusion, surviving the sandstorm in Diablo 4's Flesh from Bone quest hinges on good preparation, strategic use of class-specific abilities, and diligent health management. It's a true test of a player's resilience and tactical acumen. Good luck, brave adventurer!
Read More From Remeshed: