While the Elder Wand is a powerful object in the Harry Potter Universe, players will be delighted to hear that they can get their hands on a similar version of this coveted wand in Hogwarts Legacy. Let's dive into this article and explore how players can craft the legendary Elder Wand to accompany them on their journey through the magical realm.
Can You Make The Elder Wand In Hogwarts Legacy?
You can not make an exact replica of the Elder Wand in Hogwarts Legacy. This is because the wand designs available in the game do not really match the unique shape of the Elder Wand. Plus, in the lore, the Elder Wand is powered by the "Tail Hair of a Thestral" core, but in the game, you only have to option to choose between the "Dragon Heartstring", "Phoneix Feather", and "Unicorn Hair" cores for your wands. 
With that said, you can definitely get your hands on a similar-looking wand in Hogwarts Legacy by crafting it yourself at Ollivander's wand shop or importing it through the Wizarding World website. Although bear in mind that the only thing this wand may have in common with the Elder Wand is its appearance. 
Once you get your wand, you don't have to option to change it unless you start a new game with a different character. Therefore, make sure to choose your wand wisely. Nevertheless, let's get into how to craft your own Elder Wand in Hogwarts Legacy. 
How To Craft The Elder Wand In Hogwarts Legacy?
Once you start off the game and go through your placement ceremony to get your magical wand, you'll be presented with the opportunity to design your own wand. Although you can choose to make your wand look similar to the Elder Wand, you cannot make an exact copy. 
Here are the choices you must make in the game to craft a wand similar to the popular Elder Wand:
| | |
| --- | --- |
| Item | Choice |
| Wand Shape | Stalk |
| Wand Color | Dark Brown |
| Type of Wood | Elderberry |
| Length | 14.5 |
| Flexibility  | *Your Choice* |
| Core Option | *Your Choice* |
How To Receive The Elder Wand Through Wizarding World
While you can get your wand in the placement ceremony in-game, if you specifically want to get the Elder Wand, you need to create a Wizarding World account and participate in the placement ceremony to get the Wand, House, and Patronus of your preference.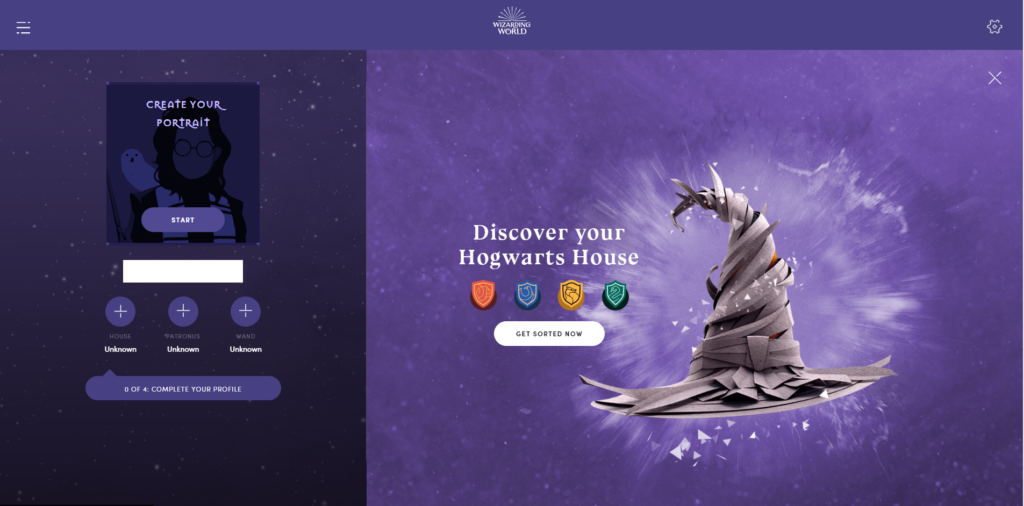 However, to get your desired results, you have to give specific responses during the ceremony in order to receive the Elder Wand; otherwise, you'll have to make do with a less desirable wand. While some responses you must give are set in stone, you have the option to give different answers to some questions to change the core of your Elder Wand. 
Answering The Fanpage Quiz
Here is a list of the answers you can give to get your hands on the Elder wand with your desired core:
| | | | |
| --- | --- | --- | --- |
| Question | Pheonix Core | Dragon Core | Unicorn Core |
| First of all, would you describe yourself as…  | Any | Any | Any |
| And your eyes… | Blue | Blue | Blue |
| Was the day on which you were born… | Any | Any | Any |
| Do you most pride yourself on your… | Intelligence | Intelligence | Intelligence |
| Traveling alone down a deserted road, you reach a crossroads. Do you continue… | Right Towards The Castle | Right Towards The Castle | Right Towards The Castle |
| Do you most fear… | Darkness | Heights | Fire |
| In a chest of magical artifacts, which would you choose… | Bound Scroll | Silver Dagger | Glittering Jewel |
Linking Accounts
While the earlier mentioned responses will yield you the desired Elder Wand on the website, you must link up your Wizarding World account with your Warner Brothers account by visiting their website:
Open the WarnerBros Games website and log in with your account.
Navigate to Connections and connect the Harry Potter Fan Club account with your Warner Bros account. This should import your sorting data into the WB account.
Again, Under the Connections page of the WB Games Account site, link the console or PC platform on which you plan to play Hogwarts Legacy. This will import the data into the game.
Conclusion
While you can't make an extra look-like of the legendary Elder Wand in Hogwarts Legacy, you can definitely craft one that looks the part. But don't let that stop you from enjoying this wonderful game. So gear up, grab your starting wand, and let the magic begin!
Read More From Remeshed: