Venturing into the immersive world of Zelda: Tears of the Kingdom (TotK) yields many exciting discoveries and valuable resources. Among them is Splash Fruit stands as a versatile and valuable material.
In this guide, we'll explore the most reliable locations for gathering Splash Fruit to make harvesting it a little bit easier.
What is Splash Fruit?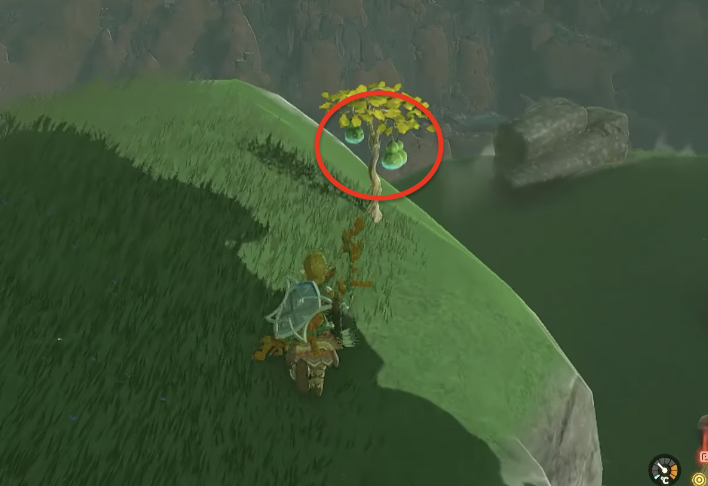 Splash Fruit is a unique type of material that can be collected throughout your journey in Zelda: TotK. It comes handy in many situations, especially when facing stubborn puddles of sludge blocking Link's path.
You can use splash fruit as a cooking ingredient, cleaning up muck and fusing it on weapons.
Now, let's dive into how and where you can find this essential item.
Best Splash Fruit Locations
Splash fruit can be located all around the game map so you should always keep an eye out for it. However, there are certain areas on the map where splash fruit appears more often than others.
Location 1: Sky Islands
One of the plentiful spots to gather Splash Fruit is on the Sky Islands. This region, dotted with floating islands in the sky, harbors a generous amount of this elusive fruit. As you navigate these heights, keep your eyes peeled for these treasures. Make sure to navigate carefully, as the lofty altitudes can pose their own set of challenges.
Location 2: The Depths
Venturing into the lower reaches of the game world, you'll find another ideal location for harvesting Splash Fruit — The Depths. These areas, often filled with cavernous wonders and deep mysteries, are also abundant in Splash Fruit. While navigating these areas, don't forget to explore every nook and cranny to ensure you don't miss out on these beneficial fruits.
Location 3: Caves
In addition to Sky Islands and the Depths, various caves scattered throughout the game world serve as rich sources for Splash Fruit. These natural formations, often found in mountainsides or underground, are frequent homes to the coveted Splash Fruit. However, caves can also house danger, so remember to tread cautiously while you collect.
Location 4: Lanayru Great Spring and West Necluda
If you find yourself in the lush vicinity of Lanayru Great Spring and West Necluda, you're in luck. These areas are known to be abundant in Splash Fruit. Don't miss the chance to collect these fruits when you're exploring these serene locations.
Location 5: Around Zora's Domain and Upland Zorana Skyview Tower
Finally, Zora's Domain and the Upland Zorana Skyview Tower surroundings should be on your radar. Splash Fruit grows plentifully here, even conveniently close to the Skyview Tower. As you traverse this familiar territory, take a moment to gather these fruits, which will undoubtedly aid you in your epic journey.
What Is Splash Fruit Useful For?
There are certain quests in Zelda ToTK where splash fruit will come in extremely handy. Some of them are the Mired in Muck Quest and the Broken Slate Quest.
Tips for Gathering Splash Fruit
Remember that, like many aspects of Zelda: TotK, obtaining Splash Fruit requires exploration and a keen eye for detail. Don't rush the process; take the time to explore these areas thoroughly, and you'll find yourself with a rich stockpile of Splash Fruit in no time.
Conclusion
Splash Fruit is a valuable resource in your journey through Zelda: Tears of the Kingdom. By knowing where to look, from the soaring Sky Islands to the tranquil Lanayru Great Spring, you can efficiently gather this critical material to ensure your path to saving the kingdom is smooth and rewarding. So go forth, venture into these fruitful locations, and may your adventures be ever prosperous.
Read More From Remeshed: