Venturing into the world of Sanctuary in Diablo 4 can be a challenging endeavor. One of the keys to surviving the demonic hordes and powerful bosses is to ensure you are well-equipped. Among the arsenal of weapons that the game offers, Darkblade is a standout choice, especially for players controlling the Rogue class.
This guide will walk you through each step to secure this elusive and potent weapon, ensuring you are well-prepared to face any demonic entity that crosses your path.
What Is Darkblade In Diablo 4
Darkblade is a rare and powerful sword in Diablo 4, boasting impressive stats and several enchantments to bolster your offensive capabilities. With an item power of 283 and delivering 170 damage per second, Darkblade is indeed a force to be reckoned with.
It strikes at a quick pace of 1.10 attacks per second and offers a critical strike damage boost of 4.5%. Additionally, this weapon provides Shadow Damage, Crowd Control Duration Bonus, and Damage over Time bonuses that range between 2.0% to 9.0% depending on the roll.
Its lore is as intriguing as its power, as the origins of the Darkblade are veiled in mystery and wielding it is said to leave a profound impact on one's soul. Now that you have a grasp of what the Darkblade can do let's delve into how you can acquire it.
Acquiring The Darkblade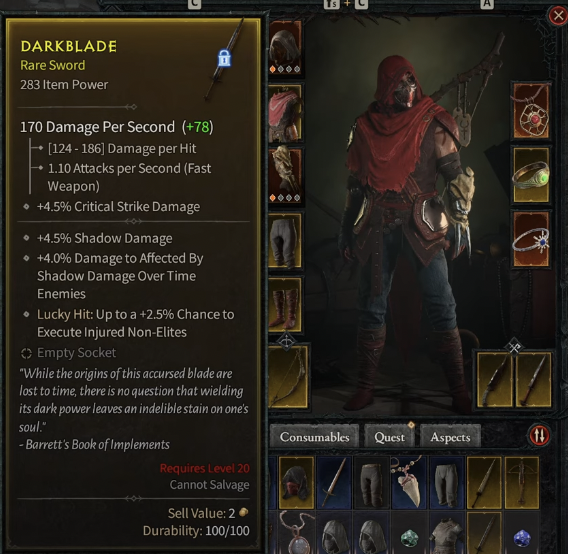 To add Darkblade to your inventory, there are a few prerequisites you need to meet. Firstly, your character needs to be at least level 20 and must be a Rogue. These stipulations are essential for you to begin the hunt for this weapon. Now, it's time to set the scene and embark on the quest.
Step 1: Navigate to Fractured Peaks
Start your journey in the Fractured Peaks, a harsh and snow-filled region in Diablo 4. Here, you will need to make your way to the central city known as Kyovashad.
Step 2: Traverse to Kylsik Plateau
From Kyovashad, exit either east or west, then proceed northward. If you're departing from the eastern side, make your way past the Altar of Lilith. Continue onwards to a location known as the Kylsik Plateau. Be prepared for any challenges you may face along the way.
Step 3: Encounter Sir Lynna
In the Kylsik Plateau, you're looking for a specific enemy, a Super Unique Monster named Sir Lynna. He resides in a secluded nook of the Plateau. Ensure you are looking for the monster at night as it does not appear during the day.
Step 4: Defeat Sir Lynna
Engage in combat with Sir Lynna and emerge victorious. Upon his defeat, he will drop the coveted Darkblade, ready for you to claim and add to your inventory.
Benefiting from Darkblade
Aside from its impressive stats, Darkblade's visual aesthetics are equally stunning. Its eerie glow can be a sight for sore eyes in the dark corners of Diablo 4's dungeons. Not only does it enhance your attack speed, but it also increases your critical strike damage, perfect for Rogues focusing on large and damaging attacks.
Wrapping Up
Mastering the Rogue class might be a bit tricky, given its steep learning curve. But with a weapon like Darkblade at your disposal, you can significantly enhance your gameplay, making the class much more enjoyable to play. Take your time, follow these steps, and the Darkblade can be yours. Equip it and let its power guide you through the hordes of darkness in Diablo 4. Happy hunting!
Read More From Remeshed: