In the realm of Diablo 4, adventure and mystery lurk at every corner. One particular side quest that's sure to challenge players and intrigue fans alike is "Scorched Debts". One key part of this quest is finding Lyruk, a character that plays an integral role in this captivating storyline. Here is a comprehensive guide on how to locate Lyruk and complete the "Scorched Debts" quest.
Scorched Debts Quest Overview
During your perilous journey in the Dry Steppes, you might stumble upon a cryptic side quest called "Scorched Debts". This quest is initiated when you encounter a charred ledger, leading you on a trail of intrigue and combat. This mission will not only test your detective skills but also your combat prowess, eventually culminating in a confrontation with a formidable adversary.
Locating Andreea and Ked Bardu
Your first task in the "Scorched Debts" quest is to locate Andreea at Lakren's Overlook, guided by the instructions from the charred ledger. Andreea won't exactly welcome you with open arms, so be prepared for a skirmish. Before the scuffle, she will mention Ked Bardu.
On reaching Bardu and speaking with Stsgi, you'll learn that your next mission is to find Stsgi's brother, Lyruk. However, locating Lyruk isn't as straightforward as it might seem.
Finding Lyruk: Key Steps
Lyruk is situated somewhere within the Crown of Fiends. Considering the vastness of this region, pinpointing Lyruk can be somewhat challenging. However, here's the direction you need to follow:
Lyruk is stationed in an area of the Dry Steppes known as the Khargai Crags. The region is large and houses a challenging event right in its heart. To locate Lyruk, you don't have to venture into the center, where the event unfolds. Instead, there's a path skirting the event area that leads directly to Lyruk.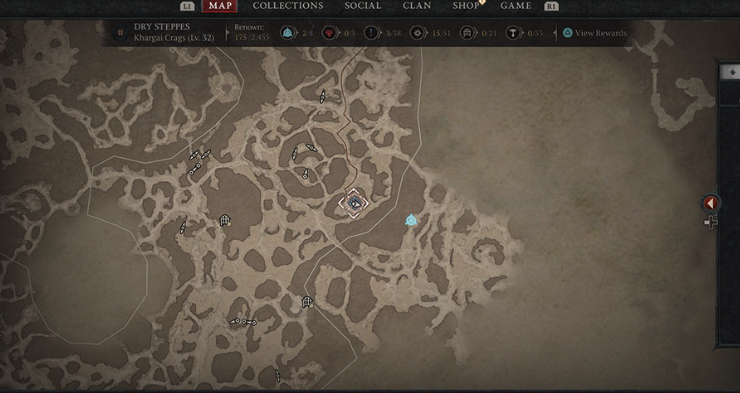 Lyruk's location is marked by a small camp on elevated ground. As you draw closer, your map's circle will transform into a blue dot, indicating you're nearing Lyruk's position. You'll find Lyruk seated at this camp.
Progressing Through the Quest
Upon finding Lyruk, you'll discover he's been grappling with an accursed ledger he unearthed from an ancient tomb. His idea to rid himself and the world of the ledger's curse is to burn it. Following his instructions, you'll attempt to incinerate the ledger at a nearby campfire, but as you might predict, it's not that simple.
Confronting Orrostus the Debt Collector
Lyruk's failed attempt to burn the ledger prompts him to consider a more drastic solution: summoning the demon associated with the ledger. Preparing for this undertaking propels you to the next phase of the quest.
Lyruk's summoning ritual will trigger a confrontation with Orrostus the Debt Collector, a powerful demon who also happens to be the ledger's original owner. Your victory against this formidable adversary will signify the successful completion of the "Scorched Debts" side quest.
In the world of Diablo 4, quests like "Scorched Debts" form the backbone of the game's immersive narrative. With this guide, you can now navigate your way through the challenge and claim victory against Orrostus the Debt Collector, bringing you one step closer to unraveling the mysteries of the Dry Steppes. Happy gaming!
Read More From Remeshed: