In the world of Sanctuary, the art of farming is not limited to crops. In Diablo 4, amassing resources is just as essential, and one resource in particular has caught the attention of players worldwide – the Baleful Fragment.
These are rare and crucial elements in the crafting system, specifically utilized for refining Legendary weapons. Baleful Fragments provide the boost you need to challenge the grueling World Tiers and survive the Nightmare of Helltide events. This guide aims to help you understand how to acquire, farm, and effectively use Baleful Fragments in Diablo 4.
Gathering Baleful Fragments
Baleful Fragments are not a typical loot drop from the fiends you slay throughout Sanctuary, nor are they hidden in the game's Silent Chests. Their origin is more unique – they can only be procured through salvaging Legendary weapons, offhands, and shields. This process is achieved via the Diablo 4 Salvage system, accessible through any Blacksmith in the game.
However, not every Legendary item can reward you with these coveted fragments. The game requires that these items possess item power above 400. Thus, it's unlikely for players to encounter Baleful Fragments until they reach a character level beyond 50 or inch closer to the max level in Diablo 4.
Strategies for Farming Baleful Fragments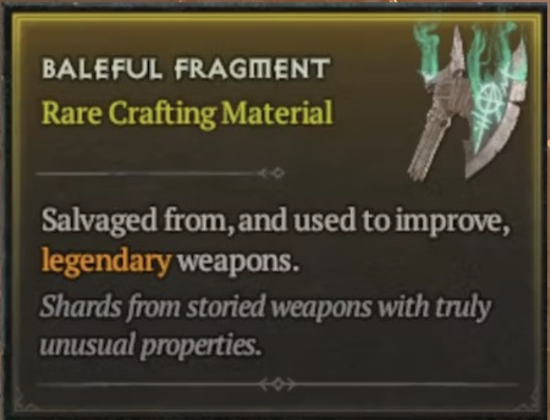 Given their rare nature, amassing a sufficient amount of Baleful Fragments may seem challenging at first. But fear not, there are efficient methods to farm these materials.
Running Dungeons
One of the most effective ways to farm Baleful Fragments involves running dungeons and looting items to be subsequently dismantled at a Blacksmith. This method might feel monotonous at times, but the payoff is worth it. Not only does it reward you with a steady flow of potential Baleful Fragments, but it also accelerates the leveling process and allows you to collect an impressive array of loot.
Gambling with Murmuring Obols
For the more adventurous, another viable method involves gambling your hard-earned Murmuring Obols. You can trade these Obols with the Purveyor of Curiosities for a chance to win high-level Legendary gear. Trading 75 Obols might net you a two-handed weapon, 50 Obols a one-handed weapon, and 40 Obols an off-hand weapon.
Using Baleful Fragments Effectively
Once you've successfully harvested Baleful Fragments, it's time to put them to good use. These fragments serve a key purpose in upgrading and imprinting Legendary weapons.
Visit the Blacksmith to use them for obtaining final upgrades on your most potent gear items. Alternatively, head to the Occultist to imprint your favorite Diablo 4 Aspects. Always refer to your Codex of Power to determine what's available and what suits your playstyle best.
Remember, this crafting resource is tough to come by, so avoid wasting it on trivial upgrades. Use it wisely when you're sure of the gear you want to enhance, treating it as a necessary extension of your work on the Diablo 4 Paragon Board.
Wrapping Up
Navigating the brutal landscapes of Diablo 4 requires more than just courage and swift reflexes. Gathering and utilizing resources such as Baleful Fragments efficiently can make the difference between life and death. By recycling Legendary items, running dungeons, and taking calculated risks, you can ensure you're adequately equipped to face whatever terrors lie ahead. Happy farming!
Read More From Remeshed: