In the captivating world of Diablo 4, you encounter many formidable foes that stand between you and your ultimate goal. One such antagonist, encountered early in the game, is the Broodguard Spider. This arachnid nightmare may seem intimidating at first, but fear not, we've got you covered. Here's your detailed guide on how to crush this boss with ease and move forward in your journey.
The Lair of the Broodguard Spider
The Broodguard Spider awaits at the end of the Defiled Catacomb Dungeon, tucked away in the southwest region of the Fractured Peaks. The most efficient way to reach this location is via the Nevesk Waypoint in the Desolate Highlands. Upon entering the Lair of the Defiler, prepare yourself for a tough encounter.
How To Beat The Broodguard Spider Video Tutorial
Understanding the Broodguard Spider's Attacks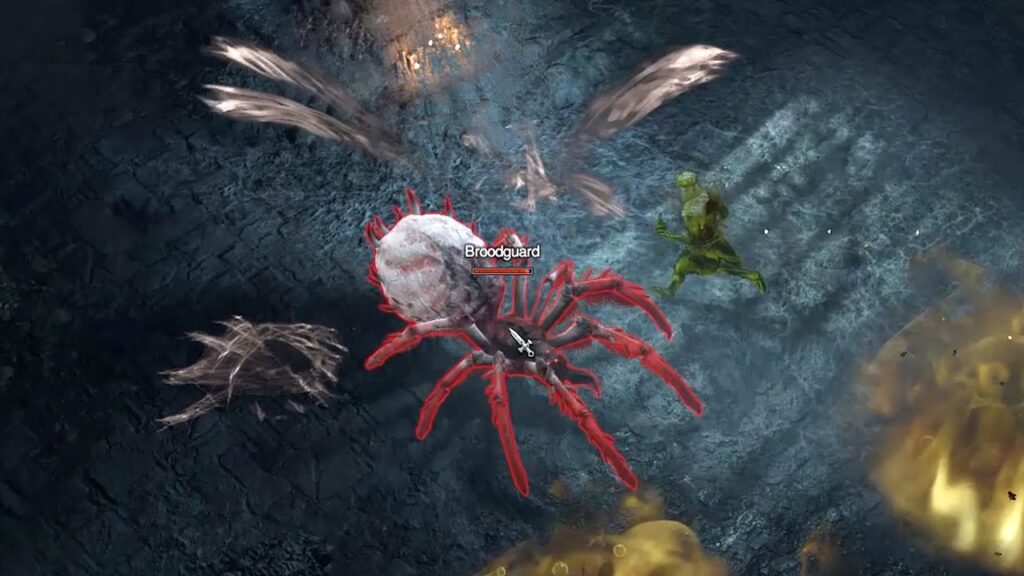 Your success against the Broodguard Spider greatly depends on your understanding of its attack patterns. Here are the main types of attacks this menacing creature utilizes:
1. Leg Stab/Bite
Consider this the Broodguard Spider's go-to attack. It will swipe at you with one of its many legs or attempt to bite you. While these attacks don't inflict significant damage, it's crucial not to underestimate their impact over time.
2. Web Throw
In this attack, the Broodguard Spider hurls numerous webs across the arena. While these webs do not cause direct damage, they will slow you down or potentially root you in place, leaving you exposed to subsequent attacks.
3. Poison Spit
The Broodguard spews several puddles of poison around the arena. If you find yourself standing in these puddles, they will gradually drain your health. Staying close to the boss during this attack can help you avoid these poisonous traps.
4. Spider Host Adds
Throughout the battle, the Broodguard Spider will summon allies called Spider Hosts. These nuisances will explode upon defeat, releasing additional smaller spiders to join the fray. Focus on defeating these minions as soon as they appear to prevent the battlefield from getting too crowded.
Strategies to Defeat the Broodguard Spider
1. Stock Up on Health Potions
Before challenging the Broodguard Spider, ensure you have an ample supply of health potions. This is crucial as the spider's poison pools can rapidly deplete your health.
2. Utilize Your Class
Classes with strong melee attacks, like Barbarian or Rogue, are recommended for this encounter. However, ranged fighters can also successfully defeat the Broodguard Spider; it may just require a bit more effort and tactical planning.
If you have defensive skills with your character make sure to utilize them in the fight.
3. Maintain Close Combat
Staying close to the Broodguard Spider limits its ability to trap you with webs or poison puddles. Dodge its leg swipes and bites while continuously delivering your own melee attacks. This also allows you to be in a favourable position when it spawns its minions.
4. Manage the Spider Hosts
Immediately shift your focus to the Spider Hosts as soon as they spawn. Eliminate them swiftly to prevent the battlefield from being swarmed with additional enemies.
5. Heavy Attack When Broodguard Is Staggered
At certain points during the fight the Brooduard spider will be staggered. This gives you enough time to unleash your heavy attacks and cause more damage.
Wrapping Up
Remember, the Broodguard Spider, like any other boss in Diablo 4, can be conquered with the right strategy and persistence. Use these tips and strategies to emerge victorious and continue your epic journey. Happy gaming!
Read More From Remeshed: