Harry Potter: Magic Awakened is a highly immersive mobile game that brings the fantastical world of Hogwarts and wizardry right to your fingertips. One of the intriguing aspects of the game revolves around the use of wands.
The bond between a wizard and their wand is sacred in this universe, and the game manages to capture that essence beautifully. In the game, your wand is personal to you, and you might want to modify its look from time to time. This guide will help you understand how to customize your wand, specifically focusing on changing the wand skins.
Getting Your First Wand
Before we delve into customization, it's crucial to understand how you get your first wand. Just like in the books and movies, in Harry Potter: Magic Awakened, you get to select your wand at the renowned Ollivander's shop. However, unlike the wider array of choices that Harry, Hermione, and Ron had, there are only a few wands for you to choose from when you first visit this magical shop.
The process is pretty straightforward; you cycle through the available options until Ollivander declares that you have found the right wand. As tradition dictates, the wand chooses its owner, and it's no different in this game.
Understanding Wand Customization
Once you've got your wand, you might be wondering how to change its appearance. While you can't customize each individual component of your wand like you can in some other wizarding games, Magic Awakened does offer a different kind of customization – wand skins.
In contrast to altering the core, wood type, or other physical components of your wand, wand skins in Magic Awakened let you completely change how your wand looks without affecting its inherent properties. This means you can give your wand a fresh new look while it still retains the same magical attributes.
How To Change Wand Skins
Now that we understand the concept of wand skins, let's explore how you can change them. The process is tied to your progress in the game. As you journey through the game, completing various quests and earning achievements, you unlock new wand skins.
To apply these skins, follow these steps:
First, make sure you've unlocked some wand skins by completing quests and achievements.
Next, navigate to Diagon Alley and go to Ollivanders Wand Shop. You can use the in-game map to fast travel.
Speak to Ollivander and after the dialogue you will enter the wand customization screen.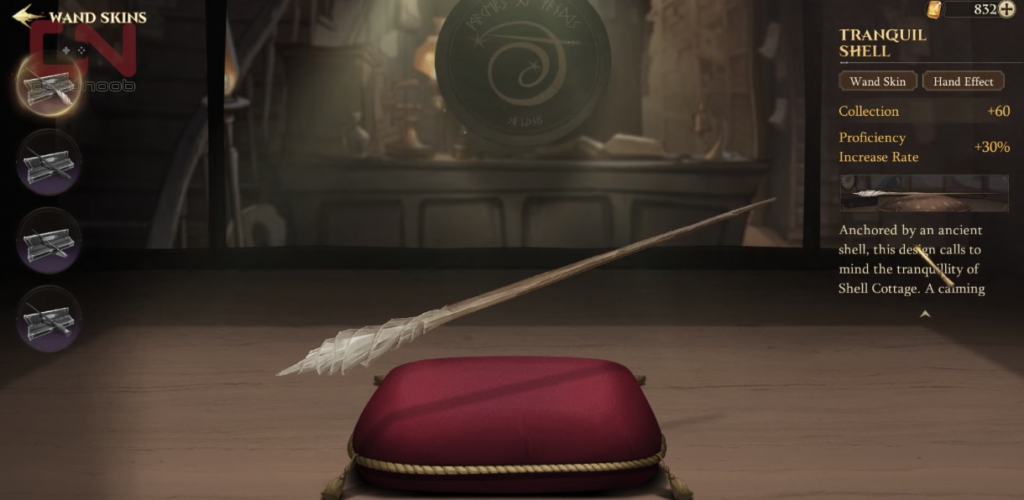 Select the wand you want to use on the left-hand side, then select "Wand Skin" in the top right to change the wand's appearance.
And voila! Your wand now sports a whole new look, reflecting your progress and achievements within the game. Keep in mind that these changes are purely cosmetic and do not affect the gameplay or the wand's magic.
Remember, in the magical world of Harry Potter: Magic Awakened, the wand chooses the wizard, but the wizard can definitely choose their wand's style. Happy gaming, and may your wand guide you on a magical journey!
Read More From Remeshed: