"The Legend of Zelda: Tears of the Kingdom" is filled with challenges and bosses that are designed to test your strategic skills and quick reflexes. One such challenge that you will come across early in the game is the Flux Construct 1. While it may appear as a simple block pyramid with a red searchlight, underestimating it could lead you down a difficult path. Let's dive in and show you how to beat flux construct 1!
Understanding Flux Construct 1
Before we can tackle the Flux Construct 1, it's crucial to understand what it is. Flux Construct 1 presents itself as a benign pyramid of blocks but quickly shows its true colors when you approach it. The red searchlight atop the pyramid identifies you as a threat, marking the beginning of a challenging encounter. The key to defeating this boss is the glowing cube, the Construct's Core, which is also its power source.
Engaging the Flux Construct 1
Step 1: Approach with Caution
As you venture into the encounter with the Flux Construct 1, it's essential to approach with caution. Remember, the red laser that scans the area is quick to identify threats. Once it spots you, the once seemingly harmless pyramid of blocks becomes a significant challenge.
Step 2: Identify the Construct's Core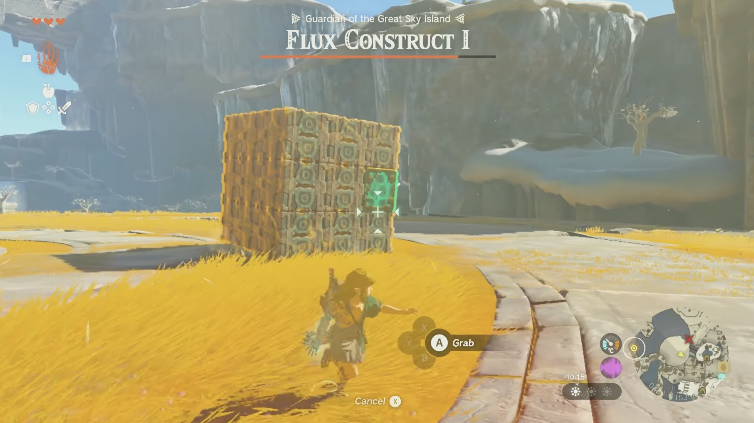 Upon the initiation of the encounter, the Flux Construct 1 reveals its glowing cube, the Construct's Core. This cube is not only the heart of the construct but also the source of its power. Identifying the Construct's Core early on will help you focus your attacks and make your actions count.
Step 3: Concentrate Your Attack
Once you've identified the Construct's Core, it's time to bring out the big guns. Direct all your offensive power towards the Core. It's important to note that the Flux Construct 1 Core can triple your offensive power, making it a high-value target.
Step 4: Adapt and Overcome
The Flux Construct 1 is not a static opponent. It will adapt and change its tactics as you chip away at its Core. Be ready to adapt and adjust your strategy on the fly. Remember, in "The Legend of Zelda: Tears of the Kingdom," quick reflexes and smart strategies are the keys to victory.
Victory and Beyond
Upon defeating the Flux Construct 1, you will not only overcome a significant early game challenge but also stand to gain a significant power boost. This encounter is designed to test your adaptability and strategic skills, and overcoming it will equip you with the experience needed for future challenges in the game.
In conclusion, defeating the Flux Construct 1 in "The Legend of Zelda: Tears of the Kingdom" is about understanding the boss, identifying its core, focusing your offensive power, and being ready to adapt your strategy. As with all bosses in the game, patience, strategy, and quick reflexes will see you through to victory. Happy gaming!