I have had my Steam account for well over 10 years now and my library is starting to get pretty big. The bigger it gets, the harder it becomes to find the games I want. However, I just found out that Steam has a feature allowing you to categorize your games in your library.
This makes it much easier to find exactly what you are looking for when browsing your library. In this article, I am going to show you how to add categories to your library as well as remove them. Let's jump in.
How To Add Categories On Steam
You can easily add categories to your Steam library by following the steps below. You may want to categorize games by genre, currently playing or some other system you come up with yourself.
On Steam, categories are known as collections. Steam has two different types of collections available; standard and dynamic. A standard collection will consist of games you manually add to it. Dynamic collections will update based on a set of rules you set.
Follow the steps below to set up your first collection:
Open the Steam application on your PC or Mac
Navigate to the Library Section
Right-click on a game that you want to add to a collection –> Add to –> New Collection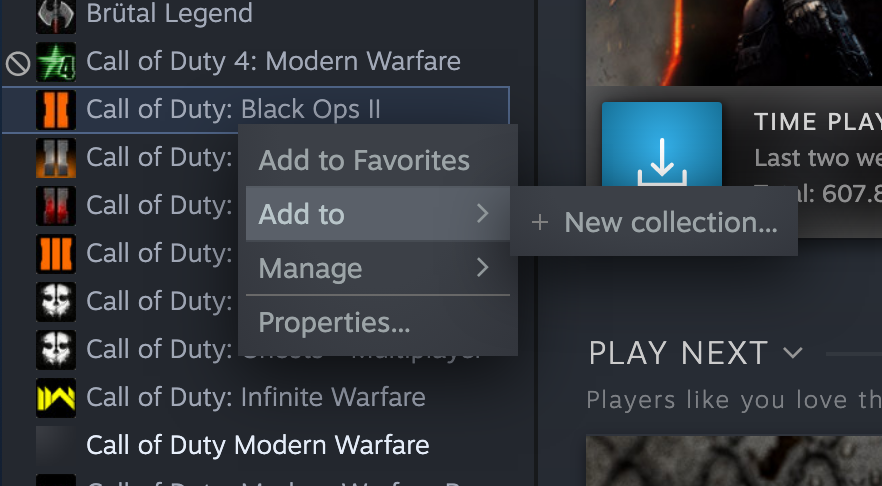 You will now be asked to give your collection a name and decide whether or not you want the collection to be dynamic or manual.
If you select a manual collection, the game you selected will get added to the collection. You can then manually add games to this collection in the future by right-clicking the game –> Add To –> [Collection Name]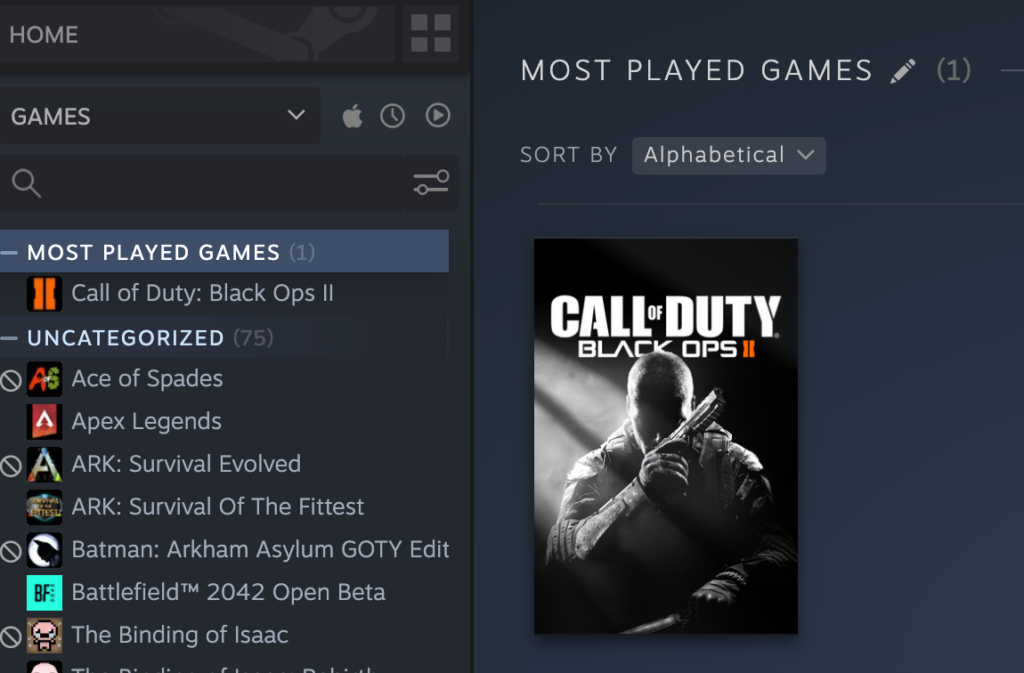 If you decide to create a dynamic collection, you will be able to set up some rules to dynamically add games to a category. In the below screenshot, I have created a collection that automatically adds Multiplayer adventure games. This means any new games I purchase that meet these requirements will get added to this collection.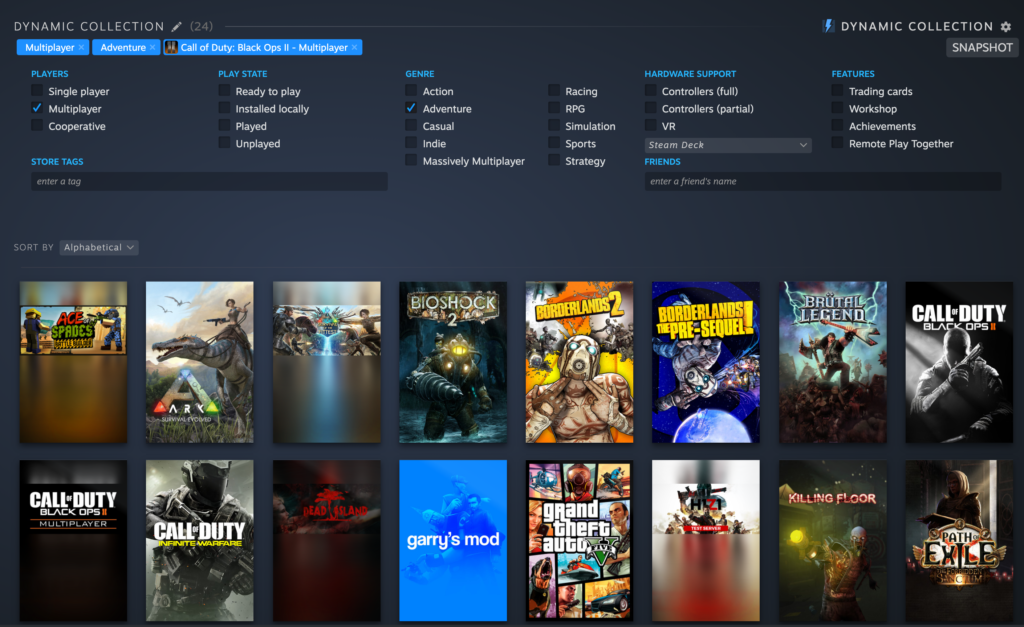 You can go ahead and adjust the filters for your dynamic collection to your liking. Having collections on Steam makes it much easier to group your games and find what you are looking for.
How To Add Or Remove Games From A Collection
Once you have created a collection on Steam you may want to add or remove a game from the collection. You can even manually add or remove games from a Dynamic Collection.
Navigate to your Steam library and right-click on the game you want to add or remove from a collection.
If you want to remove it from a collection select Remove From –> [Collection Name]
If you want to add the game to a collection simply select Add To –> [Collection Name]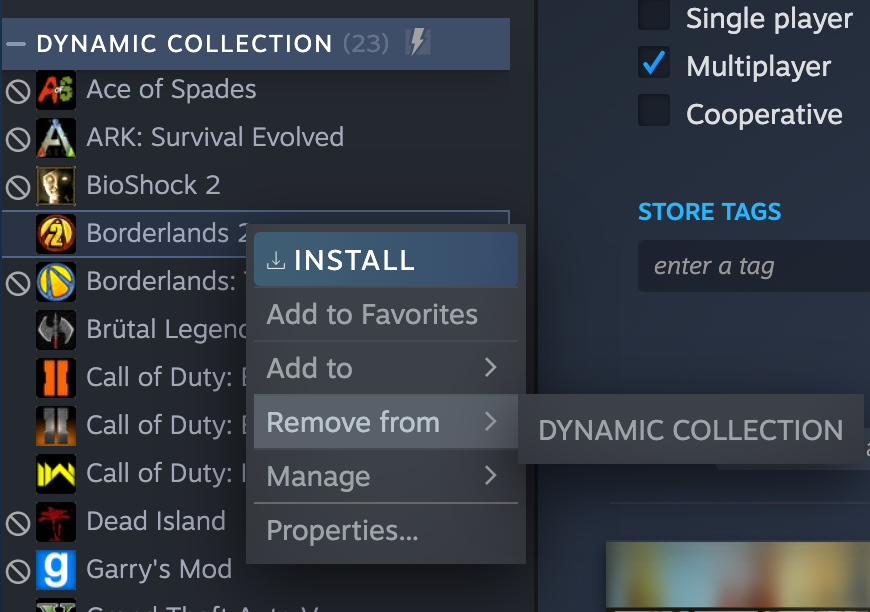 If you have created a dynamic collection, new games you purchase will automatically be added to that collection if they meet the criteria you have set.
How To Delete Collections On Steam
If you are cleaning out your Library on Steam you may want to delete the collection completely from your library. Follow the steps below to delete a collection:
Open Steam on your PC or Mac
Navigate to the library section
Right-click on the collection you want to delete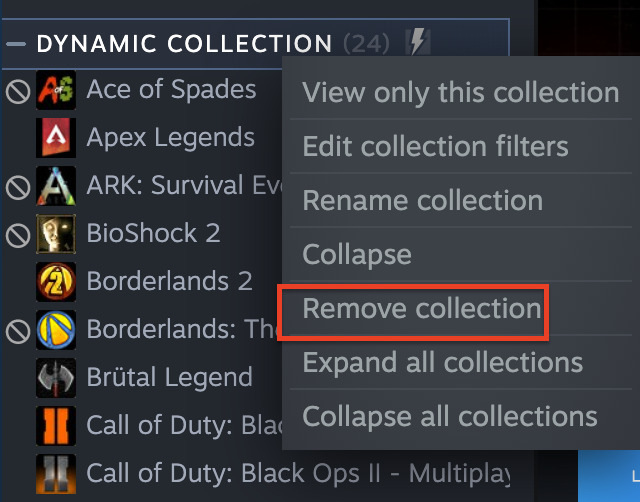 Select 'Remove Collection' from the drop-down list
You have now successfully deleted this collection from Steam. Any games that are not in another collection will be moved back to the uncategorized section in your library.
Wrapping Up
Now you know how to keep your library more organized on Steam by using collections. If you have purchased 100s of games on Steam over the years, this will help you be much more organized with your library.
Read More From Remeshed: