As you progress through Hogwarts Legacy, you'll find an abundance of gear to collect and equip. However, managing your inventory can become challenging due to the limited number of gear slots available. In this guide, we will explain how to unlock more gear slots, sell unwanted items, and make the most out of your inventory in Hogwarts Legacy.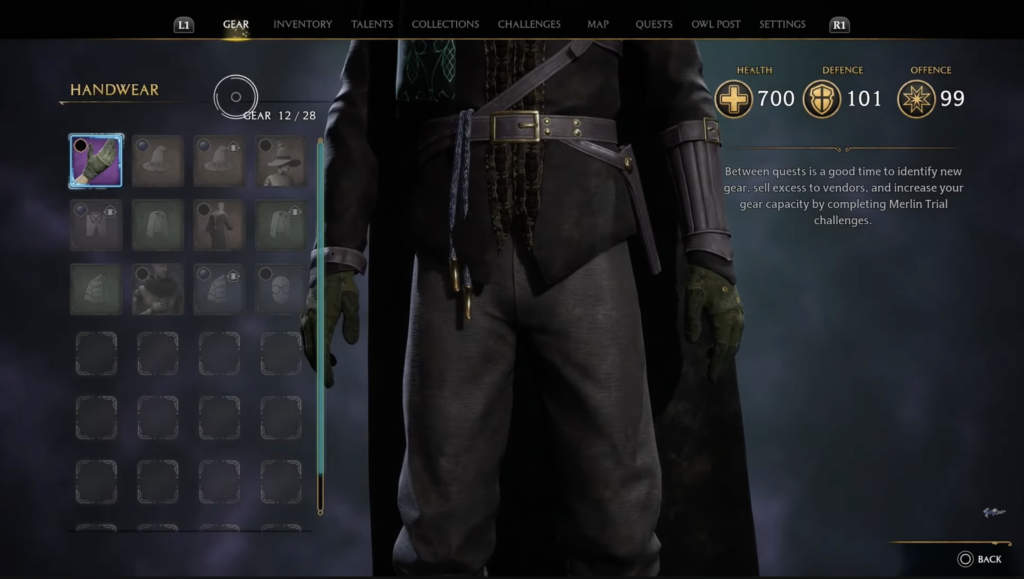 Why Are My Gear Slots Full in Hogwarts Legacy?
Initially, you can only store 20 equipable items in your inventory. As you explore the vast world of Hogwarts Legacy, your gear slots will fill up quickly. When your gear slots are full, you won't be able to pick up any new items until you either sell or remove some of the items in your inventory.
How to Sell Gear in Hogwarts Legacy
One way to free up space in your inventory is by selling unwanted gear. To do this, follow the steps below:
Visit a shop, such as those found in Hogsmeade (excluding plant stores).
Press R1/RB to switch from the 'Buy' menu to the 'Sell' menu.
Sell any gear you no longer need to receive Galleons in return.
Alternatively, you can destroy a piece of gear by pressing and holding down the left analog stick. This is useful when you need to pick up a new item immediately and can't return to a shop to sell your unwanted gear.
How to Get More Inventory Slots & Carry More Gear in Hogwarts Legacy
To increase the number of gear slots in your inventory, you need to complete Merlin Trials. Follow these steps to expand your inventory:
Complete the 'Trials of Merlin' quest (Chapter 15 in the main story missions).
Find individual Merlin Trials scattered across the map.
Use Mallowsweet Leaves to activate the Trials. You can purchase Mallowsweet Leaves at The Magic Neep shop in Hogsmeade or grow them using Mallowsweet Seeds in the Room of Requirement.
Complete enough Merlin Trials to unlock gear storage expansion rewards.
Go to the Challenges menu on the pause screen and scroll down to 'Complete Merlin Trials' to redeem your gear storage expansion rewards manually.
By completing these steps, you can ultimately increase your total number of gear slots from 20 to 40.
Managing Your Appearance in Hogwarts Legacy
In Hogwarts Legacy, you can customize your character's appearance without impacting their stats. The appearance of every item you collect is added to your Appearance menu. To change the appearance of a gear slot, press Square/X on PlayStation/Xbox when hovering over the gear slot you want to modify. To toggle your hood on your cloak, press Triangle/Y.
Can You Store Gear In Hogwarts Legacy
If you have found some gear that you really like but don't want to keep in your inventory, it would be handy to be able to store it elsewhere. Unfortunately, Hogwarts Legacy has no way to store items outside of your current inventory. Maybe in a future update they will add a way to store items in your room of requirement.
Wrapping Up
Managing your inventory in Hogwarts Legacy is an essential aspect of the game. By selling unwanted gear, completing Merlin Trials, and expanding your inventory, you can effectively manage your gear slots and make the most out of your adventure in the Wizarding World.
Read More From Remeshed: