In the captivating realm of Diablo 4, one attribute that continues to puzzle many players is the Thorns stat. Often regarded as an offensive and defensive attribute, Thorns serve as a unique mechanism that allows your character to return damage to enemies each time they strike. This article breaks down the Thorns stat and how to maximize its effectiveness in Diablo 4.
What Are Thorns in Diablo 4?
Thorns is a unique stat that allows your character to retaliate against enemies, dealing damage in response to each hit taken. In other words, Thorns is a form of passive defense, automatically reflecting some portion of damage back to the attacker.
However, it's important to understand that Thorns does not provide any form of immunity against incoming damage. Instead, it merely reflects a portion of that damage back to the source. Therefore, a character with lower health and defense might find Thorns less effective due to a diminished damage reduction capability.
Thorns Effectiveness Based on Classes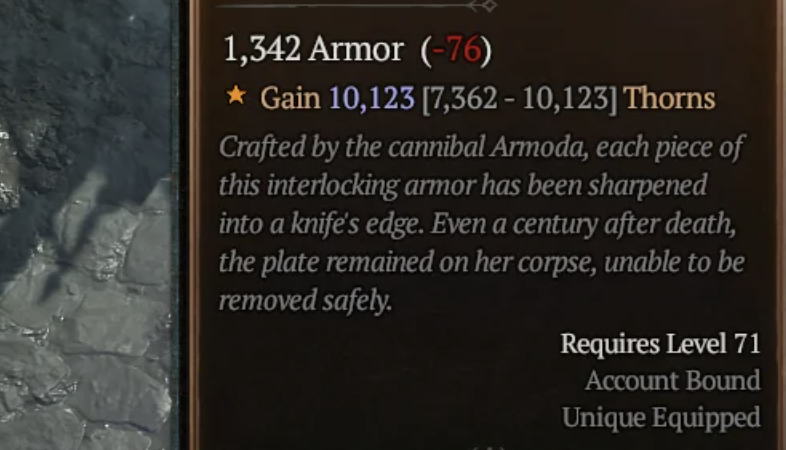 The effectiveness of the Thorns stat can vary depending on the class and the primary abilities of the characters. The Barbarian and Druid classes, which are relatively stronger, tend to yield more beneficial results when utilizing Thorns due to their higher health and defense stats. These classes become even more lethal when Thorns are combined with their abilities.
Here's a breakdown of how primary abilities of different classes affect Thorns:
Barbarian: Strength
Necromancer: Intelligence
Druid: Willpower
Sorceress: Intelligence
Rogue: Dexterity
How to Get Thorns in Diablo 4?
There are multiple ways to acquire Thorns in Diablo 4. They can be gained by upgrading your Skills and Gears based on your character's Class and Stats. Certain pieces of gear, including Chest, Pants, and Shields, can come with Thorns as a stat, contributing to your Thorns damage.
Skills can also provide Thorns. For instance, the sorcerer's Spiked Armor skill grants 16 Thorns. As you level up the Skills and upgrade Gears suited to the Class and Stats you are playing, you can utilize Thorns more efficiently.
Some armor set pieces in Diablo 4, such as Razorplate, Ring of Mendeln, and Rage of Harrogath, enhance the power of Thorns significantly.
Increasing Thorns Damage in Diablo 4
Thorns damage in Diablo 4 depends on your character's stats, and it varies for every class. To maximize Thorns damage, you should focus on increasing specific stats for your character:
Rogue – Dexterity
Necromancer – Intelligence
Sorcerer – Intelligence
Barbarian – Strength
Druid – Willpower
In addition to these, equipping specific armor pieces with the Thorns stat and using certain gems, specifically the Emerald, can significantly increase your Thorns damage. The quality of the Emerald (e.g., chipped, crude, flawless) determines the extent of the Thorns bonus.
Checking Your Thorns Stat
To verify the amount of Thorns your Diablo 4 character has, follow these steps:
Open your Diablo 4 inventory by pressing I on the keyboard.
Under character, select Material & Stats.
Scroll down to find Thorns at the bottom of the Offensive stats list.
Wrapping Up
In conclusion, the Thorns stat provides a uniquev mechanism of dealing with enemies in Diablo 4, which allows for a different and challenging way of strategizing your gameplay.
Remember, while Thorns can be beneficial, it's best used by characters with higher health and defense stats. So equip those Thorns, get in there, and let your enemies feel the prick of their own assaults!
Read More From Remeshed: