Among the many challenges and adventures in The Legend of Zelda: Tears of the Kingdom, you may find yourself needing to navigate through frigid weather conditions.
The biting cold can prove detrimental to your hero, but luckily, there's a solution: crafting cold resistant elixirs and food. One of these vital potions is the Chilly Elixir. This guide will take you through the Chilly Elixir Recipe, how to craft it and help you brave the harsh cold and continue your quest unscathed.
When Chilly Elixir Is Useful
Before we delve into the recipe, it's important to understand why you need this cold resistance. In Tears of the Kingdom, chilly weather isn't just an aesthetic; it impacts your character's health and stamina.
Therefore, preparing yourself with cold-resistant buffs becomes essential, especially when venturing into the colder regions of the game. These potions and foods not only offer protection from the cold but also provide significant boosts to your character's capabilities.
Ingredients Required For Chilly Elixir
To make the Chilly Elixir, you need to combine specific ingredients in a Cooking Pot.
Monster Parts
The first element you'll require are Monster Parts. Monster Parts can be obtained from vanquished foes and don't need to be from a specific monster – any will do.
Bugs – Cold Darner/Winterwing Butterfly
The second key ingredient is bugs. But not just any bugs – you'll need cold-resilient critters such as the Cold Darner Dragonfly or Winterwing Butterfly. These critters imbue your elixir with the necessary qualities to withstand the cold, and they're often found in cold areas, so keep your eyes peeled!
One of the best areas to find these bugs is in the cold areas of Gerudo Highlands/Mount Lanayru.
Crafting the Chilly Elixir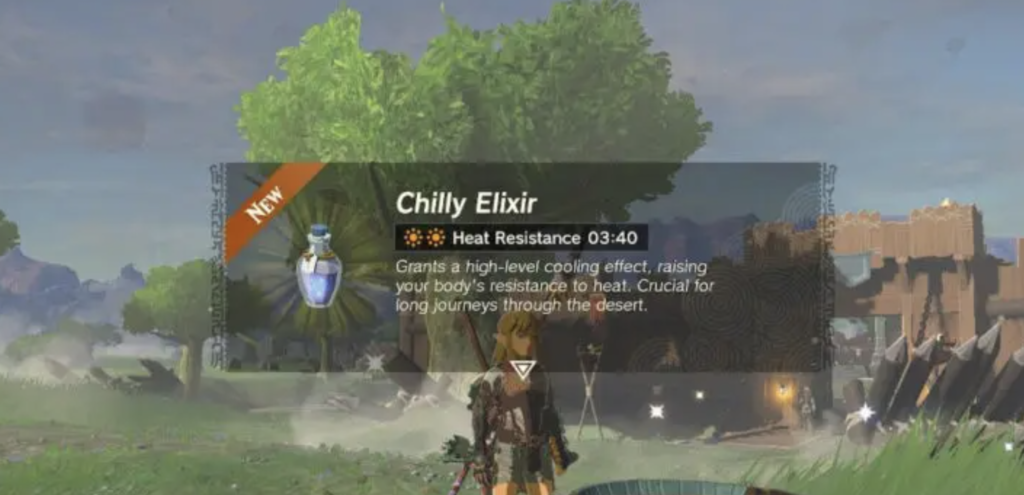 Once you have your ingredients, it's time to craft the Chilly Elixir. Head to a Cooking Pot and select the Monster Parts and cold-resistant bugs from your inventory. With the ingredients in the pot, let the magic happen!
Upon combining these elements, you'll create the Chilly Elixir, a beverage that will protect you from harsh weather and give you an edge in your epic adventure.
Conclusion
Mastering the art of elixir creation is not just a fun aspect of Tears of the Kingdom, it's a vital survival skill. The Chilly Elixir, with its cold-resistant properties, is a necessary tool when tackling the freezing climates of the game. So don't forget to stock up on these potions before heading into the icy wilderness. Remember: a well-prepared hero is a victorious hero!
Read More From Remeshed: