Embrace the wealthy life in the Roblox universe! Billionaire Simulator 2, a popular game on Roblox, has unleashed a new set of codes for the month of July 2023. These codes allow you to redeem exciting rewards, letting you enjoy the game with an added edge.
The Allure of Billionaire Simulator 2
In Billionaire Simulator 2, your mission is straightforward yet challenging: amass as much virtual wealth as possible to claim the title of the ultimate billionaire. You start by building one business at a time, gradually expanding your empire until you're raking in the big bucks. Not only is this game a fun escape from reality, but it also allows you to experience the thrill of building a business empire from scratch.
Active Billionaire Simulator 2 Codes (July 2023)
In-game codes are one of the ways that make Billionaire Simulator 2 even more enjoyable. By redeeming these codes, players can acquire free items and rewards. Currently, the active Billionaire Simulator 2 codes available for redemption are:
100KVISITS
Claim this code to receive a free hat and other exclusive rewards. A hat may seem like a small gift, but in Billionaire Simulator 2, even the tiniest edge can significantly improve your gaming experience.
WOW
Don't miss out on redeeming this code. The rewards are unspecified, which adds to the excitement of discovering what unique items await you.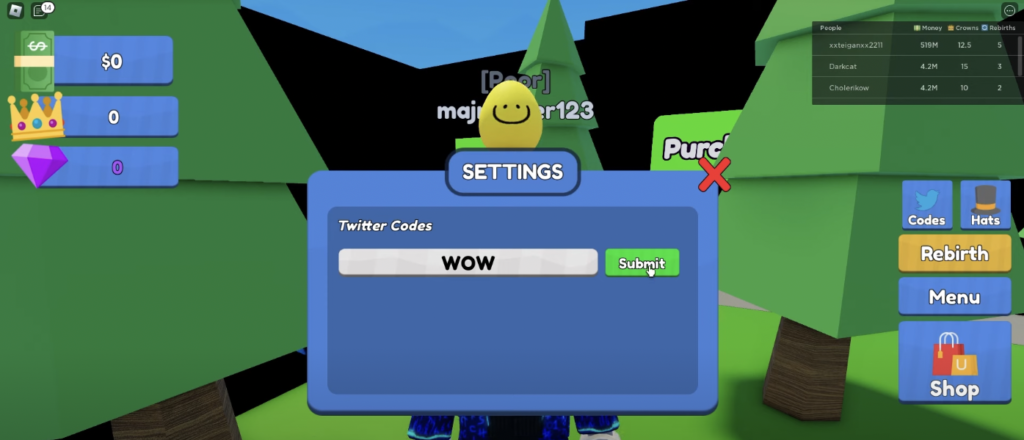 The Redemption Process
Redeeming Billionaire Simulator 2 codes is a breeze. Follow these simple steps:
Launch the game: Begin by starting Billionaire Simulator 2 in Roblox. You need to be in the game to redeem the codes.
Access the Codes Section: Look for and select the "Codes" button.
Enter your code: Type the active code accurately. Remember, the codes are case-sensitive.
Submit the code: After entering the code, click on "Submit".
Enjoy the Rewards: If your code is valid and active, you'll receive your rewards instantly. Now, you can enjoy your gameplay with the bonus items.
Staying Ahead of the Game
In the fast-paced world of Roblox games, codes can expire, and new ones can appear without notice. As of July 2023, there are no expired Billionaire Simulator 2 codes. Nonetheless, it's crucial to stay updated so you can grab all the latest codes and maximize your gameplay.
In conclusion, Billionaire Simulator 2 is a fun and interactive game that enables players to live a billionaire's life in a virtual world. With the added excitement of redeeming codes for free items and rewards, the game becomes even more thrilling. So, gear up, utilize these codes, and start your journey to becoming the richest player in Roblox.
Read More From Remeshed: