Hogwarts Legacy has finally arrived and people love the amazing open-world game. However, with such a big game comes problems and some people are facing lag issues and low Frame Per Second.
If that's you, use the settings below to get the best possible quality and FPS when playing the game.
Best Game Settings For High FPS In Hogwarts Legacy
Below are the best settings for high FPS in Hogwarts Legacy. With such a large open world the game can be quite resource heavy, causing a lot of people to lag or have a poor gaming experience.
These settings will give you a nice FPS boost allowing you to enjoy Hogwarts Legacy in all of its glory.
Display Options
| | |
| --- | --- |
| Window Mode | Windowed Fullscreen |
| Upscale Type | Nvidia DLSS/AMD FSR2 |
| Upscale Mode | Nvidia DLSS Quality/AMD FSR 2 Quality |
| Upscale Sharpness | 0.6/1 |
| Nvidia Reflex Low Latency | On |
| VSYNC | Off |
| Framerate | Set To Monitor Refresh Rate |
| Motion Blur | Off |
| Depth Of Field | On |
| Chromatic Aberration | Off |
| Film Grain | Off |
Hogwarts Legacy Best Display Options
Graphics Options
| | |
| --- | --- |
| Effects Quality | High |
| Material Quality | High |
| Fog Quality | Low |
| Sky Quality | Low |
| Foliage Quality | High |
| Post Process Quality | Low |
| Shadow Quality | Medium |
| Texture Quality | Ultra |
| View Distance Quality | Medium/High |
| Population Quality | High |
| Ray Tracing Reflections | Off |
| Ray Tracing Shadows | Off |
| Ray Tracing Ambient Occlusion | Off |
Hogwarts Legacy Graphics Options
Best PC Settings For Hogwarts Legacy
If you are still struggling with low frames, you may want to adjust some of your PC settings even after changing the above settings. Below I have included a guide to improving your gaming experience on PC, whether you are playing Hogwarts Legacy or another game.
Turn Game Mode On On Your PC
If you want to get the most out of your PC for gaming, you should have game mode enabled. Navigate to the Windows Button –> Search –> Game Mode Settings and turn Game Mode on.
Update Your Graphics Card Drivers
When new games come out, GPU manufacturers will release new drivers to optimize for that specific game. If yours aren't up to date you may be missing out on some performance.
Navigate to your GPU manufacturer's page below and download the GPU software. From here you will be able to ensure your drivers are up to date for all of the latest games.
Power Saving Options
Sometimes your PC won't be utilizing all of its power. We want to make sure that it is utilizing its full power toward the game. To turn your PC power mode to High performance follow the steps below:
Navigate to Control Panel –> All Control Panel Items –> Power Options
Here you will see an options menu. Select High Performance in the Preferred Plans section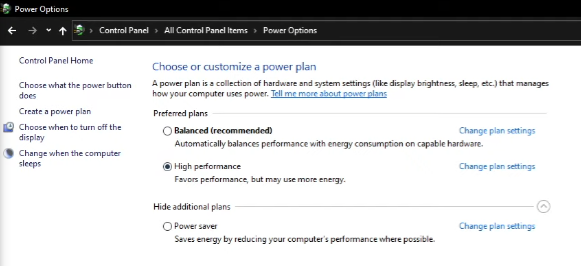 Turn On Hardware-Accelerated GPU Scheduling
Windows has another built-in feature that can affect your gameplay. Navigate to the windows button and search for "Graphics Settings".
In this settings menu turn on Hardware-accelerated GPU scheduling. This reduces latency and improves performance.

Hogwarts Legacy Minimum System Requirements
Below are the minimum and recommended specs for playing Hogwarts Legacy on PC.
Minimum PC requirements to play Hogwarts Legacy
The minimum PC requirements to play Hogwarts Legacy are as follows:
OS: Windows 10
CPU: Intel Core i5-8400 or AMD Ryzen 5 2600
Memory: 8 GB RAM
GPU: AMD RX Vega 56 or NVIDIA GeForce GTX 1070
DirectX: Version 12
Storage: 85 GB available space (SSD preferred)
Recommended specs for Hogwarts Legacy
The recommended specs for Hogwarts Legacy on PC are as follows:
OS: Windows 10
CPU: Intel Core i7-8700 or AMD Ryzen 5 3600
Memory: 16 GB RAM
GPU: AMD RX 5700 XT or NVIDIA GeForce 1080 Ti
DirectX: Version 12
Storage: 85 GB
We would highly recommend having a PC with at least the recommended requirements as even PCs with the minimum requirements can give a poor gameplay experience.
Read more from Remeshed: