We all love to binge a good show every now and then. Just you, your couch, some tea, and a furry friend can make a fantastic time away from everything else. One of the most popular streaming services — Netflix, has a huge selection of shows and movies to watch daily.
Some of them are animated, but their target demographic is adults because they usually deal with serious topics but shroud them in a cloak of dry humor. We're here to list some of the best Netflix animated shows for adults, so you can be sure that your next morning spent lying around is as pleasant as can be!
13 Best Animated Shows On Netflix For Adults
Arcane
League of Legends is one of the most popular video games ever released, with hundreds of thousands of players jumping into the chaos that is Summoner's Rift daily. It is so popular that an animated show was created to follow one of the many Champions of the game as she tackles some massive challenges in her life.
The story follows Vi, a street hooligan that sets some serious social upheaval in motion. The two contrasting cities of Piltover and Zaun are at "war", and no one knows how it will end for them. The animation is crisp and fresh so it's quite an enjoyment to watch.
Something that worries viewers is the idea that they need to know everything about League of Legends before they can watch the show, but this cannot be further from the case. Anyone can start from episode 1 and be done with the series without even hearing about League of Legends before.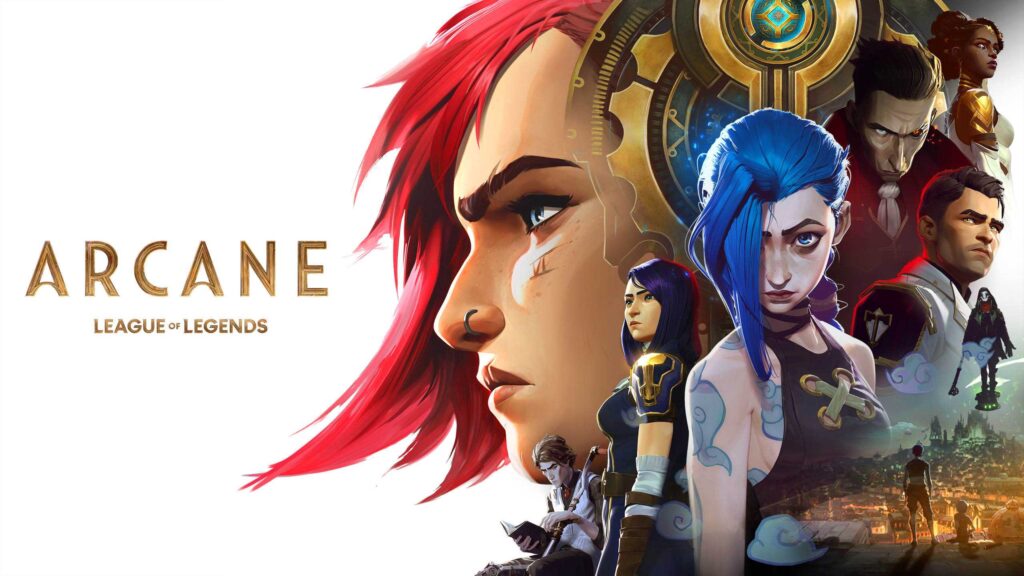 Details:
Runtime: 2021-
Seasons: 1
Episodes: 9
Rating: 9.1/10
Dota: Dragon's Blood
Another titan of the MOBA genre, Dota 2 is a game that came out before League of Legends but still has the same core mechanics that makes it unique. There is also an abundance of lore and stories told through the heroes you play. Dragon's Blood is an animated show that follows the story of Davion, the Dragon Knight on his journey through the world and how he gets his fate tied to the Elder Dragons.
Aside from Davion, other characters from Dota appear, such as Mirana, Luna, and Invoker, and we even see the goddess Selemene come into the fray at some point. The characters have a decent amount of depth to them, so you can grow attached all you like. Any fan of fantasy can enjoy this show without knowing anything about Dota 2 or the MOBA genre.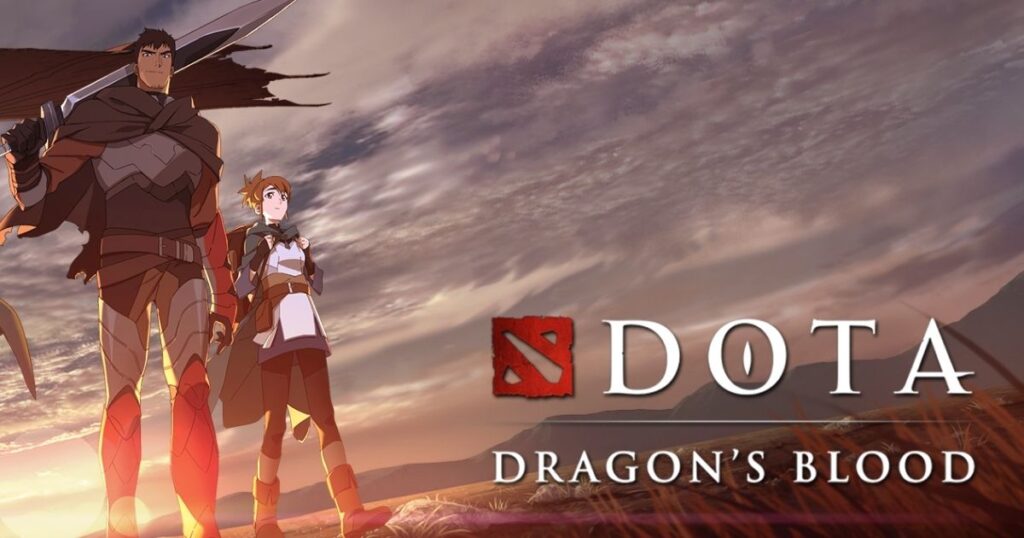 Details:
Runtime: 2021-
Seasons: 2
Episodes: 10
Rating: 7.9/10
Love Death + Robots
You can be sure that the premise of this show is as cool as its title sounds. Love Death + Robots is a fantastic series that spans many different genres. Very similar to the Black Mirror system, Love Death + Robots doesn't take after the standard story approach. Instead, each episode is focused on something different. From astronauts crashing on an alien planet to a whodunnit murder mystery to paranormal events, this show has it all.
The beauty of a system like this is the fact that you can jump into an episode that sounds interesting to you without sacrificing any of the story, as the entire story is in that one episode. Every time you finish one masterfully-written episode, you can look forward to whatever crazy new thing is waiting for you when you press next.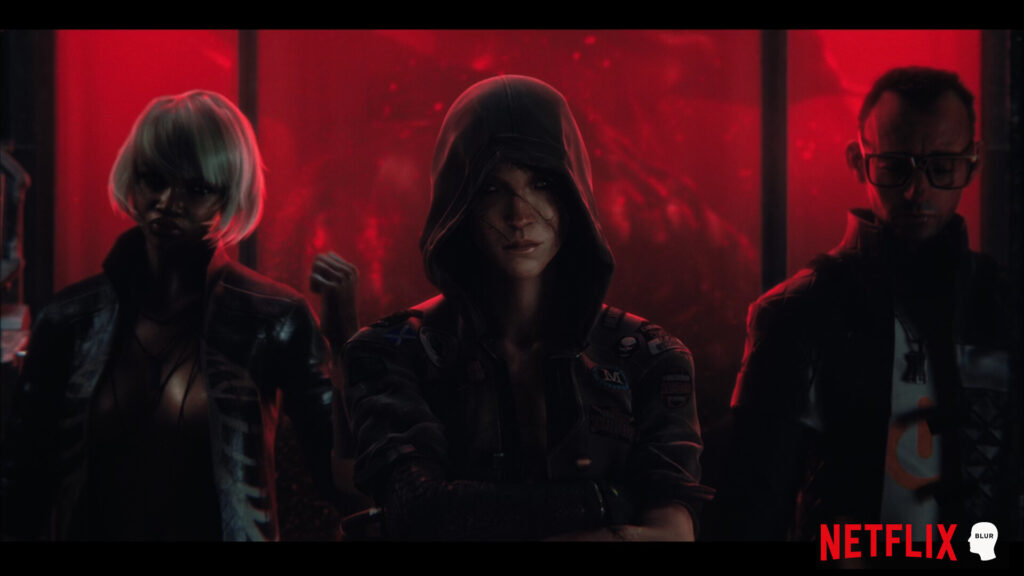 Details:
Runtime: 2019-
Seasons: 2
Episodes: 26
Rating: 8.4/10
BoJack Horseman
This is the first animated show that Netflix released, and it follows the story of an anthropomorphic horseman that used to be the star of a sitcom where he adopted some children. Like many other stars in their prime, his fame slowly dissipated and he found himself as just a common man with nothing special about him.
The story of the show is centered around BoJack's attempts to re-establish his fame as an excellent actor. Of course, he is what the young people refer to as a "boomer" who doesn't grasp the advanced concepts of mainstream modern media.
There are other characters who work with him to try to make his dream a reality, but they find it difficult too. If you're looking for a realistic story with a lot of alcohol, sex, violence, and much more, you're in the right place!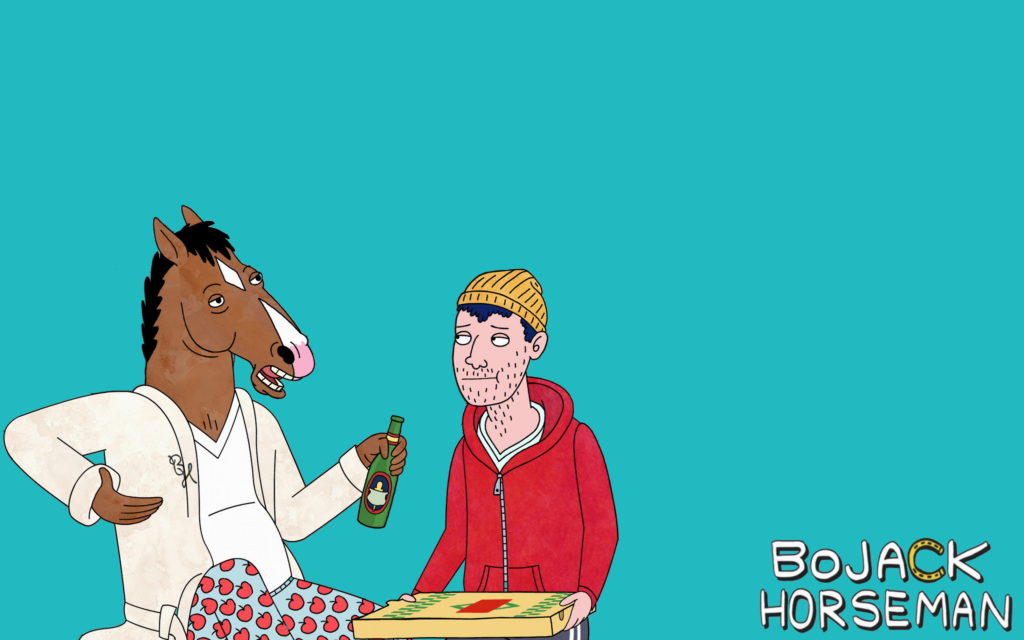 Details:
Runtime: 2014-2020
Seasons: 6
Episodes: 77
Rating: 6.7/10
Castlevania
Moving on, we have a show with a considerable dark theme to it. Castlevania follows the story of Count Dracula. The Count lost his only love and declared war on all of humanity. Trevor Belmont, the protagonist of the series has to rally his forces to give his best effort to stop the horrors of Dracula before they reach their full potential. This show has a considerable amount of violence, gore, and other controversial things so if you came here looking for a wholesome story, run. Run far away.
The fight scenes in the show have a lot of content to them and you can get immersed in seeing your favorite characters duke it out with the literal prince of darkness. The story is quite interesting, with many moving pieces so you can really appreciate everything it has to offer, especially if you are a fan of the general Dracula mythos and dark tales of the European countryside.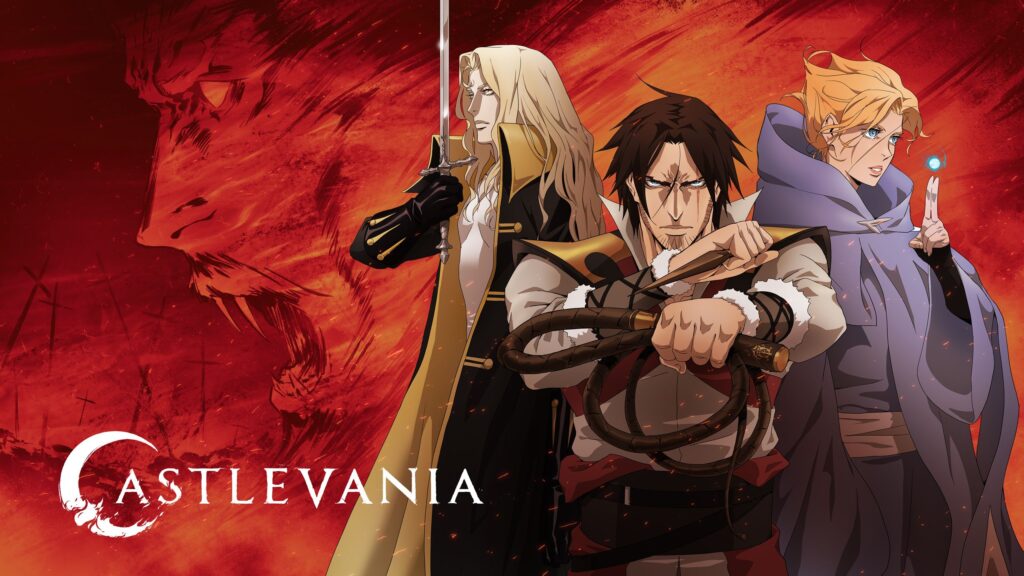 Details:
Runtime: 2017-2021
Seasons: 4
Episodes: 32
Rating: 8.3/10
Inside Job
Inside Job deals with all of the absurd conspiracy theories that people have created over the years. Here, we are introduced to Reagan Ridley, a scientist who works for the Deep State, an organization that handles and manages all of the conspiracies in the world.
Her story revolves around managing many aspects of the Deep State, as well as juggling all of her obligations with her normal life. It is reasonable to assume that someone in Ridley's line of work would have difficulties maintaining a social/romantic life.
The characters that work alongside Ridley have some explosive personalities that you will fall in love with the further you progress through the series. It is also quite fun to try to catch all of the inside jokes and references to conspiracy theories. Overall, it is a thrilling watch that you can finish in no time!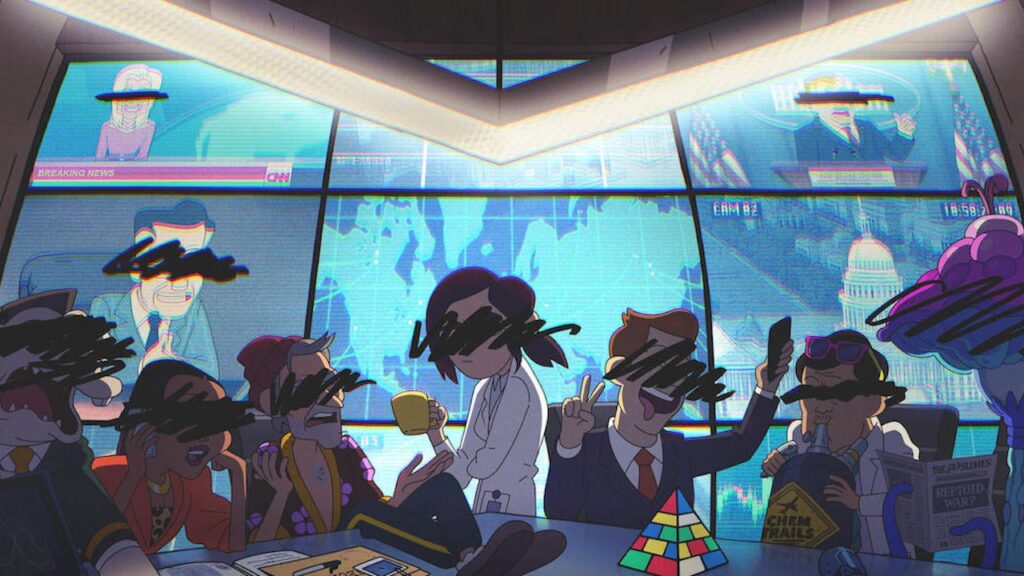 Details:
Runtime: 2021-
Seasons: 2
Episodes: 10
Rating: 7.7/10
Disenchantment
Moving on, we have a casual story set in a magical fantasy kingdom. The story follows Princess Bean, an alcoholic young woman who loves nothing more than to have a good drink and start a brawl. Her father, King Zog tries to make her a fair lady and marry her off to someone, but she is very disagreeable and instead focuses on her own thing.
Her companions are an elf named… Elfo, and Luci, a small, cat-like demon that serves as a medium for all of Bean's bad decisions. Being a fantasy story, the three of them go on adventures together tackling various enemies and monsters such as ogres, trolls, humans, and many more. The story of Disenchantment is brilliant and anyone that's a fan of fantasy and a bit of crude language will love this series!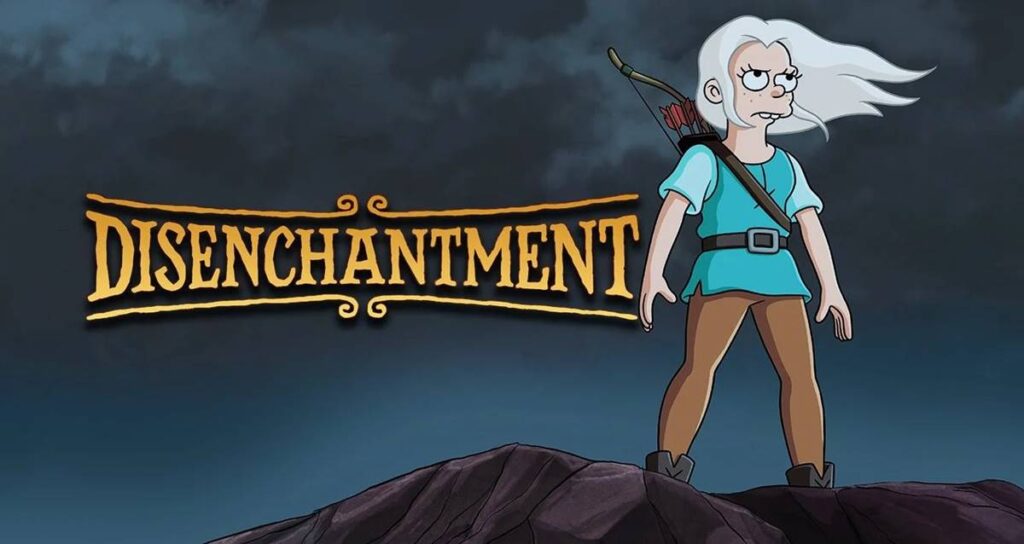 Details:
Runtime: 2018-
Seasons: 2
Episodes: 40
Rating: 7.3/10
Resident Evil: Infinite Darkness
Resident Evil has always been a titan when it comes to zombie games. The characters are complex and carry a lot of emotional baggage with them, but that doesn't stop them from being badasses in their zombie-hunting journeys. This story in particular is centered around Leon S. Kennedy as he goes to a strange town to investigate a zombie outbreak. His partner in this mission is Claire Redfield, a member of TerraSave and sister of another protagonist of the games, Chris Redfield.
The general story is exactly what you would expect a Resident Evil story to unfold. There is a ton of action, combat, dialogue, and a constant moral dilemma when it comes to using bio-weapons on the general population. Fans of the Resident Evil games and movies will feel right at home with this series!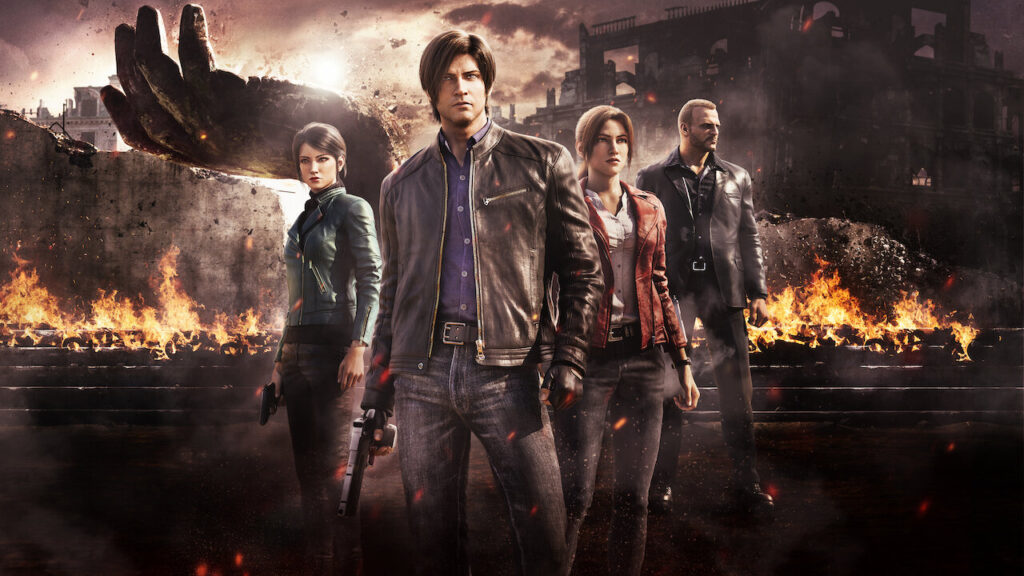 Details:
Runtime: 2021-
Seasons: 1
Episodes: 4
Rating: 5.8/10
Devilman Crybaby
This show has a strong anime feel to it, with many of the characters taking on massive challenges and trials that test their strength. The story follows Akira, a completely normal man, and his best friend. The latter tells him that demons are coming to kill all of them and that he has to become a demon himself.
A ritual happens where Akira unifies his body with a demon, but he retains his pure soul. This essentially gives him all of the capabilities of inhuman violence, as well as the calm judgment to tell right from wrong. Devilman Crybaby is a dark, gripping story that will give you a lot of enjoyment as you watch it.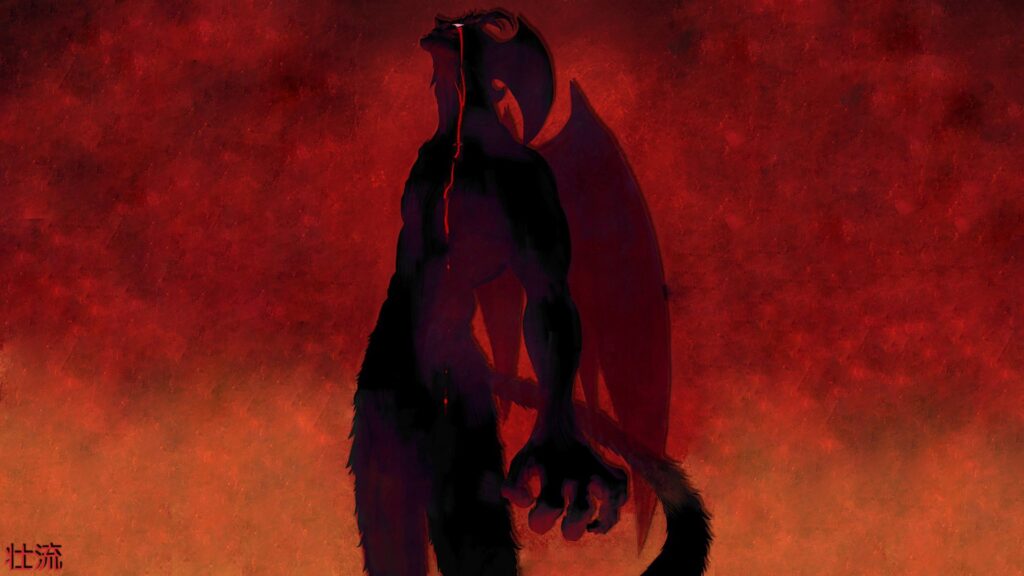 Details:
Runtime: 2018-2018
Seasons: 1
Episodes: 10
Rating: 7.8/10
Blood of Zeus
We all know that Zeus wasn't the most dedicated husband, at least as far as the original myths go. Blood of Zeus is an epic tale of Heron, a demigod. His lineage goes back to Zeus and one of his unfaithful outings. Heron has to go on a quest to save Mt. Olympus, and for that, he has to tackle many challenges and deities that want to stop him.
As the story progresses, you will meet many different characters that have a lot of depth to them, making the whole experience quite enjoyable. While it is still a relatively new series, Blood of Zeus has already been outlined for five seasons, so you should start watching it now to get on top of the story!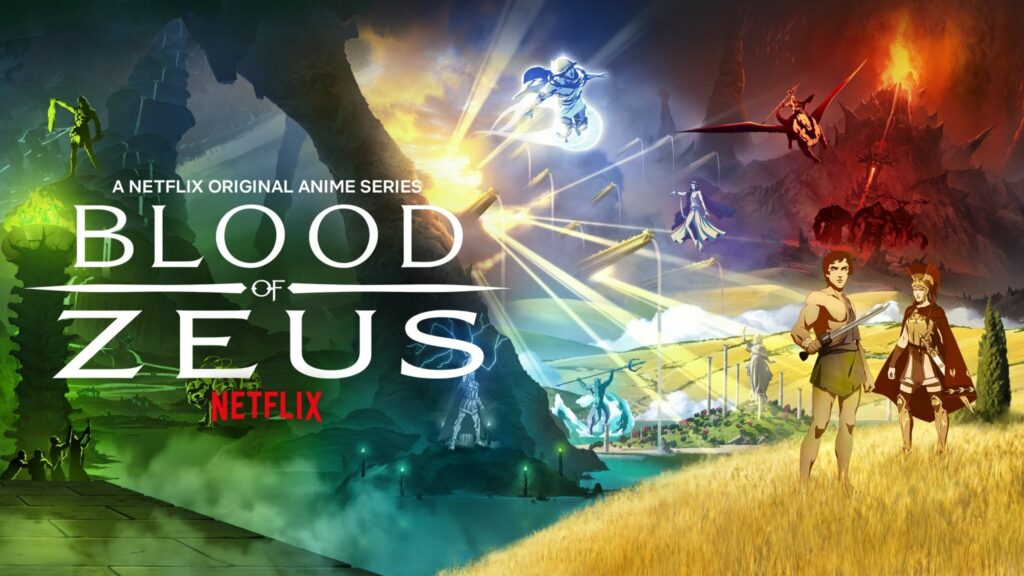 Details:
Runtime: 2020
Seasons: 1
Episodes: 8
Rating: 7.5/10
Death Note
Another anime story, Death Note follows Light Yagami who has gotten his hands on a strange notebook. The Death Note is a notebook that can kill any person you wish, as long as you have their face in mind when you wish their death.
Being a high school student, Light cautiously approaches the usage of the notebook, along with a frightening shinigami lingering over his shoulder. Ryuk, a god of death, and the original owner of the Death Note placed it in the world so he can see what havoc it would cause.
As the story progresses, you will enjoy a detective story like no other, as Light Yagami tries to outsmart the world-class detective, L. The story carries just enough of everything to keep it entertaining and immersive throughout.
Details:
Runtime: 2006-2007
Seasons: 1
Episodes: 37
Rating: 9/10
F Is for Family
This is an interesting series inspired by the life of Bill Burr, a famous comedian. The story is set in the '70s and follows Frank Murphy, an old veteran who likes to go on drunken tirades and harass the local people.
The main focus of F Is for Family is the general lifestyle of the '70s and what people were like back then. To really hammer that concept in, you meet many different people who are unique and bring their own appeal to the viewer.
If you're a fan of shows that cover older concepts and aren't afraid of being raunchy and wild, then F Is for Family is perfect for you!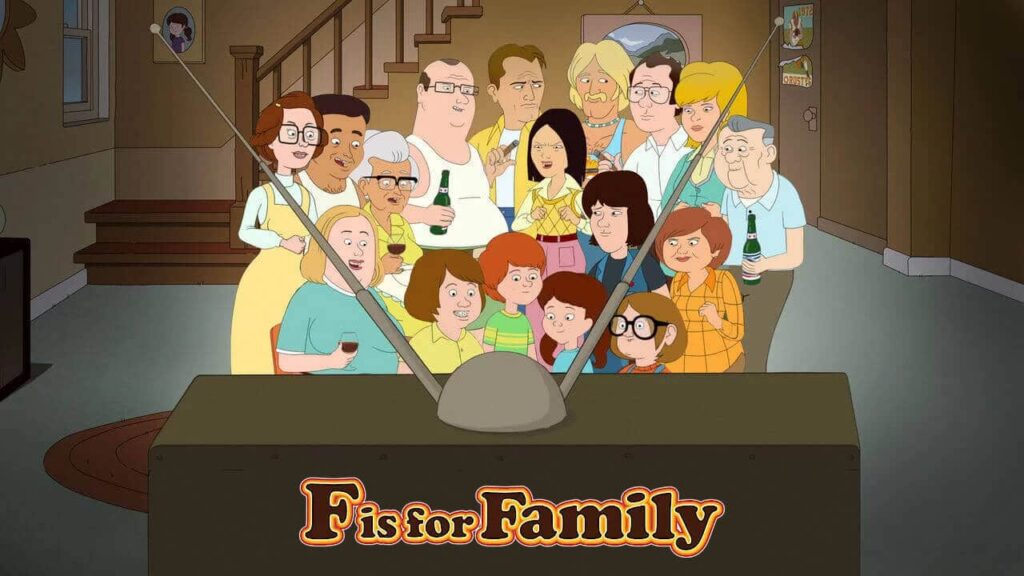 Details:
Runtime: 2015-2021
Seasons: 5
Episodes: 44
Rating: 8/10
The Midnight Gospel
This is an all-encompassing series that takes place in a universe simulator owned by Clancy Gilroy. Clancy has a curious nature and wants to explore as many universes as he can, and that leads him to many adventures where a large deal of information is fed into him. Utilizing the knowledge he gains from these universes, he hosts some of the beings he encounters in his podcast, dubbed a spacecast.
The stories told through the simulator cover a wide array of topics, from life and death, to love and betrayal. Of course, the whole tone of the show is generally casual and whimsical, so you're not burdened by too many morality topics at once.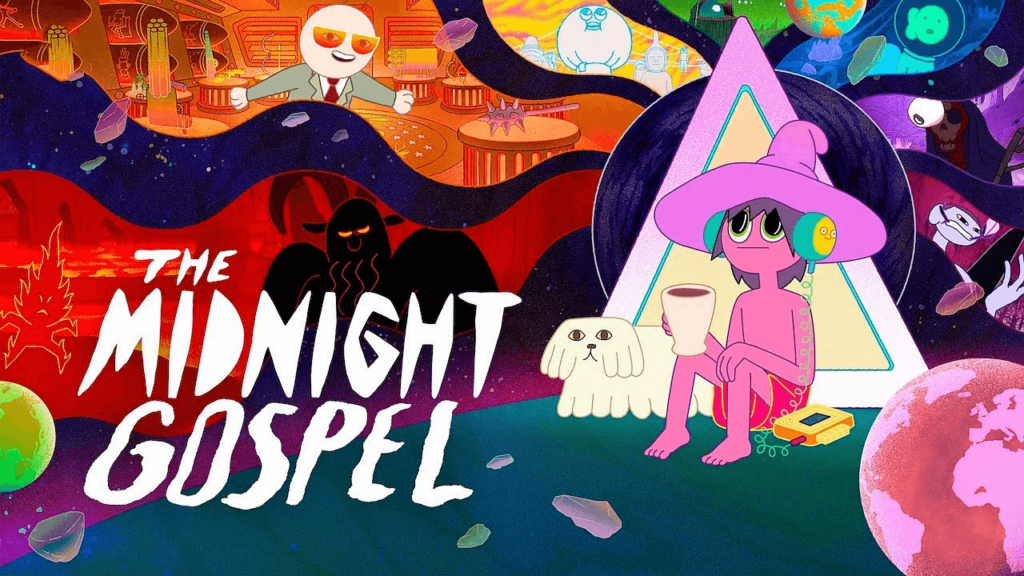 Details:
Runtime: 2020-
Seasons: 1
Episodes: 8
Rating: 8.2/10
Wrapping Up
And there you have it! You are now armed to the teeth with fantastic shows to fill up your spare time on the weekends and holidays. As you can see, we tried to include a wide variety of shows both old and new so there is something for everyone. We sincerely hope you have found what you were looking for and that the hours you spend watching these shows are full of enjoyment!